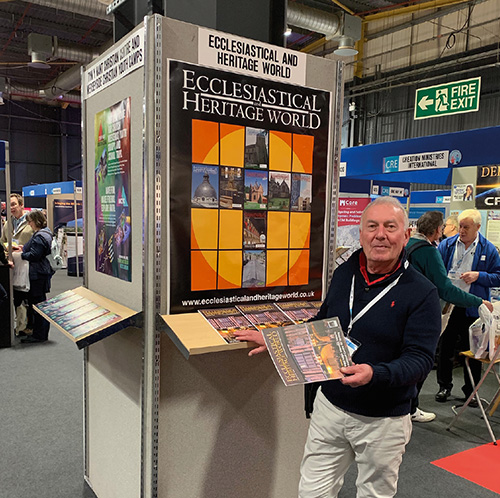 A post-lockdown celebration was how thousands of visitors to the Christian Resources Exhibition (CRE) viewed their visit to the event at Sandown Park in October.
Steve Goddard, owner of CRE, commented: "People arrived with more purpose than I have ever known – to discover fresh, innovative ways to re-build their churches following the trials and tribulations of the past 18 months."
One visitor commented on leaving: "I simply cannot believe there is so much happening in the church and so many organisations offering specific help. It has been a wonderful day."
Visitor numbers totalled 2,395 across the three days from 10-12 October, plus 605 registered exhibitor staff – giving a total of 3,000.
"As expected, there were lower visitor numbers because of the pandemic," Steve Goddard continued, "but the excellent quality of enquirer encouraged dozens of exhibitors to re-book for next year."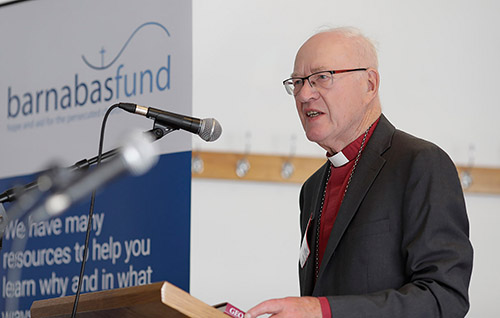 Former Archbishop of Canterbury Lord George Carey (pictured) launched the second instalment of his memoirs, The Truth Will Set You Free. He was delighted with the return of the exhibition and considered how the church might continue to come out of the pandemic.
"I want our clergy to go out and be more vibrant in their preaching and teaching," he said. "There is a long way to go but we have to give the world a greater vision of hope."
Most seminars attracted good numbers, particularly those covering technical issues to do with live streaming. An initiative providing new resources for home groups was particularly well attended, too.
The Christian Resources Together book awards, held at CRE for the first time, attracted 110 publishers, retailers and associated personnel.
Jeff Lucas flew in from the USA to lead a series of studies on the book of Daniel and its significance in the light of COVID-19 and lockdown.
Roy Francis, who led an initiative looking at the Windrush legacy, added: "It was a wonderful opportunity to talk about the arrival of Christians from the Caribbean and Africa, who changed the face of Christianity in the UK."
The next edition of the event, CRE South West, takes place at Westpoint in Exeter from 23-24 February next year.
"If our recent regional exhibitions in the North in 2018 and Midlands in 2019 are anything to go by, half of the visitors will discover CRE for the very first time," said Steve. "That means exhibitors will reach a brand-new market of church leaders, officers and decision-makers from all over Devon, Dorset, Somerset and Cornwall, with more coming from Bristol, Bath, Salisbury, Bournemouth and beyond."
Easily accessible, just a mile off the M5 and with plenty of free parking, Exeter's Westpoint Arena is an ideal venue. In spite of COVID-19, 70% of the floor space has already been sold.
To book a stand at CRE South West or CRE National 2022, which runs from 11-13 October next year, call Carol on 0161 250 2467, email This email address is being protected from spambots. You need JavaScript enabled to view it., or James on 0161 250 2306, email This email address is being protected from spambots. You need JavaScript enabled to view it..
Richard Shepherd, business development manager at Ecclesiastical and Heritage World (pictured at the magazine's stand at CRE North), is a regular visitor at CRE exhibitions throughout the country. He said: "These events are always worth a visit, even if only for the pleasant and friendly people there. The usual variety of stands all have one thing in common: the Christian spirit and goodwill. My experience is always of very professional and trustworthy experts in their respective fields."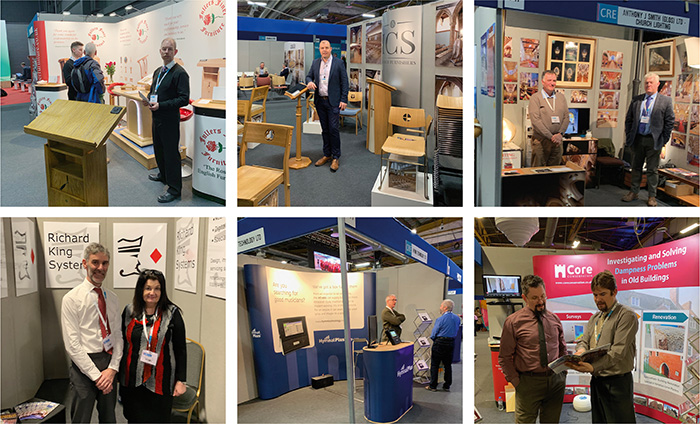 Over the years the CRE has provided church organisations with a focal point to source goods and products ranging from building solutions and furniture to lighting and sound systems, vestments and plate. Many exhibitors became regular fixtures, acting as a network of service providers. Its many quirky features included a series of 'Clergy on the Catwalk' fashion shows of vestments and the unforgettable My Church Needs One of Those competitions – the McNoot Awards.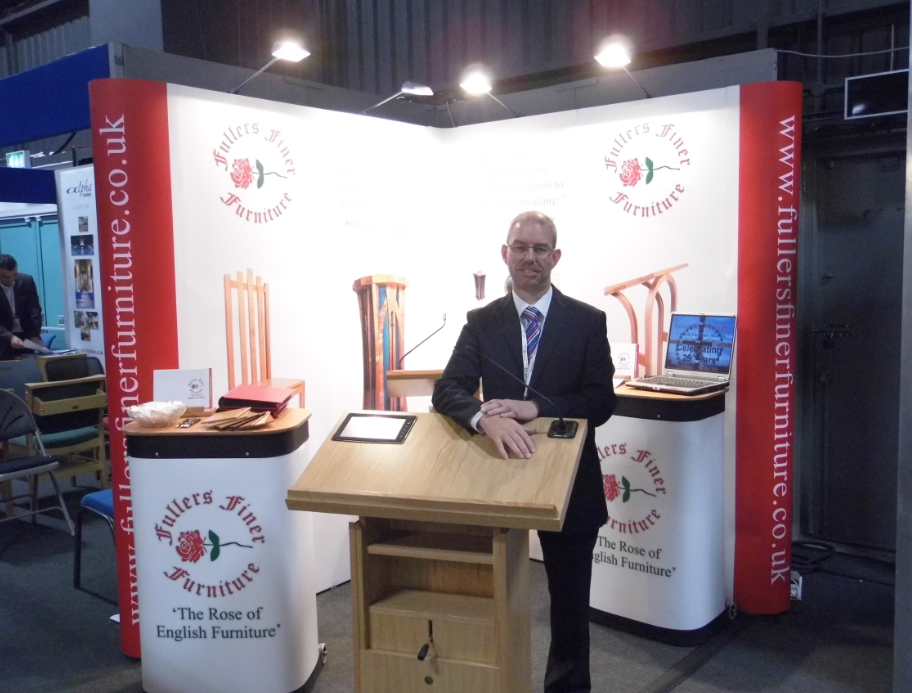 Among CRE exhibitors offering solutions to practical questions is Fuller's Finer Furniture, who travel from Weston-super-Mare to demonstrate a range of specialist church furnishing.
The company's managing director Paul Fuller (pictured right) told Ecclesiastical and Heritage World the shows are a success and an "opportunity to have good conversations with existing and new customers".
Fullers have been making their renowned height adjustable Canterbury and York Lecterns since 2001. Demand for these popular lecterns continues and Paul puts this down to a number of factors - click here for the full story.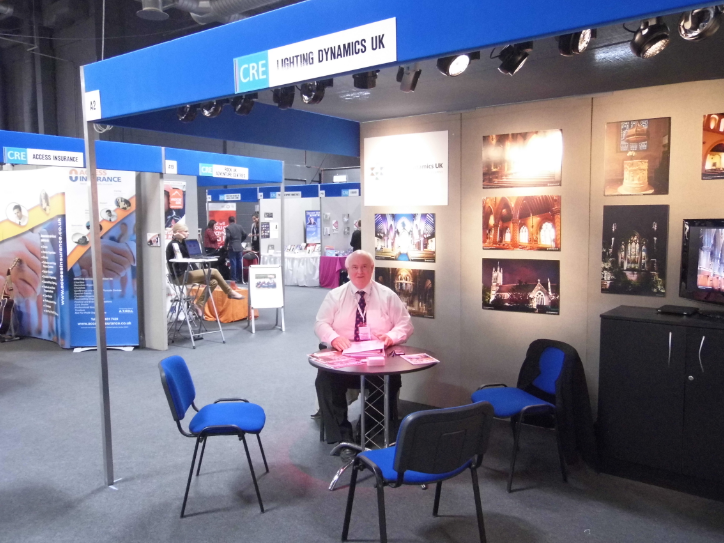 Pictured (right) is Gerry Browne of church lighting specialists, Lighting Dynamics - unusually alone at his stand as every time we tried to get to speak to him he was busy talking to interested visitors and showing them examples of his spectacular church lighting projects.
Indeed, Lighting Dynamics are regularly featured on the front cover of Ecclesiastical and Heritage World including a lighting project at the beautiful St Giles RC Church in Staffordshire. Gerry commented: "I believe that as one of Augustus Pugin's top UK building projects, there has been a considerable amount of architectural interest in the feature".
In its 35 plus years of existence, Christian Resources Exhibitions has grown to become one of the most important ecumenical events in the Christian calendar. There is no other exhibition in Europe that features so many organisations from such a broad church.
For more information on either upcoming CRE events, and to book stands, contact Carol on 0161 250 2467 or James on 0161 250 2306.