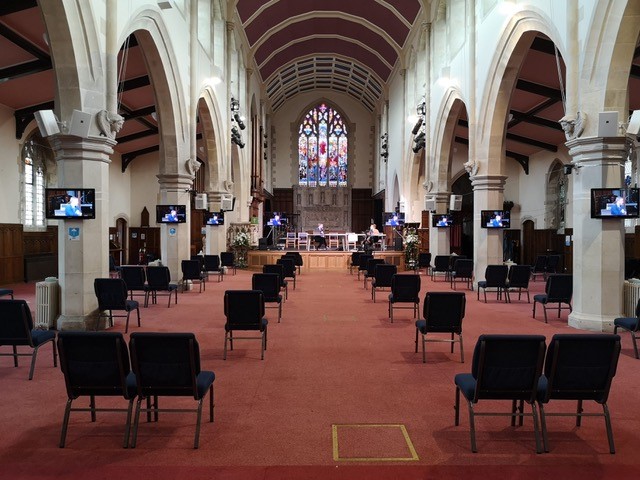 APi Sound & Visual are leading designers and installers of audio-visual systems for churches, community centres and heritage buildings in the South West and beyond.
Founded in Exeter in 2003, the team at APi Sound & Visual pride themselves at making technology work for people. Specialising in the design and installation of projection, sound and streaming systems; they are also installers of hearing loop systems and CCTV.
Andy Pidsley, Managing Director of APi Sound & Visual, added: "We are accustomed to working in historic and listed churches, so will always provide as unobtrusive an installation as possible. For example, our unique swinging arm designed in-house by APi designers, is well-suited for churches who require screens to be discreetly positioned/hidden when not in use. Even the small details, such as cable colour will be considered. We will always be respectful of your church building.
"Moreover, modern worship demands flexibility and increasingly churches are using sound and projection systems to get their message across. Since experiencing a series of national lockdowns and COVID restrictions, services have had to provide for an on-line, and now hybrid congregations with both in person and on line participants.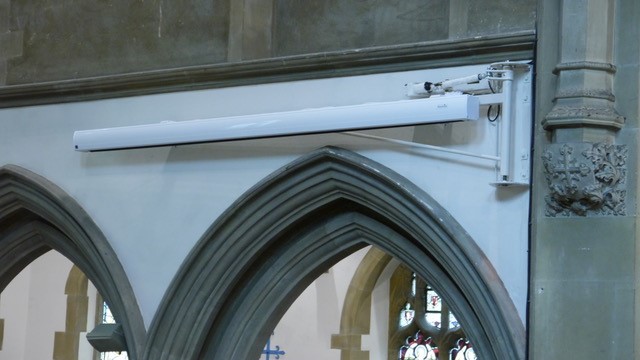 "Streaming in particular has become one of our most popular services as worship can be viewed live or on demand (like catch-up television). Special services such as christenings, weddings and funerals can also be recorded or streamed for absent friends and family to watch. From personal experience, this has been a lifeline for some of our more elderly and isolated members of the congregation."
APi Sound & Visual is able to upgrade existing systems relatively simply (depending upon the age of the equipment) to enable services to be streamed. As with all their systems, they place ease of operation and reliability at the top of the list when it comes to equipment specification. Simple push button switching between cameras and dedicated streaming devices with just start/stop functions means users can be confident recording without difficulty. As well as installing the equipment APi also provide bespoke training and can help with broadband connectivity barriers as part of our whole package. Our 3 year warranty has now been extended to offer remote assistance for streaming installations.
With nearly 20 years in the industry, APi Sound & Visual have worked in many different churches across the South West including:- Exeter Cathedral, St Denys in St Austell, Trinity URC in Plymouth, Preston Baptist Church in Paignton, All Saints in Clifton Bristol, St Peters in Shaldon and St Andrews in Cullompton. We now have streaming services in many of Devons Catholic churches.
If you would like further information or to find out how APi Sound & Visual can make technology work for you, please visit www.churchsoundsystems.co or call the team on 01392 677668.
You can also see them at Stand D10 at CRE South West in Exeter on 23-24 February 2022.