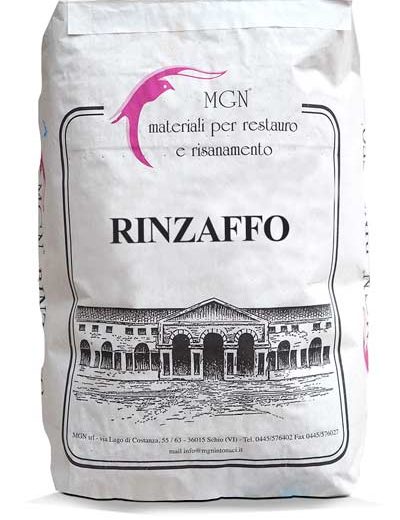 One of the unique products from Core Conservation is RINZAFFO MGN, a plaster developed in 1980 in Venice to tackle the problem of capillary rising damp, penetrating damp and salts - however its origins stretch back to ancient Roman times.
It is a breathable salt resistant lime scratch coat, which protects subsequent plaster layers from the destructive effect of salts. Because it is both waterproof and breathable in the same time, it is suitable for a number of specialist applications such as:
A base coat in any building subject to rising or penetrating damp
A render against driving rain
A plaster against the damp patches, discoloration or the crystallization of salts (sulphates) around old fireplaces and chimney stacks, a frequent problem in old buildings
A lime-based "tanking slurry" to make basements or cellars waterproof
As a waterproof (but breathable) floor screed to prevent flooding in high water-table or pressure water situations
The RINZAFFO MGN system, due to its unique pore structure, prevents the crystallization of salts inside its pore structure. By regulating the evaporation of humidity it keeps salts residing inside the capillaries in a dissolved state thus prevents the rapid crystallization of salts often resulting in the detachment of plaster and deterioration of masonry.
With Rinzaffo MGN the surface of the plaster stays dry and healthy, and the appearance of the interior remains aesthetically pleasing.
The life expectancy of the plaster is very long even in "heavy-duty" damp and salty environments, if applied correctly, it can last over 40 years.
Performance Testing
The Rinzaffo MGN mortar has been subject to a series of very demanding tests, both in the lab and on real buildings such as being constantly submerged in the high tides of Venice.
Here is a short summary on some of the tests performed:
​00:36 Salts resistance test: resistant to all salts. 22 years of lab testing, nearly 40 years of field testing
​02:00 Water resistance test: it's waterproof
​02:47 Sideways pressure resistance
See the video below for more details on how good it really is.
Technical Data
Here is some key technical data. Please see technical sheet below for more information.
| | |
| --- | --- |
| | |
| | |
| Vapour diffusion resistance (μ) | |
| | |
| | |
| | |
| | |
| Consumption (kg / m² area / cm thickness) | |
| | |
Typical Applications
Rising damp, Penetrating damp, Wind driven rain, Basement tanking, Chimneys, Salts, Flooding
Composition
NHL 3.5 Natural hydraulic lime
Hydraulic and pozzolanic binders
Marble powders
Washed silica sand free of impurities
Natural organic additives
Colour
Dark brown
Downloads
Rinzaffo - English technical sheet (PDF)
For further information visit www.coreconservation.co.uk