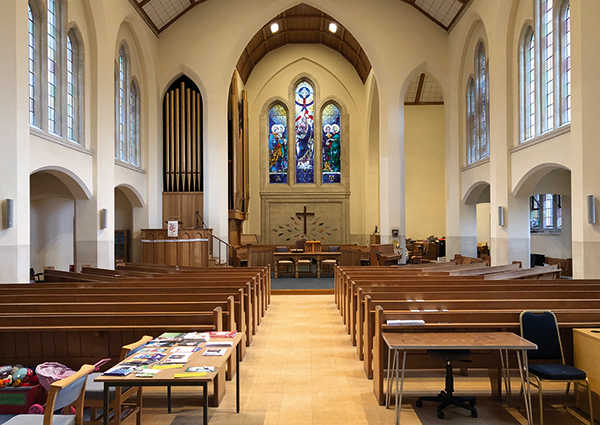 Modern audio solutions often mean function over form – where cutting edge audio quality and distribution may not sit happily in the aesthetic surroundings of a traditional church. This is precisely the challenge mounted and overcome by Creative Audio-Visual Solutions (CAVS) in their equipment selection and overall system design – providing the latest technology whilst respecting the décor of, in most cases, grade-listed buildings.
Column speakers have invariably been a chosen speaker format where their size and shape suit a stone column or pillar. The downside is that these speakers are not capable in covering the extensive modern requirements of speech to music reproduction – be it a live worship band or song\video audio playback. CAVS have found success with the latest CBT array column speakers from JBL Professional which are designed for these contemporary applications within traditional settings.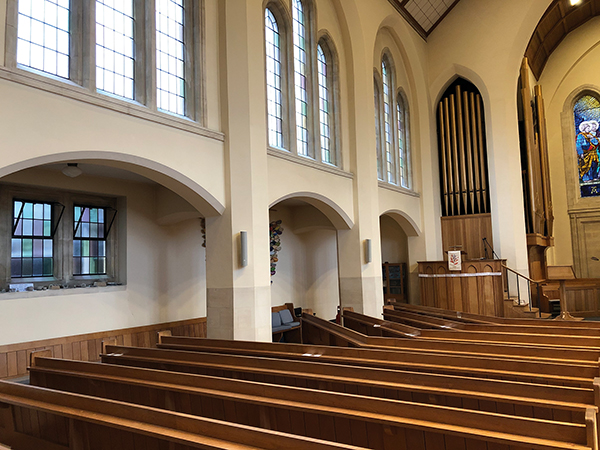 These column speakers are designed with wide dispersion, to cover large nave/aisle areas, with controlled vertical dispersion (20 degrees). Larger churches with high roofs often experience excessive issues with delayed reverb which can vastly reduce intelligibility. Ceiling voids effectively serve as an echo chamber which can severely impact speech and music clarity.
Restricted vertical coverage within the JBL CBT speakers effectively eradicate these upper voids and direct controlled audio to the congregation only.
This is demonstrated effectively with a recent installation of CBT50 speakers at Redland Park URC in Bristol. All speakers were optimised in stereo – most church audio systems are installed in mono, but this reduces intelligibility when amplifying songs and especially video audio where speech needs to be distinguishable from background sounds – and delayed to reduce further echo and reverberation as sound travels the length of the church.
Full range audio capability was met with the addition of two compact floor subwoofers – providing dynamics to music and video audio.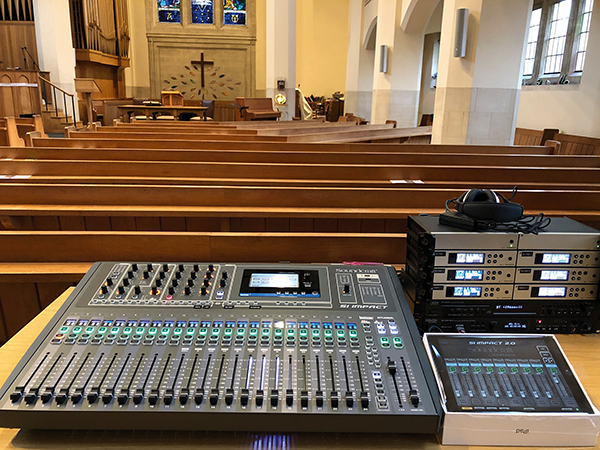 The latest digital mixing console from Soundcraft – the Si Impact – provides full mixing capability for up to 64 channels via extension digital stageboxes, with flexible connection points to allow musicians/choir to be positioned in different areas of the church for weddings and other events.
Additional iPAD wireless control, for mixer operation from anywhere in the church, and the ability to store and recall regularly used service settings allows the mixer to be confidently used by basic operators right through to experienced sound engineers.
New Sennheiser radio microphones provide reliable reception throughout the church – supplied on licensed frequencies and utilising dedicated antenna distribution.
Denon playback and recording systems allow for high quality service recording and music playback from any media from CD's to wireless Bluetooth devices.
• Creative Audio-Visual Solutions are a dedicated church audio-visual integrator with the expertise and aesthetic sympathy to bring your church into the 21st century. 'Like' them on Facebook at www.facebook.com/cavsolutions for the latest installation case studies and product news. Alternatively for further information call 01707 518400, email This email address is being protected from spambots. You need JavaScript enabled to view it. or visit the website at www.cavsolutions.co.uk