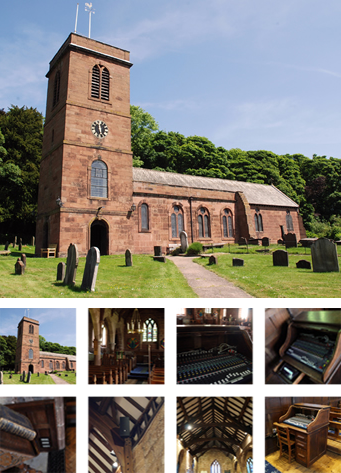 St Nicholas' Church, Burton in Wirral, is located in the village of Burton, Ellesmere Port and Neston, Cheshire. It is designated by English Heritage as a Grade II* listed building and is an active Anglican parish church in the diocese of Chester, the archdeaconry of Chester and the deanery of Wirral South.
Inside the church is a hatchment bearing the arms of the Congreve family along with other memorials to the family. The memorial to Richard Congreve who died in 1820 is by S. Gibson and includes a weeping putto. The parish registers start in 1538.
The parochial church council's set audio, lighting and control systems specialists, Richard King Systems, the brief of upgrading and modernising the audio system, for the reproduction of both speech and live performances.
The Shropshire-based company designed the new system to include the installation and commissioning of replacement loudspeakers, amplification, control desk, microphones and audio socket provision.
The PCC are extremely happy with the end result and consider the sound system to be superb with excellent sound quality to meet all the church's needs. It is in use every week and sometimes several times a week, and is used for services as well as for concerts and gigs that take place in church.
The PCC praised the system, saying: "It's absolutely marvellous. The church has had lots of positive feedback from the congregation, as well as from musicians and others who participate in services generally."
For further information visit www.richardkingsystems.co.uk