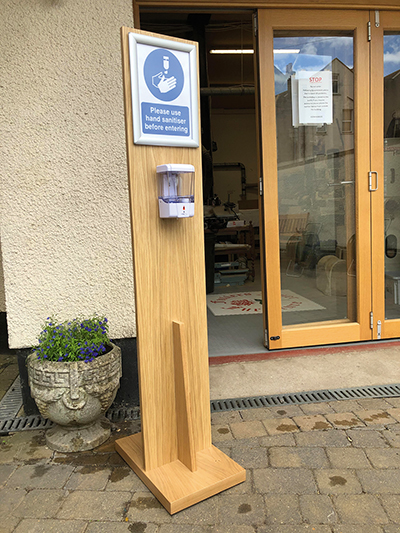 In a sign of the times a local church recently approached Fullers Finer Furniture of Weston-super-Mare in connection with the provision of purpose-built hand sanitiser stations. The church was in the process of undertaking risk assessments to take into account the additional precautions necessary to enable the building to be Covid secure and safely re-opened, in due course, for gathered worship.
Fullers Finer Furniture is a well-known company specialising in the manufacture of bespoke furniture for places of worship, education and the like.
In response to the church's request they have designed a free-standing hand sanitiser station (pictured). The unit is 1,475mm high x 290mm wide. It is made of wood and finished in a hygienic, easy-clean real oak veneer. Each unit is supplied with an easily-refillable dispenser. The unit has a clip frame for a church to insert its own A4-size printed notice.
Given the current situation and the on-going importance of hygiene within the church, the unit is designed with practicality and durability in mind. It weighs about 9.2 kg and can easily be moved and placed appropriately for use on entering the building, approaching the servery/dining area etc. A wall mounted option is also available.
Fullers are currently offering the sanitisers for sale at £120 plus VAT and delivery.
To place an order, or simply to find out more about the hand sanitiser units or Fullers quality bespoke furniture, email This email address is being protected from spambots. You need JavaScript enabled to view it. or telephone 01934 618111 – they will be very happy to assist. You can visit the website at www.fullersfinerfurniture.co.uk