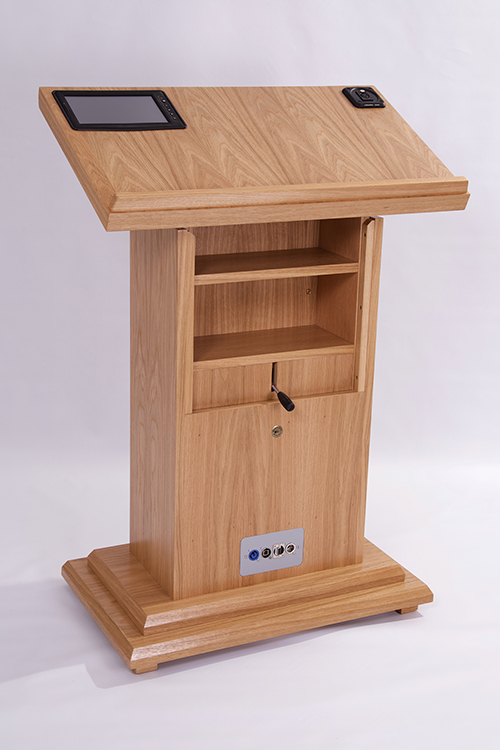 Fullers Finer Furniture have been making their renowned height adjustable Canterbury and York Lecterns since 2001. Demand for these popular lecterns continues. Fullers Finer Furniture put the continued demand down to a number of factors.
Firstly, the practicality of the lecterns in meeting the need for a piece of furniture which is easily height adjustable, manoeuvrable, can be made to complement any building and has the ability to endure. Each lectern is unique in the choice of wood finish and extras such as logos, panels and crosses.
Fullers Finer Furniture are able to modify and personalise each lectern further, if required. Over the past year modifications have included a lectern with a particularly large monitor, a lectern with a light fitting and a lectern with very specific electrical and audio requirements.
The advantage of being both the designer and manufacturer of the lectern is that trends and developments can be gauged and the lecterns can evolve as technology and requirements change. Examples of such developments have been the ability to include a monitor and more recently an iPad rest on the desk top.
A particularly pleasing source of work comes from repeat customers, where a client having enjoyed the use of a lectern provided by Fullers Finer Furniture at one church moves to a different church and places an order for a lectern at the new church. Another encouraging source of business is when furniture is supplied to one church in a group and orders follow either from other churches within that same group or from people who have visited the church, admired the furniture and seen the advantages for their own building.
The Canterbury and York Lecterns are built to last and will provide good, reliable service for many years. Lecterns can be returned if adaptations are required to assist with modern technology – recently one was returned to the workshop to have a monitor fitted and Fullers Finer Furniture were pleased to assist with this and to supply a loan lectern whilst the work was carried out.
Proprietor Paul Fuller said: "We strive to provide excellent customer service. The aim is to give clients the benefit of our considerable experience and expertise to best meet their needs and those of the community they serve."
For further information visit www.fullersfinerfurniture.co.uk