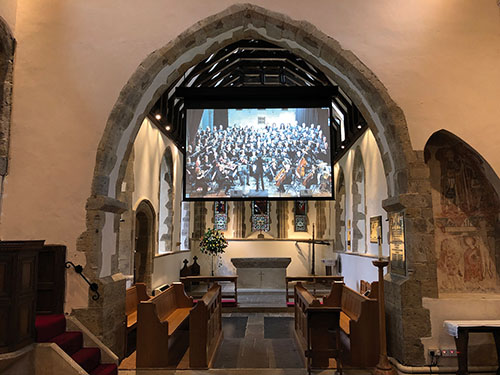 Churches, understandably, provide numerous challenges which need to be faced when installing an audio-visual system. The complexity and feature set of the system – although important – can often take second place to aesthetic concerns: where the building's décor cannot be compromised under any circumstances.
That is often at loggerheads with progressive clergy and congregations, who wish to take advantage of the latest technology to support and enhance worship. There is also the question of who has the technical expertise to maximise the system's potential, or can the system be operated by all levels of user?
Is there a way of balancing the need to respect and protect architecture with maximising the quality and relevance of audio-visual communication within services? Is the church able to show high-quality video with dynamic sound reproduction one minute, for example, while ensuring little or no technology is visible for an upcoming wedding or funeral?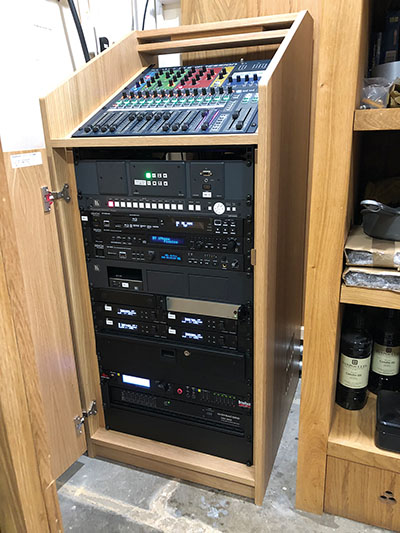 A solution to many of these quandaries was provided by Creative Audio-Visual Solutions in a recent installation at St Peter Ad Vincula Church, the Parish Church of Wisborough Green in West Sussex. The church dates back to the 12th century, with important medieval wall paintings and stonework which could not be negatively impacted by the installation.
From early on in the discussions, the church committee emphasised their eagerness to bring technology into their worship, as well as further opening up the building to uses far exceeding normal services by the local community.
For effective multimedia presentation, a long-throw 7,000 lumen daylight-capable projector and a discreet, winched screen were the clear answer. Often churches opt purely for LED displays because of cost and perceived long-term reliability – indeed they are often the solution, where sightlines are limited behind pillars, for instance – but many buildings end up appearing like a branch of the local TV store if it not done sympathetically.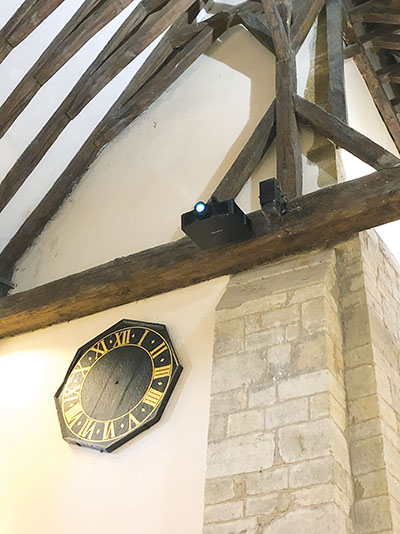 The winched screen was mounted high up behind the main chancel arch and is lowered via a two-stage motor when needed. When not in use, it is invisible within the nave. The projector was also installed out of sight within the wooden ceiling beams towards the rear of the building.
Visual connectivity is via a switching-scaler, allowing up to 10 inputs (HDMi and VGA) to be accessed via simple tactile button control. Connection points were installed both at the main console and on the platform (for local connection of a laptop), as well as a wireless system to allow mobile, cable-free connection from any device (IOS, Android, Mac or Windows) anywhere in the church.
A high-definition Blu-ray/DVD player was supplied for quality movie playback during services or community events. To allow service leaders and musicians to view projected images without turning to the main screen to check slides, a portable trolley-mounted monitor was supplied.
The church also wanted full capability for high-quality audio reproduction, for everything from speech-led services to full-range live bands and to reinforce the audio from DVD to the highest quality in all parts of the congregation. That would typically mean installing multiple speakers to ensure all areas received uniform audio coverage – no cheap seats allowed!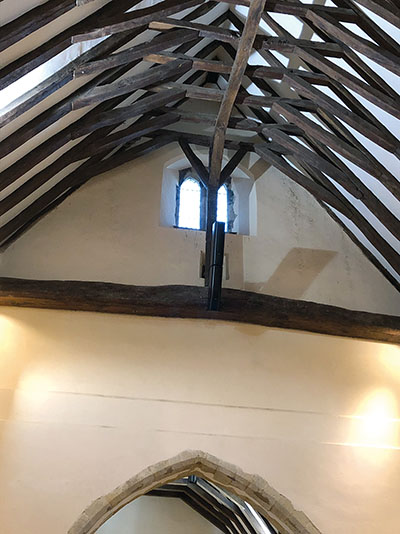 The local diocesan advisory committee rightly were not going to allow permanent fixing into bare stonework, so another solution needed to be sought. Ideally, a single point-source speaker was the solution – to cover the main body of the church with uniform volume and high levels of intelligibility.
A beam-array column speaker was chosen – with multiple smaller drivers (internal speakers) working in unison to provide audio clarity from the front pews to the rear. It was mounted high up and blends invisibly with a vertical wooden beam above the arch: enhancing the system's 'auditory-focus' (where sound emanates from the front/centre).
Supplementary smaller speakers were mounted in the side ceiling beams to enhance side aisle coverage. For the system to provide full-range dynamics, compact and moveable floor subwoofers were specified, ensuring that the system – although hard to see – can amplify all musical instruments effectively as well as reproduce recorded music to the highest quality.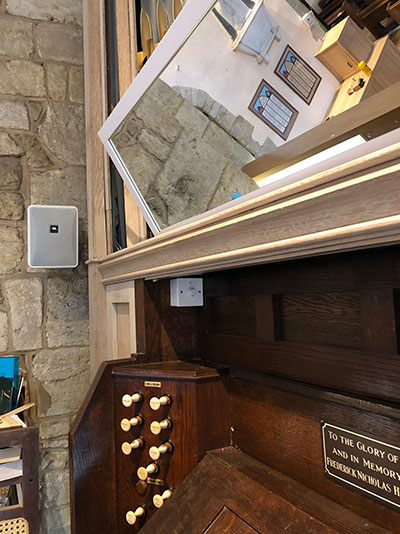 With all system hardware needing to be housed within the vestry, the audio system needed to be controlled from elsewhere in the church. With a live band, the audio 'engineer' is required to be able to make subtle adjustments to the sound continuously. That is also the case for adjusting fixed and radio microphones for different voice levels during a service.
A digital mixing console with iPAD control was specified – with capability of up to 40 audio channels and the ability to save and recall settings for different services. As well as the ability to operate the system from anywhere wirelessly, settings for different worship bands or services can be recalled at the touch of a couple of buttons. If someone inadvertently changes controls on the mixer, it can be reset with no issues. It is a real game-changer for church audio systems – providing ultimate flexibility and convenience in one solution.
CD/MP3 and Bluetooth playback was also provided via an all-in-one media solution. Music can be played from a phone or tablet wirelessly: ideal for service, funeral or wedding playlists.The system was also cabled to allow for future remote camera and online visual recording/streaming – bringing the church truly into the 21st century when it comes to multimedia capability.
• Creative Audio-Visual Solutions are a dedicated church audio-visual integrator, with the expertise and aesthetic sympathy to bring your church into the 21st century – but with no proverbial kicking or screaming! 'Like' them on Facebook (www.facebook.com/cavsolutions) for the latest installation case studies and product news.
For further information visit www.cavsolutions.co.uk