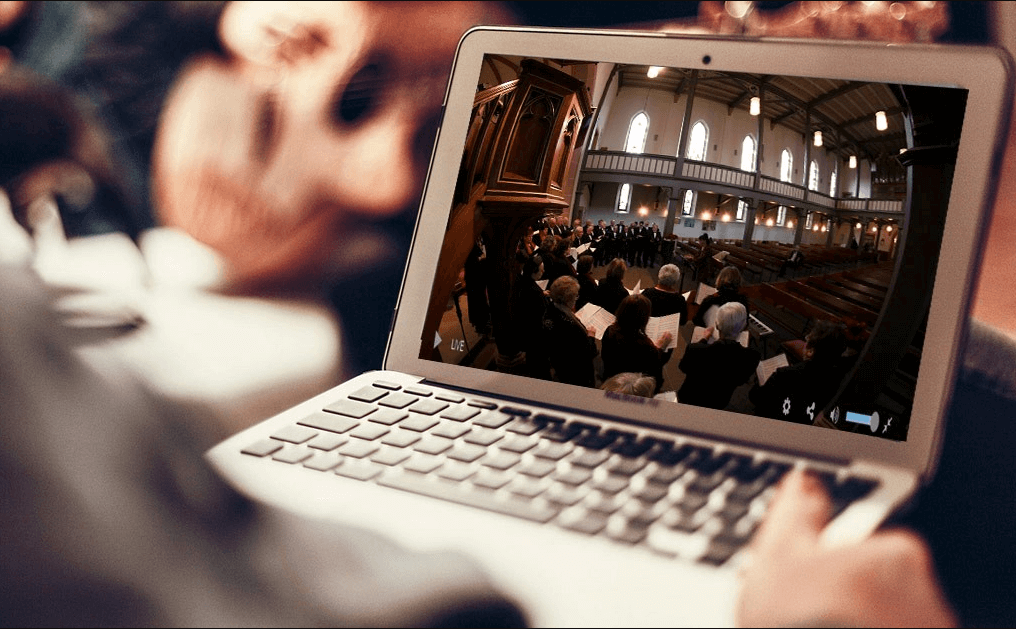 The restrictions around the COVID-19 pandemic have led to many churches venturing into the online world in a much more comprehensive way than before. While most churches have had some kind of online presence and the Church of England has it's a Church Near You site, the live streaming of services has become much more common. And modern AV equipment is perfectly suited to communicating via the internet.
An irony is that many churches have found that they can now reach people who had been excluded by physical illness or disability from attending church services, and have acquired a whole new congregation. So live streaming is likely to remain the norm as the lockdown eases and churches open their doors again. It is a topic we shall be hearing much more about.
Make sure you're legal
A key consideration for anyone venturing into livestreaming for the first time is copyright. For most churches the CCLI licence is the appropriate one. CCLI – Christian Copyright Licensing International – has introduced a streaming licence. It is available to any church which holds a CCLI Church Copyright Licence, which the majority of churches, particularly in the Church of England, do.
And the Church of England includes a guide to the various copyright issues involved for churches streaming services on the various platforms within its A beginner's guide to going live with your service or event for free. For example, the guide points out that, for churches streaming their services via YouTube or Facebook, the CCLI Streaming Licence will cover them for live worship music performed as part of that stream.
However, for those using hosting the stream or webcast on their own website, they will need the Limited Online Music Licence (LOML) from the Performing Rights Society (PRS) in addition to the CCLI Streaming Licence.
For particular songs, the guide recommends consulting CCLI for clarification.
The guide also lists particular issues regarding the use of Zoom.
The guide is available to view at https://www.churchofengland.org/more/church-resources/digital-labs/labs-learning-blog/beginners-guide-going-live-your-service-or
Information particularly pertaining to music can be found on the website of the Royal College of Church Music, at https://www.rscm.org.uk/live-streaming-of-church-services/
Other issues to consider when putting together online services, which all the denominations offer guidance on, are the General Data Protection Regulations (GDPR) and photo permissions. GDPR comes into effect when contacting individuals electronically for a stream. All contact details must be secure and only held for a specific purpose.
Information on photo permissions can be found on the Church of England website's Safer Environment and Activities section. In short, photographs are considered to be sensitive personal data under GDPR and permission should be sought to use an image of an individual, particularly a child, unless it is a wide viewpoint shot of a public event.
A selection of companies offering live streaming can be found in our online directory HERE.
AV system at St Martins Liskeard
APi were asked by St Martins to design and install a comprehensive sound and visual system as part of their refurbishment. This video is a short case study with interviews from the church family on their experience of the system.
For further information visit www.apicommunications.co.uk
Live streaming your church service
If you or your church are thinking about streaming, then before you read on, DM Music recommend you read their Before You Start Streaming Quick Expert Guide. The company believes it is essential to the way you approach the below.
Click here to read the full story
Before you start streaming
In a time of global pandemic, where all church buildings in the UK have been closed during lockdown, we've all had to find a new way to do church. Whether via Zoom, through Facebook or YouTube, live streamed, pre-recorded or podcast, churches have been piecing it and sometimes cobbling it together to do things... digitally. DM Music offer some advice.
Click here to read the full story
Cathedral leads the way in streaming Mass in Norfolk
Many in the church have turned to live streaming services to maintain their communication with their congregations and others seeking worship during recent difficult times. There are many ways to achieve that; however, audio and visual specialist Darren Butler from Norfolk-based Audio Electronic Design (AED) saw, very early on in 2020, a future problem when it came to providing a permanent solution, with many lacking the technical and practical knowledge associated with operating the technology, coupled with a need to be very considerate to the building while carrying out a fixed installation.
Click here to read the full story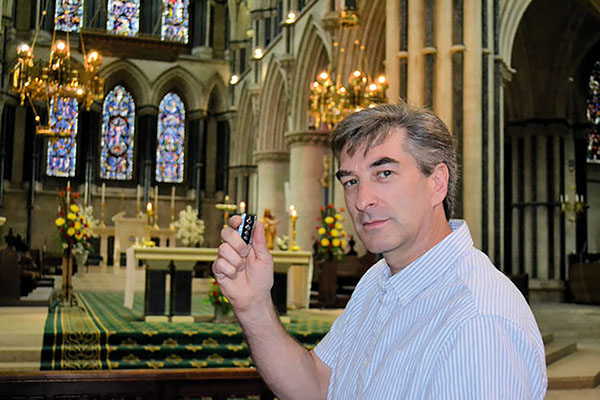 Looking for an audio-visual system to suit your style of worship?
APi Sound & Visual are leading designers and installers of audio-visual systems for churches, community centres and heritage buildings in the South West and beyond.

Founded in Exeter in 2003, the team at APi Sound & Visual pride themselves at making technology work for people. Specialising in the design and installation of projection, sound and streaming systems; they are also installers of hearing loop systems and CCTV.
Click here to read the full story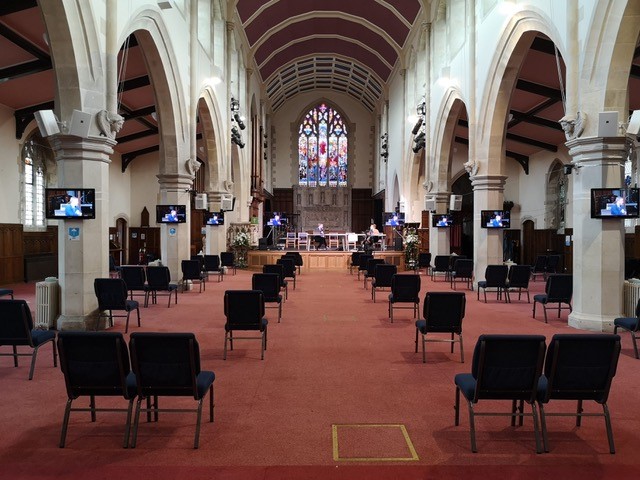 Do you need to spend a fortune on a microphone?
By Paul Dougherty, managing director, Blaydon Communications Ltd.
Don't worry, this article isn't going to get too in depth from a technical point of view, but it does steer close to it! The argument of whether or not you need to spend a fortune on a microphone is a difficult one to answer. As with all things in life, you need to buy the best you can afford, and this will yield the best outcome for you and your pocket in the long run. Saying that, sometimes it is worth saving a little longer and spending a little more than you'd planned for too.
Click here to read the full story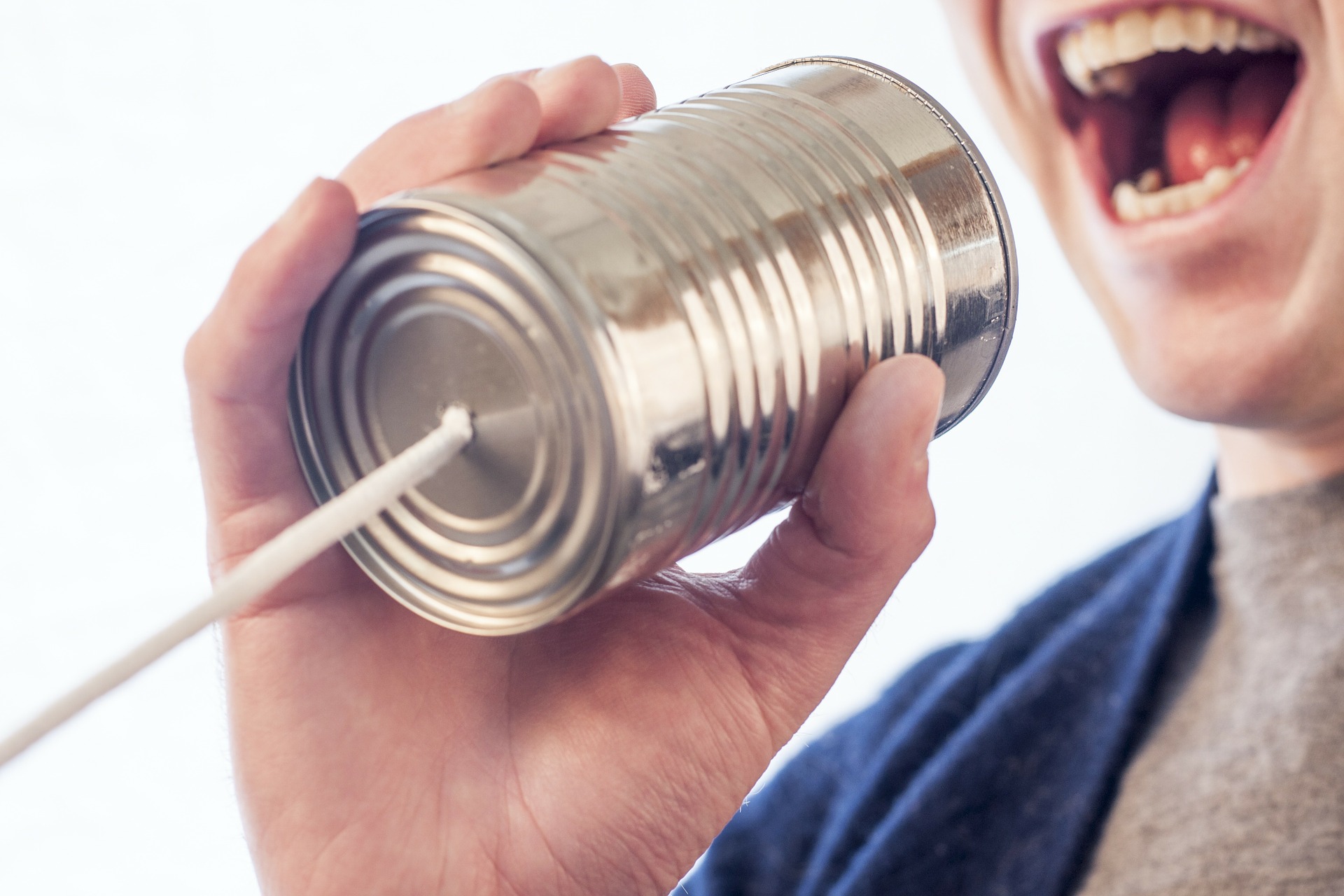 New annexe provides opportunity for an AV upgrade
St Wilfrid's Church in Grappenhall – a village near to Warrington, Cheshire – is designated as a Grade One-listed building. Built in red sandstone, the church dates from the earlier part of the 12th century.

In August 2020 building work was started on an annexe on the hidden side of the church, with a flexible welcome/discovery room, refreshment area, service and storage area with toilets.
Click here to read the full story.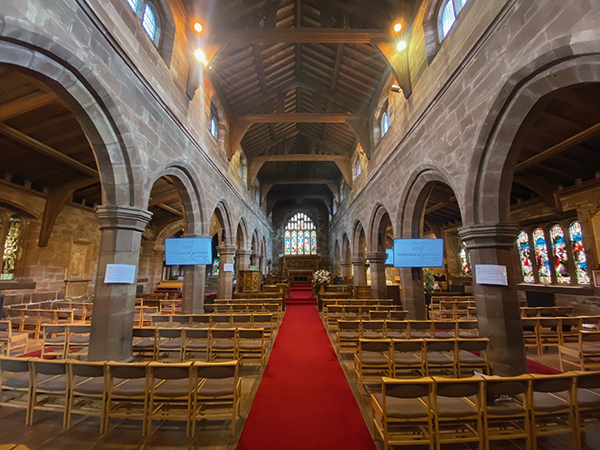 Festive phone call takes church on the route to virtual services
In December last year, Blaydon Communications got a phone call they were not expecting. A member of the PCC at St Bede's Church in South Tyneside called and asked if they could urgently upgrade the church's sound system in anticipation of the festive events that were to be held in the church. The team at Blaydon were a little surprised as their installation work had been a bit thin on the ground during lockdown and they had been focussing a lot of effort on their online presence and having virtual meetings. The chance to get out was gratefully received as they were totally 'Zoomed out' at that point!
Click here to read the full story.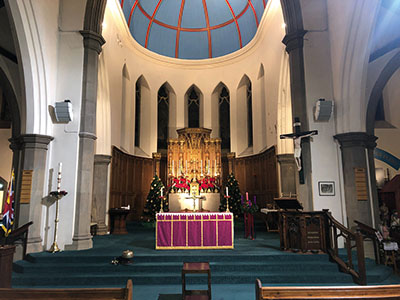 New mixer adds to upgraded Zooming capacity
An upgrade to the sound reinforcement system at First Church Christ Scientist, London, has recently been completed by Redhill-based Scanaudio. The upgrade provides a fully-interactive Zoom meeting experience for those members unable to attend church.
Click here to read the full story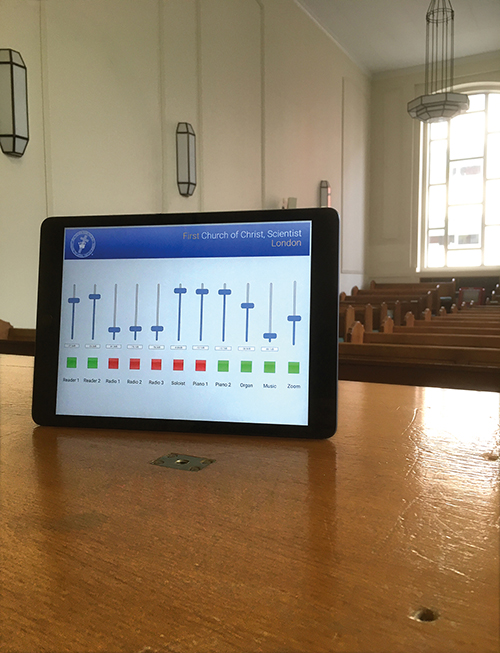 Zoom into 2021 with ease – and MW mixers from KORG
Last year saw great changes in the way people communicate and interact. The speed at which the changes emerged is unprecedented and has transformed everyday life for many. Before April 2020, the meaning of the onomatopoeic word 'Zoom' meant nothing more than getting a move on; but since then, when anyone mentions 'Zooming' it's most often associated with online video communication.
Click here to read the full story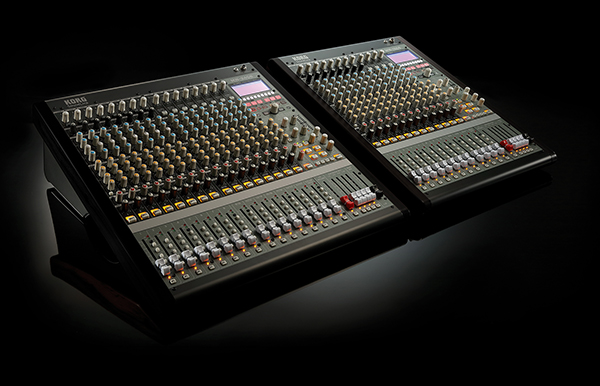 Latest installation ensures everyone can participate – whether in church or not
A recent commission saw Creative Audio-Visual Solutions (CAVS) install a new AV system into Holy Trinity Church at Frogmore in St Albans. The new installation not only ensures the highest quality audio-visual solution for the church, but also provides a flexible and expandable visual streaming and recording system, to ensure those not able to meet at the church can continue to participate actively in services.
Click here to read the full story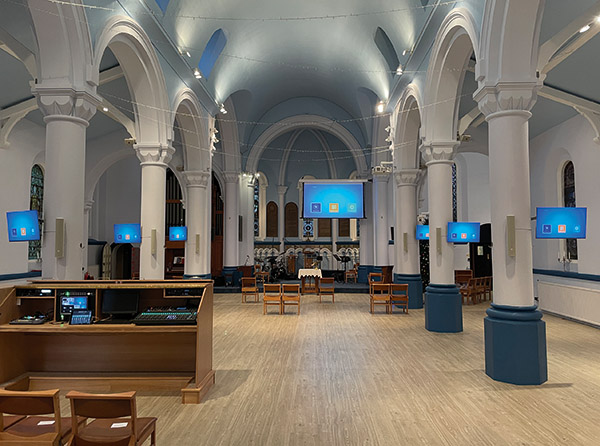 Easy-to-use streaming solution reaches the COVID congregation
St Pauls Weston Super Mare is the largest church in the Diocese of Bath and Wells apart from the cathedrals. It normally has a big, vibrant congregation and has strong links with the community. When COVID restrictions meant they could only house a fraction of
their normal congregation, they approached APi Sound and Visual to
create a streaming solution.
Click here to read the full story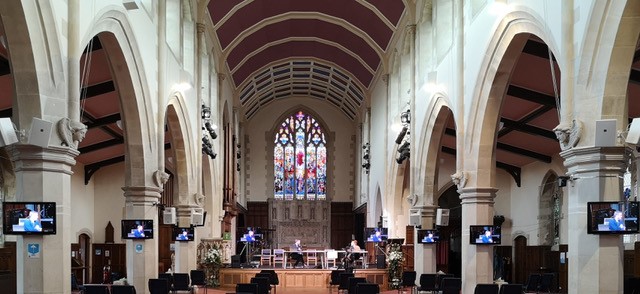 Do you want to conference, stream…or both?
For many years Exeter-based APi Sound and Visual have been installing sound and visual systems in churches in the West Country and beyond. Camera systems have often been installed to allow those in the same building to see on a big screen what is happening at the front, for example projecting close-up images of a baptism or other event to give everyone a 'front-row' view.
Click here to read the full story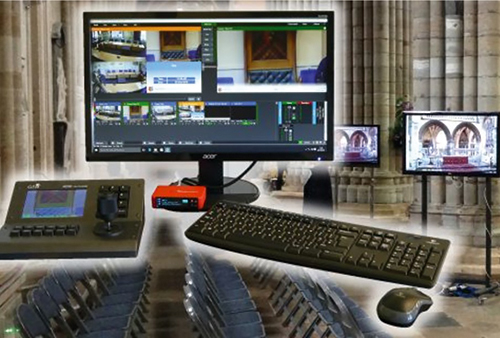 Live Streaming now available from Creative Audio Visual Solutions
Live Streaming, especially during the Covid-19 Coronavirus pandemic, is a vital means for churches to keep communicating to their congregation and the wider world.
Even when the lockdown is eased and churches open their doors again, many church regulars may still not be able to attend services. This is where a simple-to-use, reliable and high-quality online streaming system will allow your church to be ever present in these times when fellowship and togetherness are perhaps more important than ever. Creative Audio Visual Solutions (CAVS) offer a complete IT and networking solution for the modern office. Utilising the latest wired and wireless technologies, their systems are designed to increase your organisation's growth and productivity when storing information, printing and communicating with the outside world.
Click here to read the full story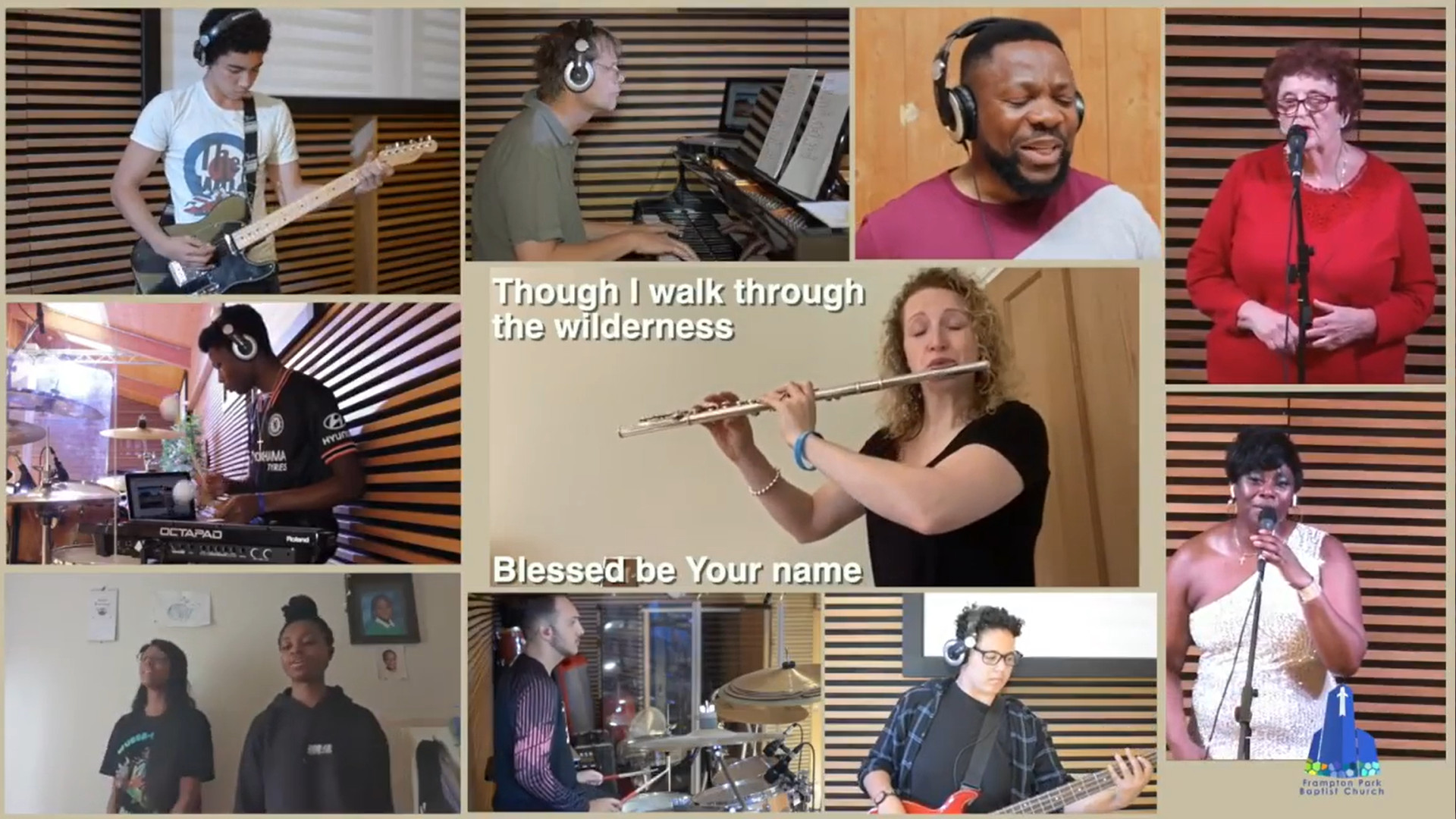 New tool for live broadcasting Mass
Belltron Ireland & UK Ltd are pleased to introduce you to the new Belltron BST-3000, a useful, NO SUBSCRIPTION, tool for broadcasting live Mass. Belltron has developed its own ISAC (Internet Speech Audio Codec) system offering parishioners who are unable to attend the celebrations the opportunity to listen to all liturgies live or deferred. This device is a useful tool for the priest to stay in touch with their community and for parishioners to continue to feel part of the community, if they can't attend church.
Click here to read the full story