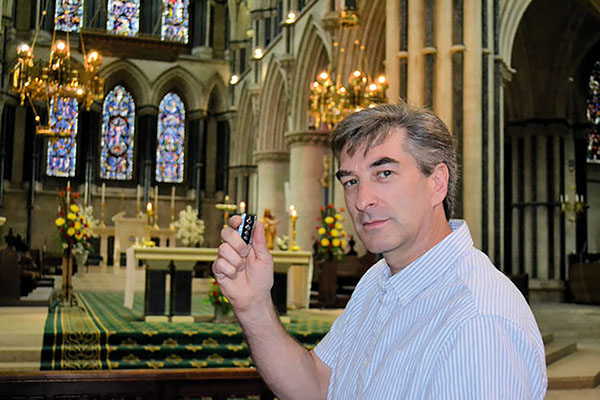 Many in the church have turned to live streaming services to maintain their communication with their congregations and others seeking worship during recent difficult times. There are many ways to achieve that; however, audio and visual specialist Darren Butler from Norfolk-based Audio Electronic Design (AED) saw, very early on in 2020, a future problem when it came to providing a permanent solution, with many lacking the technical and practical knowledge associated with operating the technology, coupled with a need to be very considerate to the building while carrying out a fixed installation.
Most solutions used were born from personal web streaming, blogging and home-based DIY systems, often sourced via YouTube instruction videos. While professional systems have been used for many years, Darren (pictured), saw the cost and expertise needed to operate such systems as being an issue for many.
Director of music at St John's Cathedral in Norwich, Daniel Justin, managed to set up a home-made webcam system in front of the altar, to provide a picture and rather echoey sound. However, he soon realised that a more professional and permanent solution would be needed and turned to Darren, who has supplied audio and audio-visual systems to literally hundreds of churches for over 30 years, including St John's and two other cathedrals.
By applying the approach that the user would have almost no previous technical ability, his solution was to combine high-definition PTZ (pan, tilt and zoom) cameras, video processing and a custom-built interface to provide an engaging live streaming solution which is operated by a simple small remote control.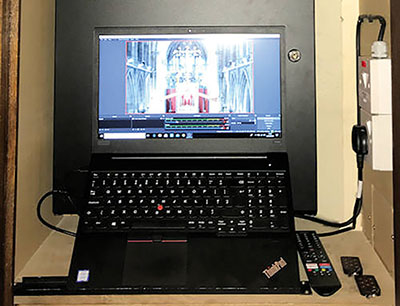 "The beauty of our system is that it can provide dozens of different shots from just two fixed cameras," said Darren. "They can zoom, pan and tilt and the entire system is fully controllable from a small hand-held radio-controlled keyfob that the priest or a member of the congregation can easily operate. There is no need for camera or control desk operators, as all the shots from the cameras are pre-programmed and transition automatically at the press of a button.
"I see this system being a simple long-term solution for those churches which want to stream services but want to do so with as little involvement as possible. It offers a sustainable solution which is both cost-effective and much more engaging for the viewer.
"In St John's Cathedral we used two high-definition cameras in fixed positions: one close-up to the altar and the other one further back in the church to ideally give a wider view of as much of the church as possible. We included a small TV monitor so that whoever is controlling the system can see what is being broadcast, and also a small computer to provide the stream to their platform."
Darren added that the system can be adapted to suit the needs of everything from a cathedral to a small chapel.
Daniel Justin was full of praise for the new system. He told Network Norfolk, the Norfolk and Norwich Christian Community website: "People who have not been able to attend Mass for many years before this pandemic have been grateful for the opportunity to do so. We will be continuing broadcasting Masses from the cathedral as we return to public Masses, as it is clear they have meant a great deal to a great number. We have had people watching from America, Canada, the Philippines, Australia, and Dubai – it's wonderful to be able to share our liturgy and our wonderful building with all these people.
"The work of Darren's team has been exemplary, and their sensitivity in installing in a Grade One-listed building has been really careful. Every detail has been attended to, and the system has been a real investment. I have recommended AED to anyone who has enquired, and I will continue to do so."
AED's system has been continually developed and features added over the ensuing months, with multiple camera capability and zoom integration being the latest. The approach to simple operation by the user, coupled with the absolute commitment to protection of the building fabric during installation, has led to dozens of systems being installed, including at the Anglican cathedrals of Norwich and Bury St Edmunds, Worth Abbey, Pershore Abbey and many other sites throughout the UK.
For further information visit www.audioelectronicdesign.co.uk