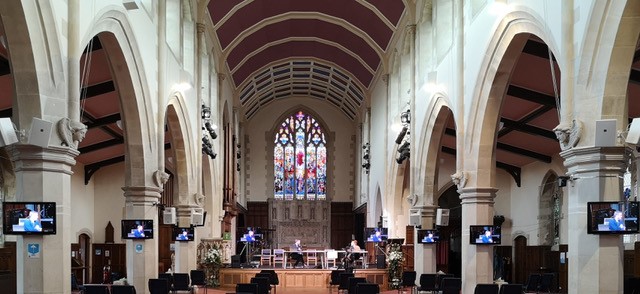 St Pauls Weston Super Mare is the largest church in the Diocese of Bath and Wells apart from the cathedrals. It normally has a big, vibrant congregation and has strong links with the community.
When COVID restrictions meant they could only house a fraction of their normal congregation, they approached APi Sound and Visual to create a streaming solution. Craig the minister had recommended APi to the church as they had recently installed a comprehensive sound and visual system into his previous church in Ilminster. APi's managing director ANDY PIDSLEY takes up the story.
We suggested a system with two remote controlled pan/tilt/zoom cameras to give them the most creativity in terms of possible camera angles. We designed a system to allow them to be integrated with the output of their presentation software, so that in addition to camera images, graphics and other content could be both shown in church and streamed.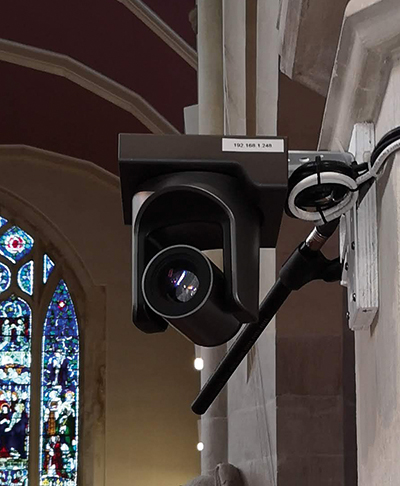 They also have 10 flat-screen displays in the church which needed to be upgraded to HDMI connectivity, so we replaced the cable infrastructure with HDMI over Cat 6 cable (HDBT) transmission. That allowed for full HD images, and the matrix switcher we used also allows them to have different images displayed to the congregation from those for the speaker and band.
For streaming we installed a clever video switcher with a built-in streaming engine, removing the need for an additional computer. That also allows the church to record each input and the main output to a hard disk for editing after the event, if required.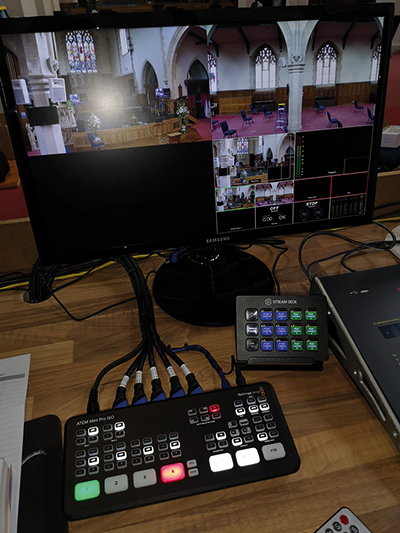 However, with all of that equipment operating it could have become quite unwieldy, especially for the less technical team members. With that in mind we utilised a clever 15-button custom control panel, with each button having an integrated display clearly showing the function. With that we were able to create 'pages' for camera control, image switching within the church and image selection for the live stream. Popular functions such as saved camera positions, fades, stream-start-and-stop and words-over-pictures are all available as one-touch presets.
We used our own custom control processor in the background to connect all of the devices together, and even the presentation software can be operated from that panel – useful for paging through song words or sermon texts.
Unlike other control systems this solution offers the client the ability to make changes with a minimum of knowledge; we can even dial in and update the system for them.
APi Sound and Visual are always looking at the latest technology for solutions that enable the needs of the church to be met, while keeping the operation as simple as possible.
For further information visit www.apicommunications.co.uk