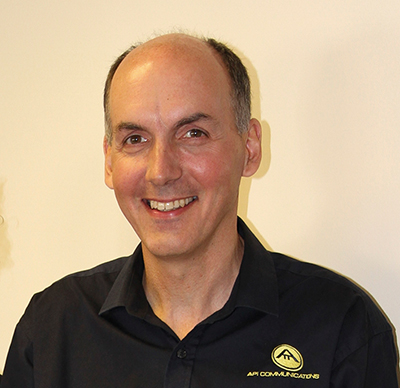 For many years Exeter-based APi Sound and Visual have been installing sound and visual systems in churches in the West Country and beyond. Camera systems have often been installed to allow those in the same building to see on a big screen what is happening at the front, for example projecting close-up images of a baptism or other event to give everyone a 'front-row' view.
Now, with COVID-19, APi are receiving many enquiries about 'virtual worship'. Here, managing director ANDY PIDSLEY looks at the various options.
As we move forward together into some uncharted territory, it is more important than ever to maintain a sense of community. We can no longer physically meet on a Sunday, so we are left with meeting virtually. A benefit is that, for the first time in many years some have been able to join in services, where previously not being able to travel to a physical building precluded them from doing so.
There are several ways to do this, each with its own set of advantages and disadvantages, and suitability – depending on the meeting type we are trying to replicate. Basically, they fall into two categories: live streaming – like a radio broadcast, with one source to many listeners – or video conferencing: more like a council meeting with a chairperson and a number of participants.
Here are some pros and cons for each.
Live streaming is essentially a live broadcast and offers top-notch video and audio quality, depending on the source equipment. However, the potential for congregational feedback is limited to an associated text message feed. That can work quite well if the main presenter can interact well with the messages, but it doesn't allow for seeing each other or spoken/video feedback. Image quality can be very high and audio likewise. Transmission equipment can vary from a smartphone, tablet or laptop to a sophisticated AV system.
Platforms such as YouTube and Facebook are well suited to a Sunday service format. They can also be promoted, and anyone can join the service without a specific invitation. They are free to use, but you should have the correct CCLI licence to cover streaming to the public.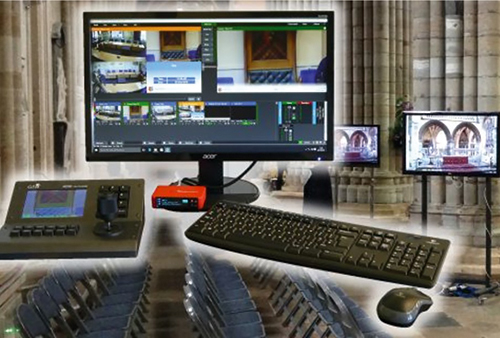 As I mentioned, video conferencing is more like a council meeting, with a chairperson and a number of participants. Image quality is good, although the sound is not so good. Video conferencing platforms such as Google Meet, Microsoft Teams and Zoom offer the opportunity to see and hear all of those in the gathering as well as the chairperson. They also offer the facility to share the desktop of users, so that you can run a PowerPoint presentation or song words, for example. Many of the platforms offer a free service and subscriptions to others are very reasonable.
This type of service is ideal for smaller churches of say 50 or less, as it gives more of a feeling of togetherness. However, strict discipline is necessary as people can talk over the top of each other. Due to the way that the audio is switched, the sound quality is not as good as a streaming service, but by asking participants to mute when not contributing it can be very good.
I suggest that you keep things as simple as possible to start with – just using a phone or tablet as they all have built-in microphones and cameras and generally just work. There are plenty of helpful YouTube videos to help you get started.
If you have a paid-for Zoom account you can also stream to Facebook or YouTube direct – for those who want to watch but not interact, or visitors who don't have the log-in details for the Zoom meeting.
A personal example is that our church has Sunday meetings on Zoom weekly, with around 40 participants. My wife and I have led worship from our lounge and someone else has operated Easy Worship in their kitchen! There was a great sense of togetherness with many contributions and we even had coffee and chat afterwards. Since then we have had a daily Zoom meeting with prayer and worship, plus on Wednesday we have had a social gathering. That has been fantastic for those in self isolation.
As churches slowly begin to reopen, thoughts turn to how everyone can be involved in services. A new importance has been placed on the ability to stream, and APi are able to upgrade existing systems to enable streaming relatively simply – depending on the age of the equipment and the availability of broadband, although we can offer 4G wireless solutions.
At APi we frequently use 'PTZ' (pan, tilt, zoom) type cameras, as it is possible to steer them and follow the subject, and to save common preset positions for quick access. That will be recorded onto media such a USB drive or SD memory card. The audio input is usually taken from the existing sound system.
As with all of our systems, we place ease of operation and reliability at the top of the list when it comes to equipment specification. We use simple push-button switching between cameras, dedicated streaming devices with just start/stop functions and avoid the use of computers to provide those functions, so that there is no risk of crashing and no updates to install. For your church that will mean multiple users are confident at recording without difficulty. As well as installing the equipment, APi will provide training.
For further information visit www.apicommunications.co.uk