If you or your church are thinking about streaming, then before you read on, DM Music recommend you read their Before You Start Streaming Quick Expert Guide. The company believes it is essential to the way you approach the below.
Since the first National Lockdown, live streaming of some form, has been high on the agenda for most churches. With so many options to choose from – including streaming hardware & software, streaming platforms, cameras and microphones – we felt it was necessary to put together a straightforward guide which should aid you in choosing the right live streaming solution for your church.
Initially take a look at the simplified diagram below showing the basic ingredients you may need for your church's streaming solution. From content, to encoding, through the internet to your streaming platform provider, and then on to your congregation.

Church Streaming Diagram
---
Internet Connection
The first thing you are going to need before all else is a fast, reliable broadband connection, ideally with an upload speed of 6-10+ Mbps . The easiest way to check this is to use Google's speed test feature. Don't worry if your internet is a little slower, some platforms support streaming in standard definition – an option for upload speeds below 6Mbps.
---
Streaming Platform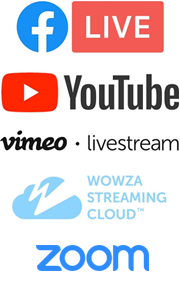 With so many streaming platforms out there you're going to want to do a bit of research into which would work best for you. However, for the majority, YouTube and Facebook Live are the two main contenders. They're free to use and, if you don't mind the odd advert, could be just what you are looking for. Most churches will typically link from their website to either there Facebook page or YouTube Channel for viewing. Both of these options also allow for social interaction and engagement.
If you'd rather be free from adverts or have more control over your stream you may wish to look into a paid service such as Livestream from Vimeo, Wowza or Dacast etc. These services are typically quite expensive and on a monthly subscription basis.
NB. Some platforms (YouTube for example) require you to create/activate your account at least 24 hours in advance so getting this out of the way early on is a good idea!
An alternative approach is to use 'Zoom' as your platform for meeting online as a church congregation. Many will have used Zoom for other meetings or and particularly during lockdown periods. Using Zoom at home can be very straight forwards. However using it for Sunday Services can be a lot more challenging and often be more complex than 'just' streaming to YouTube / Facebook.
Read more on Using Zoom For Your Church Service.
---
Cameras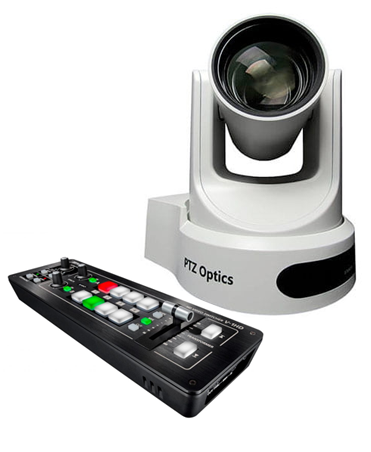 Next, you'll want to think about what type and how many cameras you want in your system. The choices you make here will have an impact on the interfacing hardware required before any images reach your live stream.
Fixed cameras are perfect where the same shot is required every time, (e.g. a head and shoulders shot of someone at a lectern or the 'front of the church') whereas if what you're trying to capture isn't fixed, or you maybe need to zoom in/out during a service or event, then a PTZ camera could be what you are looking for. Do bear in mind though that you'll need someone to operate a PTZ camera or, at bare minimum, switch between preset shots.
Multiple cameras, even a mix of fixed and PTZ, could allow for a much more professional looking live stream. Switching between cameras could be done via hardware such as a video mixer, switch/scaler or in software.
If there is already an AV system in the church you might want to think about using any existing cameras if they are suitable or, vice versa, making sure any new cameras can be used for local viewing in the church if required.
---
Audio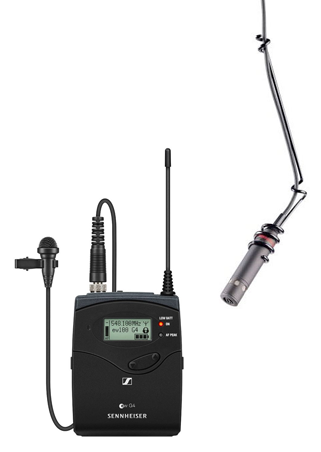 Audio is crucial to your livestream and its importance cannot be overstated. How do you get your audio into the live stream? Well if you have an existing PA system then chances are a feed taken from this will be enough to get you up and running. Combine this with the video signal using an audio embedder (or via a audio interface for your computer) and you're almost ready to go! Many streaming encoders and video mixers have an analogue audio input, so you can also combine audio and video this way too. If you don't have a PA system then you may want to look at investing in a wired or wireless microphone to best capture audio from the service or event.
It is also worth mentioning that although your existing Church sound system will likely capture the audio from spoken word, singers, musicians, choir, etc, it may not pick up the sound of the building or more importantly the congregation. If your 'audience' at home watching the livestream cannot hear the congregational responses, singing, laughter, clapping etc then it can feel quite dry.
In order to create sound that makes it feel more like you are actually in church, you will need one or more ambient microphones that capture the sound of the congregation and the space. This sound should not go back through your Church speaker system as it will very likely cause feedback. For more information on the different ways to add the ambient sound of your congregation in to your livestream contact us here.
---
Encode!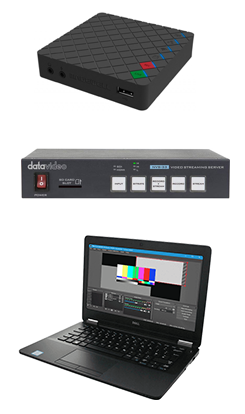 Finally, you'll want to decide how you will get your video (and audio) content to your chosen streaming platform.
Hardware or Software?
A stand-alone 'hardware' box solution can provide an extremely straightforward, robust option, which can start/stop an encoded stream at the push of a button (or even be programmed to start the stream on power up). It doesn't therefore require a PC for operation.
NB. Most hardware encoders will also offer simple one button audio/video recording to USB memory stick or SD card.
Using a computer to encode can be relatively easy through 'software'. It can also be low cost – if you have a reasonably powerful computer available and use free software like OBS. However, you may need to purchase additional hardware to capture video from an AV system, Camera or other computer on to your streaming computer. Software will allow for manipulation and mixing of video as it's streamed.
Add to this all of the extra hardware/software which could be required for multiple cameras/camera control and we begin to have an almost infinite list of potential live streaming systems!
You can also see a number of the more popular products in the 'Streaming' section of our online shop.
For further information visit www.dmmusic.com