Latest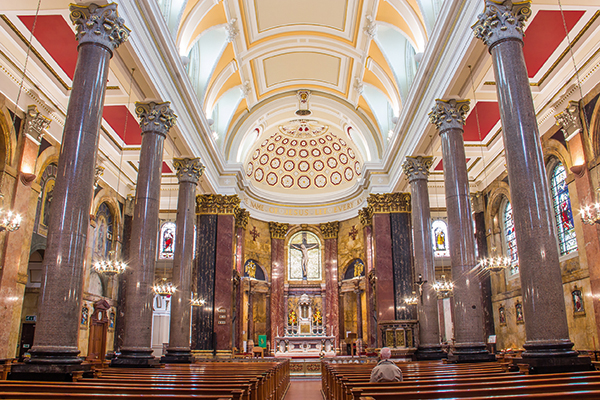 One of the companies that had reason to be glad they exhibited at the last CRE in Manchester five years ago is Anthony J Smith (Glos) Ltd. They have a long history of designing and installing bespoke lighting systems within churches and since that last show they have been fortunate to have been involved in a number of church projects in the North West – including at Standish, Ecclestone, Preston and Oldham. They also have a small number of other projects in the region at the planning stage.
That being the case, the company felt that, when CRE decided to return to the North West in March, they should do the same, and they are looking forward to discussing potential new projects with visitors to the show who may be looking either for lighting improvements or for a full design, rewire and installation service.
Read more...
The Parish Church of St John the Baptist in the village of Somersham, near Huntingdon, stands on a site which is thought to have been used for Christian worship since the second half of the 7th century.

The current building itself dates from the latter part of the 13th century and was probably built by one of the bishops who lived in the Bishops Palace, which was sited only a few hundred yards from where the church now stands but has sadly disappeared.

Read more...

Walthamstow Wetlands is a series of 10 reservoirs, located in the Lea Valley Special Protection Area, providing drinking water to 3.5 million Londoners. The 211-hectare site is an area of Special Scientific Interest, which has been transformed into one of Europe's largest urban Wetland nature reserves.

A collaboration between Thames Water, the London Borough of Waltham Forest and London Wildlife Trust, the aim was to conserve the heritage and identity of the site, whilst allowing free public access to this unique landscape of water, woods and marshland.

Read more...

St Nicholas' Church, Burton in Wirral, is located in the village of Burton, Ellesmere Port and Neston, Cheshire. It is designated by English Heritage as a Grade II* listed building and is an active Anglican parish church in the diocese of Chester, the archdeaconry of Chester and the deanery of Wirral South.

Inside the church is a hatchment bearing the arms of the Congreve family along with other memorials to the family. The memorial to Richard Congreve who died in 1820 is by S. Gibson and includes a weeping putto. The parish registers start in 1538.

Read more...

Newtech was awarded the contract to design and install a new audio visual system for Ealing Green Church, West London. The church was to undergo a complete refurbishment and as part of these works a new high quality sound and video system was required.

The church required multiple floorboxes each with a variety of audio / video inputs and outputs, these would allow for the system to accommodate all types of services and events to be held in the church.

Read more...

Finalists Shane White of SW Leadworks and Ashley Saxton of Saxton Specialist Leadwork will be vying for the prestigious Leadworker of the Year 2019 title at this year's Award Ceremony. The competition, now in its eighth year, is sponsored by the Lead Sheet Training Academy, which specialises in training those using lead or hard metals in the construction industry. It was open to both self-employed leadworkers and those working for contractors.

Read more...

Entries for the 2019 Leadworker of the Year competition are now open. The Lead Sheet Training Academy (LSTA) is inviting those who are proud of the leadwork skills they have, and who have undertaken an LSTA or Lead Sheet Association leadwork course, to enter the competition. It offers leadworkers the chance to get a career boost and gain recognition of their skills.

The competition is open to all leadworkers in the UK – whether they are self-employed or working for a contractor. The winner receives a free week of training at the LSTA, a new set of tools and a copy of the Rolled Lead Sheet Manual.

Read more...

St Hilda's Church in Halifax and Worcester Cathedral have taken part in a drone survey trial with specialist insurer Ecclesiastical.

St Hilda's Church in Halifax participated in survey for specialist insurer Ecclesiastical, which has been trialling drone technology to help support its in house risk management team. The technology will give the insurer fresh insight and accurate data about the churches it insures, which will enable it to provide better and more specific advice to its church customers.

Read more...

Breakspear House is a truly magnificent 17th century Grade I-listed manor house, which has undergone a detailed restoration.

Formerly the Breakspear family estate in the 13th century and home to W.S Gilbert by the end of the 19th century, it was then acquired commercially in 1956 as a retirement home. Sadly by 1987 it lay abandoned, derelict and vandalised.

Read more...

After the modernism that followed the war, no one expected we'd see hand-carved ornamentation in our architecture again, writes Master Carver Ian Agrell. Yet here it is. We're enjoying a resurgence in classical decoration, whether it's a restoration of a 400-year-old church, a brand-new chapel with a Gothic organ case, or a Louis XIV-style library for a billionaire's London penthouse.

Large architectural firms are increasingly winning projects requiring hand-carved woodwork. However, many of these companies—especially those more experienced in modern styles—know little about classical decoration or the ornamentation industry as a whole. They might not know that woodcarving workshops still exist.

Read more...

The National Centre for Writing, which has just completed a £2 million extension and refurbishment project at its headquarters in Norwich, called upon the capabilities of the latest Priva BMS (building management system) as a vital part of the upgrade. By installing state-of-the-art Priva Blue ID technology to monitor and control the internal climate, the organisation hopes to ensure that the building's fabric, which includes ancient timber beams, is preserved in an optimum way.

Read more...

The Oast House is a former oast house and heritage asset, which forms part of a complex of former agricultural buildings near the village of Hever in Kent.

Once a derelict ruin located in the curtilage of the Grade II listed Lydens farmhouse, it has been carefully restored and converted by Richard and Jane Horobin into a characterful family home, which blends with the rural landscape of the High Weald Area of Outstanding Natural Beauty.

Read more...

Tudor Roof Tiles Co Ltd, Britain's foremost independent handmade clay roof tile manufacturer, has received a 2018 'Build It Award' for its range of 'Bespoke Handmade Clay Roof Tiles'

This is the second time the company has claimed the prize for 'Best Roofing Product' in these prestigious awards, which recognise the best products, services, projects and innovations available to self-builders and renovators. This achievement for the bespoke tile making abilities follows the company's previous success in 2014 as category winner for its authentic standard range of peg and plain tiles.

According to the judges "This product is a high-quality option for any homeowner undertaking a heritage project or looking to create an authentic period feel."

Read more...
<< Start < Prev 1 2

3

4 5 6 7 8 9 10 Next > End >>


Page 3 of 81