Latest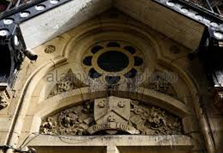 Church and listed building owners - and managers for large property owners in the sector such as Historic England, the Public Monuments and Sculpture Association, and the National Trust - understand property wear-and-tear very well. In fact, those who manage such facilities must budget for repairs and maintenance of their grounds and buildings each year.
A problem that carers and keepers of these buildings may not predict is bird damage and liability caused by pest bird infestation. However, there is one very important difference between a lot of other hazards and a pest bird problem - whilst you cannot predict it, you can prevent your bird problem!
Read more...
From a lively opening featuring Eurovision winner Dana, to a solemn ending – when former special envoy to the Archbishop of Canterbury, Terry Waite, spoke of his five years' imprisonment – the Christian Resources Exhibition's return to (CRE) Sandown Park, Surrey, 'touched all the emotions.'

A total of 4,061 people (excluding exhibitors and their staff) visited the show during its three days and some 200 exhibitors were so enthusiastic that more than 30 have already booked stands for next year.

Read more...

Ironically, few things today are changing as rapidly as our views on conservation. According to the European Confederation of Conservator-Restorers' Organisations 'conservation consists mainly of direct action carried out on cultural heritage with the aim of stabilising condition and retarding further deterioration'. 'Active' or 'hands on' conservation is commonly used to describe what is, in reality, a form of restoration.

Read more...

Designers of a new community Baptist Church, nearing completion in Dumfries, turned to spray applied insulation specialists, Icynene to solve a complex insulation challenge.

The new Church is a 2000sqm, multi-purpose building designed by Glasgow based, McLean Architects and built in the Georgetown district of Dumfries in the Scottish Borders.

The building was conceived as a flexible-use community hub comprising worship, conference and youth facilities together a full specification games hall and multi-use games area.

For the games hall, McLean Architects designed an 18.00x 18.00 m sq 8.00m high structure comprising a 140mm thick internal leaf of concrete blockwork with an external steel frame, supporting fibre-cement rain-screen cladding.

Read more...

East Anglia is home to some of the most precious ancient churches in England – a good number of which date from the Saxon period. It is no surprise, therefore, that some of the most innovative methods for ensuring their continued good condition are to be found there.

One deployment of modern technology is the use of unmanned aerial vehicles (UAVs), or drones, to overfly sites in need of examination.

Read more...

In July and August 2017 Suffolk Archaeology undertook three detailed geophysical surveys within the bailey of Bungay Castle, Bungay, Suffolk at the request of Historic England and the Bungay Castle Trust.

The aim of the project was to identify potential archaeological features or former buildings relating to the occupation of the castle, within a 0.24ha area of lawn, and to compare the results from modern equipment with those from a previous geophysical survey carried out in 1990.

Read more...

This listed property had been rendered with cement at some stage which had been causing damage to the structure over the years. Lime render was required to restore the property to its original status.

Somerset based Trendle Conservation were asked to come in and look at a gable end as the render was starting to flake on this Grade II listed property.

Read more...

The LCA has held awards for best work from its members for the last 21 years. The Murdoch Sponsors Award was added some ten years ago for the smaller installations that used less than five tonnes of lead sheet, but which could be equally as demanding of the leadworker's skills as the larger, more eye-catching projects.

Read more...

Dulwich College in south London was established in the 17th Century and is famous not only for its superlative academic provision, but also for its historic buildings including the impressive Great Hall. The Hall is the centrepiece of the school community and was designed around 1870 by Charles Barry, whose father designed the Houses of Parliament.

Recently Dulwich College's COO Simon Yiend led an initiative to reimagine the lighting design in the Great Hall to help to restore its original perspective. This included making this spectacular room's lighting more appropriate to its heritage and also more efficient. Bespoke lighting specialist Dernier & Hamlyn was asked to utilise the knowledge its engineers and craftsmen have built up over many years to propose an appropriate solution. They advised installing the light fittings on rods that were attached to the ceiling at the same points as Barry's gas lights to minimise the effect on the building's structure while optimising lighting levels.

Read more...

St Wilfrid's RC Parish Church in Preston city centre is a Grade Two*-listed Jesuit church which draws a substantial number of worshippers throughout the week. It is basilican in form and Italianate in style, with a particularly ornate and impressive interior carried out in exotic materials.

Frank Roberts of Preston-based Francis Roberts Architects said of the interior: "Ranks of giant columns of polished Shap granite, topped with gilded composite capitals, define the nave, which terminates in a semi-domed and coffered apse. The aisle walls are lined in rich marbles and mosaics and there is an impressive display of stained glass."

Last summer the church embarked on a project to install a new lighting system and redecorate the interior, under the direction of Francis Roberts Architects.

Read more...

When the well-known roofing company John Williams & Company was established in 1870, it had already seen other manifestations that could date back as far as 1822, in Bangor, North Wales.

In 2004 the present company John Williams & Company (Contracting) Ltd was formed.

In the intervening years, and since, the company's craftspeople have worked on many prestigious buildings, including Tower Bridge, St James's Palace and The British Museum in London; Rochester Cathedral and Portchester Castle in the South East and many famous hotels and mansions up and down the country.

Read more...

The Guild of Architectural Ironmongers (GAI) is the only trade body in the UK that represents the interests of the whole architectural ironmongery industry - architectural ironmongers, wholesalers and manufacturers.

Its reputation is built on three key areas: education, technical support and community. Its qualification, education and CPD programmes are widely respected in the UK and overseas, including GCC and Hong Kong.

Read more...

Ark Stained Glass & Leaded Lights Ltd were approached to work on the Royal Shakespeare Theatre as part of their huge refurbishment project.

Part of the work was to take out a number of leaded lights and steel casements, strip and relead the windows, replacing any broken glass, and restoring the casements.

Read more...
<< Start < Prev 1

2

3 4 5 6 7 8 9 10 Next > End >>


Page 2 of 73