Latest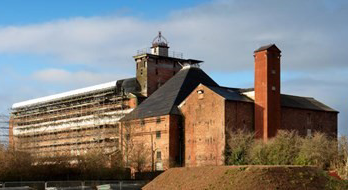 A day of practical guidance which will lead you through the process of writing and understanding specifications on historic ironwork, highlighting pointers and pitfalls in the tendering and procurement process.
This course is offered free of charge thanks to funding from the Andrew Lloyd Webber Foundation for Historic England's heritage skills programme at Shrewsbury Flaxmill Maltings.
Read more...
Wootton New Life Church is a growing and lively Methodist church at the heart of the village of Wootton in Bedfordshire.

For many years the traditional rectangular church building had a suspended ceiling, which had begun to look tired; so the church decided to open up the whole space and redecorate.

Unfortunately, that would mean removing the main source of sound absorption in the building and lead to an increase in reverberation time – making speech intelligibility poor and their modern worship style fatiguing.

Read more...

Whether you have trouble finding good, reliable organists (or other musicians), have no instrument or simply want good music available for outreach, the Hymnal Plus is the solution.

As well as churches, the Hymnal Plus is widely used by Schools and Colleges, Chaplaincies in the Armed Forces, Prisons and Hospitals, Retirement Homes, Retreat Centres, Christian Holiday Centres, Cruise Liners, Crematoriums and private individuals – all of whom find the Hymnal Plus provides their complete worship music needs.

Read more...

In 2012 Sound Space Vision (SSV) won the competition to be the theatre design and acoustics consultants for David Chipperfield Architects' master plan to unite the Royal Academy of Arts' 18th-century Burlington House with its neighbour, Burlington Gardens, and transform the interiors throughout. SSV's brief was to modernise and equip Burlington Gardens' 19th-century lecture theatre for 21st-century presentation and performance, and was expanded later to include acoustics advice on the new gallery spaces, the learning centre, as well as mechanical systems.

Read more...

The Buzz is back! That was the exclamation heard many times at CRE 2018 in October, as 3,710 visitors and 671 exhibitor staff poured through the doors of Sandown Park in Surrey to interact with the 200-plus organisations exhibiting there.

Most importantly, however, pre-registration statistics revealed that over a quarter were visiting the exhibition for the very first time! Owner and managing director Steve Goddard explained: "It encouraged us to believe there are still thousands of church-goers yet to find out about us."

Read more...

Mark Harrison, Head of Heritage Crime and Policing Advice at Historic England, outlines the development of their Heritage Crime Programme.

Historic England defines heritage crime as: "Any offence which harms the value of England's heritage assets and their settings to this and future generations."

Harm caused to a heritage asset by crime or anti-social behaviour will often have both direct and indirect impacts. For example, the loss of historic fabric from a listed building through theft or vandalism will not only have a direct impact by damaging the fabric of the building itself. It can also have an indirect impact such as social or economic loss to the amenity of an area.

Read more...

Tourtalk is a portable short-range wireless system used to transmit an audio message from a presenter to an audience. The presenter speaks into a radio microphone transmitter and the audience use lightweight receivers to hear the message. Tourtalk systems are used by places of worship and heritage sites around the UK and abroad.

As the system is completely portable it requires no installation and can be setup within minutes with no impact to the buildings aesthetics. As the receivers don't rely on line-of-sight transmission, the system can be used discreetly and cover large areas including balconies. Tourtalk systems are used for many applications including guided tours, hearing support and simultaneous interpretation.

Read more...

The successful insulation of a 250-year-old farmhouse in rural Aberdeenshire has received a Commendation in the Scottish Energy Efficiency Awards, which took place in Glasgow this summer.

Bogendollo House, an early 19th century category C listed building at Fettercairn near Aberdeen, was the subject of an extended trial to assess the viability of high performance spray foam insulation as a means of preventing heat loss in architecturally significant buildings.

Read more...

The York Handmade Brick Company has been highly commended for two major projects in the prestigious 2018 Brick Awards.

Leading independent brickmaker York Handmade, based at Alne, near Easingwold, was recognised for its work on the acclaimed new Westgate Centre in the heart of historic Oxford and for the magnificent new Halifax Library.

Read more...

During the lead up to Armistice Day thoughts were focused on the centenary of the end of hostilities in the First World War.

At furniture restorers Andrew G Podmore & Son in York restoration work is progressing well on the memorial for members of the Lancashire and Yorkshire Railway who lost their lives in the conflict.

At the outbreak of war in 1914 the company had a 37,000 strong workforce. Over 10,000 would volunteer for the armed forces and 1,422 would lose their lives.

Read more...

Scanaudio have carried out a major upgrade to the sound reinforcement and induction systems in the Memorial Chapel at Charterhouse during the Easter Holiday. The chapel was designed by Sir Giles Gilbert Scott and consecrated in June 1927. It is the largest war memorial in England and dedicated to the Carthusians who gave their lives in the First and Second World Wars.

Read more...

The Lead Sheet Training Academy is pleased to announce the appointment of new General Manager, Nick DuGard, who will be leading the organisation in its next phase of development.

Nick joins the organisation with a wealth of experience relevant to the construction training sector, having spent 15 years at City and Guilds as a Regional Business Manager where he was responsible for the delivery of sales revenues, business solutions and the development of a broad range of qualification products throughout the UK.

As well as an in-depth understanding of the work-based training sector, he also brings a breadth of knowledge in wider funding potential as he has worked as a business and fundraising consultant in the sports world.

Read more...

Heritage properties can be particularly susceptible to the winter weather however, careful maintenance and proactive management can help reduce the risk of property damage and injury to those that visit your property during the colder months.

As a specialist insurer, Ecclesiastical is uniquely positioned to provide some simple practical advice that can help keep your property and its visitors safe as the cold weather approaches.

Read more...
<< Start < Prev 1

2

3 4 5 6 7 8 9 10 Next > End >>


Page 2 of 79