Latest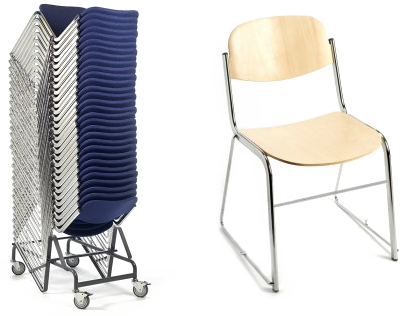 Chairs might seem simple: four legs and seat to sit on. How hard can they be to shop for?
However, when it comes to investing in a set of chairs that are designed to be versatile, easy to use and serve their purpose, there's many more factors to consider! Stef Bewers of Gloucestershire-based Race Furniture explains:
How many chairs should you buy? Where should you store them? Can staff manoeuvre them? How comfortable are they? These are just some of the questions that you need to be asking in commercial or multi-function use settings.
Read more...
The churches and chapels of the United Kingdom are home to countless symbols of religion, wealth, power and history. None, however, are quite as distinctive and yet as little known as the hatchment. As a record of a church's past parishioners, hatchments are as significant as inscribed plaques or gravestones, but they can also give a far deeper insight into the history of a parish.

Read more...

Merritt, an Ohio-based international interior solutions firm, has acquired Agrell Architectural Carving, one of the world's preeminent ornamental woodcarving companies. Agrell, with offices in the UK and US, provides exquisite, classical hand-carved ornamentation for architecture, luxury interiors and furniture around the globe. Merritt's acquisition of Agrell furthers the company's mission to be a complete interiors solution with all traditionally outsourced crafts under one roof.

Independently, Agrell and Merritt have earned reputations for precision and innovation that have resulted in close collaborations with many of the world's most renowned architects and interior designers. Together, their highly regarded approaches ensure seamless execution, delivered on time and on budget.

Read more...

The National Heritage Ironwork Group (NHIG) have recently launched an online Members Directory, providing a valuable resource for those seeking suitable contractors who subscribe to the organisation's Conservation Principles.

Associations and organisations can also become members, and the National Heritage Training Group (NHTG) have recently joined the ranks in recognition of their common aims and shared goals.

Read more...

Based in Bury St Edmunds, Rickards Period Plastering provides a professional application of traditional plastering techniques throughout the county. Whether working within the precious historic environment or on a unique architecturally designed new build they endeavour to provide a skill set and finished product of the highest quality.

Mike Rickards is from a previous restoration background and established the company in April 2012 and his experience has been built upon undertaking the projects that others may shy away from - whether due to material use, design, access or other site specific challenges. He says: "We enjoy the challenge and relish the unique and unusual projects so that, when finished, we can take a step back and say....'we did that'.

Read more...

York Minster is Northern Europe's second largest gothic cathedral and has a long and varied history dating back almost 1500 years. Initially built with wood, the church has undergone numerous transformations over the two centuries, including complete refurbishments and organised repairs, and has survived two fires and William the Conqueror's harrying of the North!

Conservation and restoration is an on-going commitment and those in charge are dedicated to keeping the traditional architecture and heritage. As a result, they utilise a combination of cutting-edge science and ancient craftsmanship when undertaking any remedial restorative work.

Read more...

St Wilfrid's RC Parish Church in Preston city centre is a Grade Two*-listed Jesuit church which draws a substantial number of worshippers throughout the week. It is basilican in form and Italianate in style, with a particularly ornate and impressive interior carried out in exotic materials. Frank Roberts of Preston-based Francis Roberts Architects said of the interior: "Ranks of giant columns of polished Shap granite, topped with gilded composite capitals, define the nave, which terminates in a semi-domed and coffered apse. The aisle walls are lined in rich marbles and mosaics and there is an impressive display of stained glass."

Read more...

Global fire systems leader, Advanced, has launched a new guide to fire protection for historic and heritage sites.

Historic and heritage sites present unique challenges to end users, specifiers and installers. The new brochure is designed to help key stakeholders understand some of the solutions available for the challenges they face. It addresses many common problems in ensuring adequate active fire protection, tackling the challenges of minimising aesthetic impact, quick, safe evacuation and eliminating unwanted alarms, among many more.

Read more...

If you require promotional aerial pictures of your property suitable for publication, promotional videos or inspection imagery, then Wiltshire-based Skynamite can deliver to your requirements in a safe, fast and efficient manner.

Lead pilot Simon Knight, has been operating drones commercially for four years. He also works part-time as a UAV flight instructor with Phoenix UAV Centre and as a flight test examiner with The Aerial Academy. With a background in model aircraft flying and photography, Simon has the expertise necessary to operate a drone efficiently and deliver high quality imagery to meet your requirements.

Read more...

What are Quinquennial Inspection Reports?

Under the Inspection of Churches Measure 1955, as amended by the Care of Churches and Ecclesiastical Jurisdiction Measure 1991, all consecrated buildings of the Church of England must by law be inspected once in every five years by a registered architect or chartered building surveyor (the 'Quinquennial Inspector' or QI) who is approved by the Diocesan Advisory Committee (DAC). Most other denominations and many secular organisations which are responsible for historic buildings now adopt a similar approach to inspections.

Read more...

Historic England took leadership of the Shrewsbury Flaxmill Maltings project in March 2014. The Department for Communities and Local Government awarded £1,169,000 of funding through the European Regional Development Fund (ERDF) towards a Stage One, £2.5m, project to kick-start regeneration. Historic England provided the balance of the funds.

Completed work - Stage 1:

The Oice and Stables have been converted for use by the Friends of the Flaxmill Maltings as an interactive visitor centre and education facility The 1950's grain silo has been demolished, providing further external space for cultural, interpretation and public use. This added to work previously carried out by Shropshire Council to clear derelict modern buildings from the site.

Read more...

Morris Joinery has been awarded a coveted commission from Historic England to restore and replace a total of 39 windows at the town's historic Flaxmill Maltings, known as the grandparent of the modern skyscraper.

Four of the original 4ft square windows at Shrewsbury Flaxmill Maltings are to be carefully restored by hand with a further 35 other replicas hand crafted to complete this element of the major refurbishment project.

All the windows will be made from wood with sills crafted from English oak and frame and casements in Douglas Fir with modern thermal requirements included to ensure the new windows are 'future-fit'.

Read more...

The award-winning York Handmade Brick Company has played a crucial role in the restoration of one of Scotland's most iconic churches.

York Handmade, based at Alne, near Easingwold, has provided 12,000 specially-made bricks for St Bride's Church in East Kilbride, near Glasgow.

St Brides was designed by the celebrated architect, Professor Andy MacMillan, whose Scottish practice Gillespie Kidd & Coia worked extensively on ecclesiastical buildings from the 1950s through to the 1990s.

Read more...
<< Start < Prev 1

2

3 4 5 6 7 8 9 10 Next > End >>


Page 2 of 77