Latest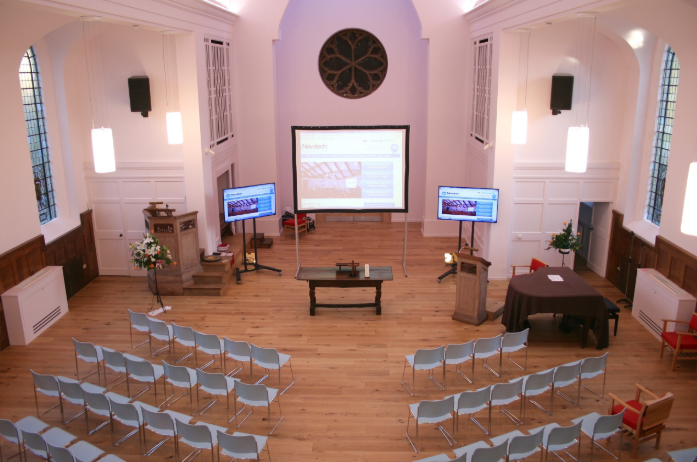 Newtech was awarded the contract to design and install a new audio visual system for Ealing Green Church, West London. The church was to undergo a complete refurbishment and as part of these works a new high quality sound and video system was required.
The church required multiple floorboxes each with a variety of audio / video inputs and outputs, these would allow for the system to accommodate all types of services and events to be held in the church.
Read more...
Entries for the 2019 Leadworker of the Year competition are now open. The Lead Sheet Training Academy (LSTA) is inviting those who are proud of the leadwork skills they have, and who have undertaken an LSTA or Lead Sheet Association leadwork course, to enter the competition. It offers leadworkers the chance to get a career boost and gain recognition of their skills.

The competition is open to all leadworkers in the UK – whether they are self-employed or working for a contractor. The winner receives a free week of training at the LSTA, a new set of tools and a copy of the Rolled Lead Sheet Manual.

Read more...

St Hilda's Church in Halifax and Worcester Cathedral have taken part in a drone survey trial with specialist insurer Ecclesiastical.

St Hilda's Church in Halifax participated in survey for specialist insurer Ecclesiastical, which has been trialling drone technology to help support its in house risk management team. The technology will give the insurer fresh insight and accurate data about the churches it insures, which will enable it to provide better and more specific advice to its church customers.

Read more...

Breakspear House is a truly magnificent 17th century Grade I-listed manor house, which has undergone a detailed restoration.

Formerly the Breakspear family estate in the 13th century and home to W.S Gilbert by the end of the 19th century, it was then acquired commercially in 1956 as a retirement home. Sadly by 1987 it lay abandoned, derelict and vandalised.

Read more...

After the modernism that followed the war, no one expected we'd see hand-carved ornamentation in our architecture again, writes Master Carver Ian Agrell. Yet here it is. We're enjoying a resurgence in classical decoration, whether it's a restoration of a 400-year-old church, a brand-new chapel with a Gothic organ case, or a Louis XIV-style library for a billionaire's London penthouse.

Large architectural firms are increasingly winning projects requiring hand-carved woodwork. However, many of these companies—especially those more experienced in modern styles—know little about classical decoration or the ornamentation industry as a whole. They might not know that woodcarving workshops still exist.

Read more...

The National Centre for Writing, which has just completed a £2 million extension and refurbishment project at its headquarters in Norwich, called upon the capabilities of the latest Priva BMS (building management system) as a vital part of the upgrade. By installing state-of-the-art Priva Blue ID technology to monitor and control the internal climate, the organisation hopes to ensure that the building's fabric, which includes ancient timber beams, is preserved in an optimum way.

Read more...

The Oast House is a former oast house and heritage asset, which forms part of a complex of former agricultural buildings near the village of Hever in Kent.

Once a derelict ruin located in the curtilage of the Grade II listed Lydens farmhouse, it has been carefully restored and converted by Richard and Jane Horobin into a characterful family home, which blends with the rural landscape of the High Weald Area of Outstanding Natural Beauty.

Read more...

Tudor Roof Tiles Co Ltd, Britain's foremost independent handmade clay roof tile manufacturer, has received a 2018 'Build It Award' for its range of 'Bespoke Handmade Clay Roof Tiles'

This is the second time the company has claimed the prize for 'Best Roofing Product' in these prestigious awards, which recognise the best products, services, projects and innovations available to self-builders and renovators. This achievement for the bespoke tile making abilities follows the company's previous success in 2014 as category winner for its authentic standard range of peg and plain tiles.

According to the judges "This product is a high-quality option for any homeowner undertaking a heritage project or looking to create an authentic period feel."

Read more...

Bats are a protected species in the UK and play an important role in the ecosystem. Until now when bats are found, only Bitumen 1F felt has been used. This has come at considerable cost to the thermal performance of the roof because 1F felt requires extra rafter space if insulation is used; in old buildings this is often not possible.

Properties with an uninsulated 1F felt roof can release up to 10 tonnes of CO2 per year through the buildings fabric. Replacing 1F felt with a breathable membrane and additional insulation between the rafters can reduce CO2 emissions by 57%. These factors have a large impact on global warming and climate change.

Read more...

Cupa Pizarras has been specified for the historic Camphill Blair Drummond site. In keeping with the area's heritage Heavy 3 slate was chosen for six stunning homes for Camphill residents; due to its desired aesthetics, durability and flexibility.

Located in the outskirts of Stirling amongst rolling hills and exquisite Scottish scenery, Camphill Blair Drummond provides a warm, friendly and home-from-home living environment for young people with complex learning disabilities. The community provides meaningful activities and workshops where relationships can be built, and day students and residents can live, learn and relax in a unique family setting.

Read more...

The University of Birmingham boasts the tallest free-standing clock tower in the world at the heart of its campus, commonly known as 'Old Joe' or 'Big Joe'. In 2017 Old Joe fell silent as the Smith of Derby Group carried out repairs to the strike side of the clock so the famous chimes could be heard across campus once again.

The tower has also had other practical purposes over the last 113 years, since it was built in 1905 when the four JB Joyce clock dials were first commisioned. It was originally designed with the physics department in mind to help experiments. In the 1940's the tower was used to test equipment which would form the basis of RADAR technology in World War II and then provided a useful watchtower during the World Wars.

Read more...

That is the message to church managers from Essex-based Argonaut Heating Ltd, a company with over 40 years experience in the industrial and commercial heating sector.

Specialising in church heating systems, they can provide cost-effective and efficient design, installation, repair and maintenance services and understand the problems involved in heating churches, community centres, halls and other places of worship.

Read more...

Blenheim Palace is a large iconic country house near Woodstock in Oxfordshire. It is home to the Duke of Marlborough and birthplace of Winston Churchill. As part of a large restoration project on the East Courtyard Tower, Mansfield based Time Assured was chosen to restore four large stone clock dials and a decorative gold coronet above the west dial.

Read more...
<<

Start

<

Prev

1

2 3 4 5 6 7 8 9 10 Next > End >>


Page 1 of 79