Latest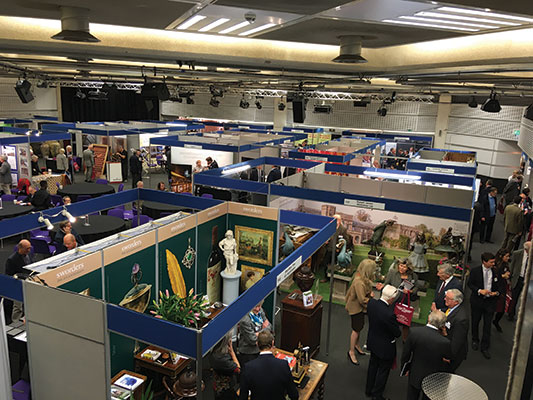 Entrance to this major heritage conservation day is free of charge. The event - to be held at the Queen Elizabeth II Conference Centre, Westminster on Tuesday 12th November - is all about the care, repair, conservation, maintenance, preservation and restoration of historic buildings, their contents and surrounding landscapes.
The all-day exhibition will consist of 75 exhibitors offering advice, solutions, guidance and support, as well as a wide and diverse range of products and services. Ranging from the traditional to cutting edge technology and across all areas of historic building and landscape conservation.
Read more...
Ecclesiastical Insurance has made a £12,500 grant to the Cathedrals' Workshop Fellowship (CWF) to support the conservation and repair of UK Cathedrals.

Working with nine cathedrals across the UK, including Gloucester, Canterbury, York Minster and Salisbury Cathedral, and in collaboration with the University of Gloucestershire, the CWF offers stonemasons, carpenters, joiners and electricians a recognised career path and route to higher qualifications through a two-year, work-based study programme.

Read more...

Towards the end of 2016, following several years of steady decline, the price of metal, and in particular lead and copper, showed an upturn. This meant that protected heritage sites and buildings were placed at an increased risk of metal theft.

In response the Home Office announced it would be reviewing the Scrap Metal Dealers Act 2013, which it duly carried out, with contributions from UK Policing, The Heritage Alliance, and British Metals Recycling Association among others.

Read more...

​Recently Houghtons of York completed the restoration of three over 6ft tall statues carved by John Skeaping, the husband to Barbra Hepworth for six years and well-renowned carver who is known best for his work in stone and equestrian pieces.

The statues were the artists last large scale commission, they were carved from Nigerian Opepe for Kings College Cambridge, below are some historic photos of them stood in place.

Read more...

John Wesley's Chapel in Bristol – known as The New Room – opened its doors in 1739 and is the oldest Methodist building in the world. It has been a place of worship, heritage and social action ever since.

In 2017 a new visitor centre opened in the Horsefair courtyard next to it, featuring a café, shop, atrium, library and archive, meeting rooms and new offices – as well as a revamped 12-room museum above the existing chapel.

Read more...

Specialist work to restore the intricate alabaster monument in Scone Palace's gothic chapel has been completed. A four week project, this is the first time the monument has undergone restoration work since 1921.

The work inside the small Presbyterian chapel, which looks upon the famous replica Stone of Scone on Moot Hill, has been completed by a specialist mason after a report by a conservation architect identified a number of areas requiring restorative work on the monument.

Read more...

During the lead up to Armistice Day thoughts were focused on the centenary of the end of hostilities in the First World War.

At furniture restorers Andrew G Podmore & Son in York restoration work is progressing well on the memorial for members of the Lancashire and Yorkshire Railway who lost their lives in the conflict.

At the outbreak of war in 1914 the company had a 37,000 strong workforce. Over 10,000 would volunteer for the armed forces and 1,422 would lose their lives.

Read more...

At Suffolk-based Rickards Period Plastering Ltd they feel fortunate to have the opportunity to be working in an area of the country that has a wealth of unique architectural design, using what they feel is a special product: the chalky lime plaster and render. Here, Mike Rickards shares his enthusiasm for traditional plasters.

Read more...

Masons and conservators across the UK and beyond are rediscovering traditional mortars through research, use and experience. They are moving away from the default specification of natural hydraulic limes for conservation works and are determined to practise like-for-like repair.

A registered charity, the Building Limes Forum exists to encourage that expertise and understanding in the appropriate use of building limes, and to promote education in the standards of production, preparation, application and aftercare. Throughout the year, the organisation invites its members and others to learn, discover and share knowledge about the use of building limes through talks, practical demonstrations and tours of historic sites.

Read more...

On 12 May 1894 a parcel of land on Elizabeth Road in Caterham – now Francis Road – was purchased at a cost of £32, for a new church building to be called Oak Hall. The church building was completed during July and August at a cost of £206, and opened on Thursday 13 September of that year.

Fast forward 125 years and there is a new Oakhall church building in the heart of the Caterham community – a building which has been named South East Regional Winner in the 2019 LABC Building Excellence Awards in the Best Public Service Building category.

Read more...

A fountain in Westminster Abbey's cloister garth to commemorate the tercentenary of the great 18th century landscape gardener Lancelot 'Capability' Brown was dedicated last year.

The fountain was made in lead by Brian Turner, who is a veteran exhibitor at the Chelsea Flower show and prominent committee member of the Lead Contractors Association.

Read more...

Rainclear Systems, the UK's leading stockist and online retailer of metal rainwater systems, has recently broadened the range of cast aluminium ornate hoppers it offers from stock for next day delivery in 'textured black' – the most frequently requested colour and finish.

They have seen a slow decline in demand for cast iron rainwater systems and an equivalent increase in demand for cast aluminium for restoration and refurb projects – being easier to install, less expensive and requiring very little ongoing maintenance.

Read more...

Founded by the Romans as a thermal spa, Bath became an important centre of the wool industry in the Middle Ages. In the 18th century, under George III, it developed into an elegant town with neoclassical Palladian buildings, which blend harmoniously with the Roman baths.

There is a World Heritage Site Management Plan (2010) for the site and a World Heritage Site coordinator is responsible for implementing the objectives and action plan.

Read more...
<<

Start

<

Prev

1

2 3 4 5 6 7 8 9 10 Next > End >>


Page 1 of 82