Latest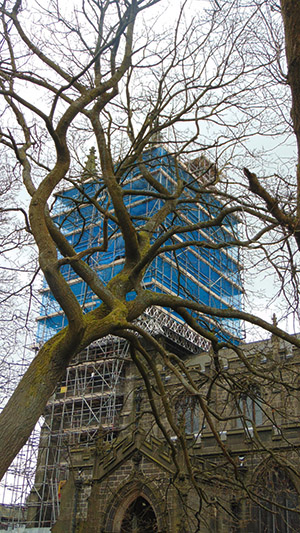 In January Stockport-based Aura Conservation Ltd were appointed to carry out the restoration of the Grade II listed 19th century parish church of St Thomas the Apostle in Heptonstall. The gothic style church stands alongside the ruin of the previous 13th century Church of St Thomas à Beckett with three adjacent churchyards.
Read more...
Every November SPAB (The Society for the Protection of Ancient Buildings) promote 'Maintenance Week' to encourage us to take a look at the buildings we are responsible for and consider spending a little time and money on their care. After all, we all expect regular maintenance checks to keep our cars in good shape – so why not our homes?

Gutters protect our buildings – our most valuable assets, whether ancient or not - Gutters manage the flow of rainwater away from our roofs, walls and foundations keeping them dry and preventing costly damage/repairs.

Read more...

The Oast House is a former oast house and heritage asset, which forms part of a complex of former agricultural buildings near the village of Hever in Kent.

Once a derelict ruin located in the curtilage of the Grade II listed Lydens farmhouse, it has been carefully restored and converted by Richard and Jane Horobin into a characterful family home, which blends with the rural landscape of the High Weald Area of Outstanding Natural Beauty.

Read more...

One of the most frequent changes made to churches today will involve seating in some way. Changing seating inside a church can have a significant impact upon the interior. The process of changing furniture, as well as choosing a suitable alternative, requires careful consideration. ChurchCare publish a document intended to guide parishes through the planning stages and the decisions involved.

The decision to remove pews should be made on a case by case basis following careful assessment of significance, needs and impacts. If the decision is taken to replace existing seating in a historic church building, then the Church Buildings Council aspires to seeing replacement chairs or benches of the highest quality of design.

Read more...

The LSA is going to be running some half day CPD certified seminars in the North of England this autumn. These lead and hard metal seminars are some of our most popular courses and are aimed at anyone involved in the surveying, specifying or installation of rolled lead sheet/traditional hard metals in the construction industry.

Two venues have been selected, one near Wetherby and one in Wigan, to help cover as wide a catchment area as possible.

Read more...

The award-winning York Handmade Brick Company has provided 30,000 bricks for the new multi-million Central Library and Archives in Halifax, which officially opened on Saturday September 9th.

About 30,000 specially-manufactured bricks make up the walls of the new building.

Read more...

Fullers Finer Furniture have been making their renowned height adjustable Canterbury and York Lecterns since 2001. Demand for these popular lecterns continues. Fullers Finer Furniture put the continued demand down to a number of factors.

Read more...

York restorers and conservators Andrew G Podmore & Son were delighted to be entrusted with the conservation of the great west doors at Ripon Cathedral. The work was carried out under the expert guidance of architect Oliver Caroe.

As with all restoration, it was paramount that the evidence of the timber's age on the doors' surface be conserved and this involved careful cleaning of the internal surfaces which can be seen as a matrix frame construction in a harlequin pattern. When the frame was cleaned and the accumulated soot and dust removed, remnants of an original waxed finish were found.

Read more...

The return of CRE to Sandown will be accompanied by an equally welcome return of an exhibitor who has seen as many CRE shows as the racecourse itself.

Stoke-on-Trent heating company Mellor and Mottram are one of the foremost specialist installers of heating systems for churches in the UK. From their origins in the commercial market in the 1970s the company has honed its expertise in the complex church sector to a fine degree.

Read more...

Cotswolds furniture restorer Clive Payne made a unique discovery whilst restoring an early 18th century bureau which had been bought from the estate of Agatha Christie. The bureau, which had been brought in by a private client, had been sitting in Clive's workshop for 3 years before he began work on it.

Read more...

Skyline from Alumasc offers top of the range roof edge details to suit all designs and budgets. Skyline systems are manufactured from high quality, polyester coated aluminium by a manufacturer with 50 years of product manufacturing experience so you can expect high precision detailing, welding and finishing.

And NOW you can select and pay for these quality products online from Rainclear Systems the UK's leading stockist and online retailer of metal rainwater and roofline systems.

The Skyline aluminium coping system has a hidden strap fixing method which avoids penetration of the capping, whilst allowing ventilation over the top of the wall.

Read more...

Known as the UK's largest producer of traditionally handmade bricks and specials, produced from its manufacturing base in Leicestershire, Charnwood combines the highest durability characteristics with the ability to tailor bespoke products to your exact specification to produce a premier finish. Two recent unique projects have used quality, premium Charnwood products to form inspiring architecture that encompass distinctive designs.

Stepping Stone House, in Hurley, is a 150sqm multi-room garden house extension located in the grounds of Hurley Manor House. Shortlisted for a RIBA South Regional 2017 Award, architecture practice 'Hamish and Lyons' has accomplished a beautiful design, which seeks to embrace the essence of nature using organic structure, natural materials and daylight.

Read more...

In March 2010 arsonists torched the historic 19th century St Mary's Church at Westry in Cambridgeshire, leaving it almost completely destroyed with only the four main walls left standing.

Its road to recovery was long and at times uncertain. Indeed it took much fundraising just to enable the church to properly assess the damage. From there detailed plans were developed and the necessary permissions sought before the restoration was finally able to take place.

To ensure the church was returned to its former glory it was imperative that the restoration was carried out using the correct traditional building materials.

Read more...
<< Start < Prev 1 2 3 4 5 6 7 8 9

10

Next > End >>


Page 10 of 79