Latest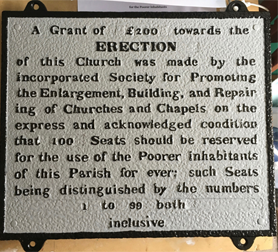 St Peter's Church in Framilode was built by public subscription and by a Church Commissioners' grant in 1854. It was one of many Commissioners churches built with money voted by Parliament as a result of the Church Building Act of 1814 and related further Acts.
The money was either used to pay for the cost of a church in full or as a grant to cover part of the cost. St Peter's Church was awarded a grant of £200 and this was recorded on a cast iron plaque originally erected in the porch of the church. The main condition attached to these grants was a requirement for a number of seats to be reserved for the use of poor parishioners.
Read more...
In December 2014 Arroll and Snell, architects for Shrewsbury Roman Catholic Cathedral, asked TOPP & Co. for ideas regarding guard railings and gates to a new entrance and external staircases to the cathedral, as part of a major redevelopment of access and circulation within the building. The cathedral was opened in 1856 and is in what is now known as Victorian gothic style. The interior was designed by Edward Pugin, son of his famous father Augustus Pugin, well known as a champion of the gothic revival, whose most famous works include the interior of the palace of Westminster.

Read more...

Quite simply, when the installing contractor is no longer around when a problem occurs with their "guaranteed" work

Of course they may just refuse to return to site - after all, they've been paid for the work, why should they care?

They may even have gone out of business (how good is their guarantee then?) - and just how good was the "Guaranteed" workmanship in the first place?

That's why the 25 year Guarantee from a member of the Lead Contractors Association (LCA) is different.

Read more...

Nicole Wall, of Southampton based picture framers We Frame It, was recently approached to undertake an unusual project to frame a rare painting created during the second world war. Nicole takes up the story:

"I do have some challenging items brought in by customers from time to time and none more so then this large piece of War Art dating from 1938. It was a cartoon of my customer's father leaving his horse regiment in Palestine to join the newly formed tank regiment in Europe.

"The picture was unusual as it had been painted on paper used to line ammunition boxes and as such had a central core of tar impregnated coconut fibres. It was extremely brittle and had been stored rolled up in various attics over the years. Still, the artwork remained very clear and the customer now wanted it framed and displayed on the wall.

Read more...

Our next issue will feature a fascinating insight, exploring metallurgy, production techniques, its architectural and historical context and best practice conservation.

Wrought iron, normally produced from pig iron, is a ferrous carbon alloy with a significantly lower carbon content (less than 0.1%) than cast iron or steel. Wrought iron is produced with slag inclusions (the top layer of melt formed during smelting containing oxides and other impurities) which gives wrought iron a characteristic fibrous nature. The slag provides a range of material properties including, toughness, ease of welding, resistance to corrosion, malleability when hot and tensile strength.

Read more...

Repair grants from the National Churches Trust are awards usually of between £5,000 and £40,000 towards the cost of urgent and essential structural repair projects, such as roof repairs. Projects must usually have an estimated cost of at least £100,000 (including VAT and fees) to qualify.

Places of worship of any denomination and age are eligible and applications from listed and unlisted Christian places of worship across the UK will be considered. The Trust are particularly interested in seeing applications from their priority areas - North East England, Northern Ireland, Scotland and Wales, as well as from Baptist and Presbyterian churches, but other churches may still apply.

Read more...

The heritage roofing specialists at Sheffield-based Martin-Brooks have added sparkle to a trio of the region's ecclesiastical gems.

The firm has completed extensive roof repairs on three churches in Sheffield, Rotherham and Doncaster that benefited from government grants for listed places of worship.

Martin-Brooks was successful in securing contracts by competitive tender to renovate the roofs of St Thomas' in Kimberworth, Rotherham, Holy Trinity and St Oswald's in Finningley, Doncaster and Christ Church in Pitsmoor, Sheffield.

Read more...

The National Ironwork Heritage Group (NHIG) are holding a Heritage Ironwork Seminar on Friday June 30th this year at Hartlebury Castle, Kidderminster DY11 7XZ from 9.30am to 4.30pm.

The National Heritage Ironwork Group was established in 2009 to raise public awareness about historic ironwork and provide guidance to professionals involved in its restoration. NHIG promotes good conservation practice and high standards of workmanship so as to safeguard the long term survival and integrity of heritage ironwork for the benefit of the nation. They also champion practitioners of traditional ironworking skills and aim to inspire emerging professionals to develop traditional skills. While they cannot endorse the work of specific companies, members are by virtue of their membership ascribing to NHIG Conservation Principles.

Read more...

Completed in 1970 the building is bold statement of modern architecture. However, while the interior of the main worship hall is visually impressive, the environment for speech intelligibility is acoustically very challenging.

Previous attempts to improve communication of the service by the installation of a sound reinforcement system provided only very limited improvement. In fact, it could be fair to say that, these measures had just aggravated the acoustic situation.

Read more...

In October we revealed that Christian Resources Exhibitions (CRE) had been sold by Bible Society to a new owner headed up by its former media consultant Stephen Goddard.

In December Stephen introduced the new team, stating: "Last May the Bible Society decided to focus on its core mission of offering The Bible to the world and purposed to find a new home for CRE or close it down.

Read more...

Daniel Charles Solander (1736-1782) was a renowned Swedish botanist who came to England on the advice of his tutor Linnaeus to become Assistant Librarian, and afterwards Keeper of Printed Books, at the British Museum. He also travelled on the 'Endeavour' with Captain Cook on his expedition to the Pacific. He was a Fellow of the Royal Society and acted as Secretary and Librarian to Sir Joseph Banks, the eminent scientist.

Read more...

Having designed and made stained glass for many different situations including private houses, churches, public houses, exhibitions and galleries, Ann Sotheran derives the most pleasure from working in close consultation with the client or donor in the initial stages of the design.

She explains:

I like to explore, with them, their reasons for commissioning a piece of work in order that I can develop images which will most closely reflect their feelings and aspirations and evoke a positive response to the finished piece.

Read more...

Two years on from saving over 30 skilled jobs, Darwen Terracotta and Faience report they have smashed their original £1.3 million turnover target. "There is a well justified buzz about the place and an optimism that the hard teamwork and effort have paid off and we have created a sustainable path to a better future for all, explained Jon Wilson."

Read more...
<< Start < Prev 1 2 3 4 5 6 7 8 9

10

Next > End >>


Page 10 of 75