Latest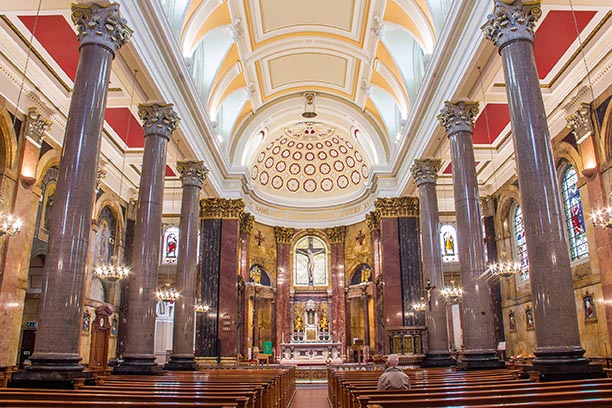 St Wilfrid's RC Parish Church in Preston city centre is a Grade Two*-listed Jesuit church which draws a substantial number of worshippers throughout the week. It is basilican in form and Italianate in style, with a particularly ornate and impressive interior carried out in exotic materials.
Frank Roberts of Preston-based Francis Roberts Architects said of the interior: "Ranks of giant columns of polished Shap granite, topped with gilded composite capitals, define the nave, which terminates in a semi-domed and coffered apse. The aisle walls are lined in rich marbles and mosaics and there is an impressive display of stained glass."
Last summer the church embarked on a project to install a new lighting system and redecorate the interior, under the direction of Francis Roberts Architects.
Read more...
When the well-known roofing company John Williams & Company was established in 1870, it had already seen other manifestations that could date back as far as 1822, in Bangor, North Wales.

In 2004 the present company John Williams & Company (Contracting) Ltd was formed.

In the intervening years, and since, the company's craftspeople have worked on many prestigious buildings, including Tower Bridge, St James's Palace and The British Museum in London; Rochester Cathedral and Portchester Castle in the South East and many famous hotels and mansions up and down the country.

Read more...

The Guild of Architectural Ironmongers (GAI) is the only trade body in the UK that represents the interests of the whole architectural ironmongery industry - architectural ironmongers, wholesalers and manufacturers.

Its reputation is built on three key areas: education, technical support and community. Its qualification, education and CPD programmes are widely respected in the UK and overseas, including GCC and Hong Kong.

Read more...

Ark Stained Glass & Leaded Lights Ltd were approached to work on the Royal Shakespeare Theatre as part of their huge refurbishment project.

Part of the work was to take out a number of leaded lights and steel casements, strip and relead the windows, replacing any broken glass, and restoring the casements.

Read more...

A holy well covering a spring that is said to have arisen during the baptism of Wales's patron saint, St David, has become the latest monument to gain scheduled protection from the Welsh Government's historic environment service (Cadw).

The Pembrokeshire monument is known as 'Pistyll Dewi' or 'Ffynnon Dewi' and the water there is said to have restored the sight of St David's godfather, who held the baby for the baptism.

A stone built, squared off wellhead is repeatedly associated with the remains of a chapel, with some accounts saying the water is sanctified by running under the chapel's altar.

Read more...

When Grade II* listed All Saints Church in the North Yorkshire hamlet of Burton-in-Lonsdale needed a roof renovation, the architects for the Anglican church turned to JB Shingles from Marley Eternit to deliver a rustic look that harmonised with its surroundings.

The distinctive broach spire, originally built in 1876, had been suffering from weather erosion and needed extensive repairs and renewal, in particular to the shingle cladding, as it was around 60 years old. A substantial grant was secured from the Department for Culture, Media & Sport.

Read more...

Paddy Leighton, UK director for spray foam insulation specialists Icynene, looks at heat loss in buildings and how new, high performance insulation systems can improve comfort levels in old and so called 'difficult to treat' buildings.

Read more...

In January Stockport-based Aura Conservation Ltd were appointed to carry out the restoration of the Grade II listed 19th century parish church of St Thomas the Apostle in Heptonstall. The gothic style church stands alongside the ruin of the previous 13th century Church of St Thomas à Beckett with three adjacent churchyards.

Read more...

Every November SPAB (The Society for the Protection of Ancient Buildings) promote 'Maintenance Week' to encourage us to take a look at the buildings we are responsible for and consider spending a little time and money on their care. After all, we all expect regular maintenance checks to keep our cars in good shape – so why not our homes?

Gutters protect our buildings – our most valuable assets, whether ancient or not - Gutters manage the flow of rainwater away from our roofs, walls and foundations keeping them dry and preventing costly damage/repairs.

Read more...

The Oast House is a former oast house and heritage asset, which forms part of a complex of former agricultural buildings near the village of Hever in Kent.

Once a derelict ruin located in the curtilage of the Grade II listed Lydens farmhouse, it has been carefully restored and converted by Richard and Jane Horobin into a characterful family home, which blends with the rural landscape of the High Weald Area of Outstanding Natural Beauty.

Read more...

One of the most frequent changes made to churches today will involve seating in some way. Changing seating inside a church can have a significant impact upon the interior. The process of changing furniture, as well as choosing a suitable alternative, requires careful consideration. ChurchCare publish a document intended to guide parishes through the planning stages and the decisions involved.

The decision to remove pews should be made on a case by case basis following careful assessment of significance, needs and impacts. If the decision is taken to replace existing seating in a historic church building, then the Church Buildings Council aspires to seeing replacement chairs or benches of the highest quality of design.

Read more...

The LSA is going to be running some half day CPD certified seminars in the North of England this autumn. These lead and hard metal seminars are some of our most popular courses and are aimed at anyone involved in the surveying, specifying or installation of rolled lead sheet/traditional hard metals in the construction industry.

Two venues have been selected, one near Wetherby and one in Wigan, to help cover as wide a catchment area as possible.

Read more...

The award-winning York Handmade Brick Company has provided 30,000 bricks for the new multi-million Central Library and Archives in Halifax, which officially opened on Saturday September 9th.

About 30,000 specially-manufactured bricks make up the walls of the new building.

Read more...
<< Start < Prev 1 2 3 4 5 6 7

8

9 10 Next > End >>


Page 8 of 77