Latest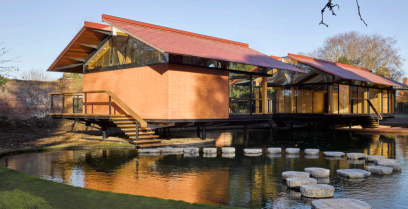 Known as the UK's largest producer of traditionally handmade bricks and specials, produced from its manufacturing base in Leicestershire, Charnwood combines the highest durability characteristics with the ability to tailor bespoke products to your exact specification to produce a premier finish. Two recent unique projects have used quality, premium Charnwood products to form inspiring architecture that encompass distinctive designs.
Stepping Stone House, in Hurley, is a 150sqm multi-room garden house extension located in the grounds of Hurley Manor House. Shortlisted for a RIBA South Regional 2017 Award, architecture practice 'Hamish and Lyons' has accomplished a beautiful design, which seeks to embrace the essence of nature using organic structure, natural materials and daylight.
Read more...
In March 2010 arsonists torched the historic 19th century St Mary's Church at Westry in Cambridgeshire, leaving it almost completely destroyed with only the four main walls left standing.

Its road to recovery was long and at times uncertain. Indeed it took much fundraising just to enable the church to properly assess the damage. From there detailed plans were developed and the necessary permissions sought before the restoration was finally able to take place.

To ensure the church was returned to its former glory it was imperative that the restoration was carried out using the correct traditional building materials.

Read more...

The danger of fire in ecclesiastical and other heritage buildings becomes particularly acute when building or refurbishment work is being undertaken. A major concern is that most building work in churches is undertaken while it remains fully functioning. In those situations, not having a fully compliant fire alarm system can result in unnecessary risks to the congregation and other building users.

Paul Henson, sales and marketing director at Ramtech Electronics, explained: "Fire in our ecclesiastical and heritage buildings is an ever-present danger. These types of structures are particularly vulnerable during refurbishments or new build work due to the presence of flammable materials and hot works."

Read more...

Paul Henson, Sales and Marketing Director at Ramtech Electronics, explores how guardians of our ecclesiastical and heritage buildings can set a benchmark for fire safety by specifying an EN 54 compliant temporary fire alarm systems.

"Fire in our ecclesiastical and heritage buildings is an ever present danger. These types of structures are particularly vulnerable during refurbishments or new build work due to the presence of flammable materials and hot works''

The resulting damage from a fire does not stop at physical property loss. A major concern is that most of the building work is undertaken whilst the church remains fully functioning. In these situations, not having a fully compliant fire alarm system can result in unnecessary risks from a fire to the congregation and other building users.

An additional factor to consider is that several of the leading insurers to the ecclesiastical and heritage sector require that adequate consideration is given to fire during any building work. However, it is not prescriptive on what 'adequate' means. Subsequently it complies that the fire alarm system meets EN54 as standard.

Read more...

An award winning Lancashire business, Darwen Terracotta, has been invited to feature in the prestigious Parliamentary Review and attend an exclusive reception at the Palace of Westminster on September 18. Participation is by invitation only, enabling selected companies to meet leading politicians and advance the cause of manufacturing and construction.

The company was started in 2015, following the closure, after more than 100 years, of the architectural ceramics division of another local business. Producing terracotta and glazed ceramic cladding – faience – the company has grown rapidly, with products being used on both building restoration and in new projects.

Read more...

The daily opening of the shutters at Mompesson House in Salisbury floods the house with light - but how does this affect the collection? National Trust Consvervation Assistant Kate Vince looks at the different ways that light is monitored to protect the collection whilst still creating a wonderful experience for visitors.

My first job in the morning is to open the shutters of the house. This lets the light flood the rooms and brings the house to life. I do a room at a time, clean it, then shut the shutters back down and plunge the house into darkness once more. This stops light from damaging the collection.

Light is an agent of deterioration and as such is monitored throughout the house. Viewing the collection in daylight is a joy but it has been well understood for centuries that light, particularly daylight, can cause objects to deteriorate. This damage is irreversible and cannot be rectified by conservation treatments.

Read more...

The National Trust protects historic buildings and buildings in the wider landscape. Their team works hard to ensure they are preserved for ever and for everyone, using traditional conservation techniques.

Our special places need a lot of looking after and you can read more about some of our most ambitious conservation and restoration projects in the next issue of this magazine. Ecclesiastical and Heritage World's Autumn issue will feature a spotlight on the National Trust Restoration Programme with case study examples of some of the magnificent conservation and restoration successes old and new. Support and contributions from specialists nationwide is welcome.

Read more...

Fires in churches and heritage buildings have a number of causes and can have devastating consequences – not only in terms of damage to property, but also as the cause of serious injury and even loss of life.

The Regulatory Reform (Fire Safety) Order 2005 requires all premises to undertake a comprehensive risk assessment to identify any possible dangers and risks, as well as the people who may be at risk. Leading church insurer Ecclesiastical Insurance and the Fire Industry Association offer advice on both the prevention of fire and the protection necessary should a fire occur.

Churches

Ecclesiastical Insurance has produced a guide for church authorities to help them undertake such a risk assessment and to minimise the risk of fire in their buildings. The guide identifies a number of common causes of fires and offers advice on steps to take to combat them.

Read more...

The restored Grade II-listed Hastings Pier, built in 1872, has natural VMZINC® standing seam roofs which are undoubtedly the most immediately recognisable feature of the £14.2m redevelopment. dRMM architects' vision to restore the pier to its former glory has been a resounding success following years of neglect, closure for eight years and a fire which tore through it in 2010. It has been shortlisted for the 2017 Stirling Prize.

Described as a national Victorian treasure, the domed roofs spanning covered seating areas are particularly eye catching and complement façades in the same system. Both will weather to take on the textured, natural grey patina which is so reminiscent of lead. The standing seam work was undertaken by specialist metals contractor Roles Broderick Roofing, whose craftsmen finished the roofs with ornamental zinc finials.

Read more...

The Norfolk based company Kenton Brauer Stained Glass & Casements have recently taken part in the complete restoration to St Pancras Cemetery Chapel in East Finchley, London by restoring the main West tracery. In addition to this, they manufactured & installed nine new leaded lights to the North, South & West windows and undertook many repairs to the other tracery stained lights within the chapel.

This grade II listed Anglican chapel sits in one the largest and oldest cemeteries in the UK and was built by J.Barnett and W.C. Birch in 1853. It is of a cruciform design with gothic styled decorated windows.

Read more...

Craven Dunnill Jackfield has underlined its ranking as the leading manufacturer and supplier of specialist tiles for major restoration projects, having taken top honours in the TTA Awards. The company has been named in The Tile Association Awards as both winner of the prestigious Excellence in Manufacturing and as the manufacturer for the Best Renovation Project 2017.

Read more...

Raikes Road Burial Ground in Skipton, North Yorkshire is a one-acre Victorian cemetery, originally opened for just 30 years from 1846 to 1878, after which it became forgotten and neglected with much damage.

The Friends of Raikes Road, a volunteer group, were formed in 2013 with the aim of restoring the old site, encouraging and studying the wildlife which had taken over the Ground, and bringing it back into Skipton's heritage. There was no surviving documentation about the site except for the Burial Register, from which it could be seen that 2,000 people were buried in this small area, being an overspill from the Parish Church graveyard.

Read more...

BLM British Lead, the UK's leading manufacturer of Rolled Lead Sheet, invite leadworkers and roofing contractors to enter their recently launched Photo Competition.

The theme of the Photo Competition focuses on unique and striking Lead photography from impressive and inspiring projects.

They are looking to see pictures of unusual and interesting detail from the hidden to the well-known, small to significant volume projects. Similarly, more common application detailing shot from unusual angles or in an unusual setting.

Read more...
<< Start < Prev 1 2 3 4 5 6 7

8

9 10 Next > End >>


Page 8 of 76