Latest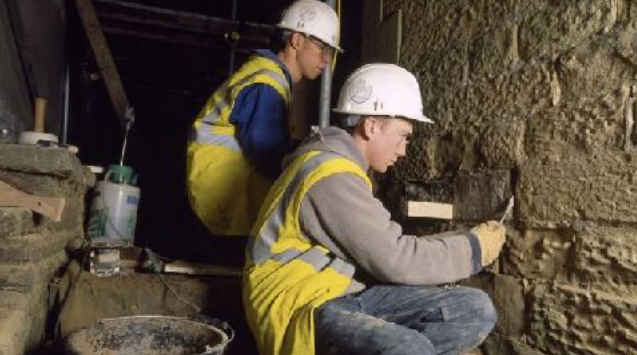 The National Trust protects historic buildings and buildings in the wider landscape. Their team works hard to ensure they are preserved for ever and for everyone, using traditional conservation techniques.
Our special places need a lot of looking after and you can read more about some of our most ambitious conservation and restoration projects in the next issue of this magazine. Ecclesiastical and Heritage World's Autumn issue will feature a spotlight on the National Trust Restoration Programme with case study examples of some of the magnificent conservation and restoration successes old and new. Support and contributions from specialists nationwide is welcome.
Read more...
Durham Cathedral, the 1,000-year-old World Heritage Site and one of Britain's most visited buildings, is now protected by market-leading intelligent fire panels from Advanced.

Founded in 1093 and the final resting place of St Cuthbert, Durham Cathedral remains the seat of the Bishop of Durham, the fourth most senior cleric in the Church of England. As well as being the North-East home of the Magna Carta, which was taken to London during the Reformation and now makes occasional trip back to the north, the Cathedral and its environs have also featured in numerous Hollywood films including the Harry Potter franchise.

Read more...

Fires in churches and heritage buildings have a number of causes and can have devastating consequences – not only in terms of damage to property, but also as the cause of serious injury and even loss of life.

The Regulatory Reform (Fire Safety) Order 2005 requires all premises to undertake a comprehensive risk assessment to identify any possible dangers and risks, as well as the people who may be at risk. Leading church insurer Ecclesiastical Insurance and the Fire Industry Association offer advice on both the prevention of fire and the protection necessary should a fire occur.

Churches

Ecclesiastical Insurance has produced a guide for church authorities to help them undertake such a risk assessment and to minimise the risk of fire in their buildings. The guide identifies a number of common causes of fires and offers advice on steps to take to combat them.

Read more...

The restored Grade II-listed Hastings Pier, built in 1872, has natural VMZINC® standing seam roofs which are undoubtedly the most immediately recognisable feature of the £14.2m redevelopment. dRMM architects' vision to restore the pier to its former glory has been a resounding success following years of neglect, closure for eight years and a fire which tore through it in 2010. It has been shortlisted for the 2017 Stirling Prize.

Described as a national Victorian treasure, the domed roofs spanning covered seating areas are particularly eye catching and complement façades in the same system. Both will weather to take on the textured, natural grey patina which is so reminiscent of lead. The standing seam work was undertaken by specialist metals contractor Roles Broderick Roofing, whose craftsmen finished the roofs with ornamental zinc finials.

Read more...

The Norfolk based company Kenton Brauer Stained Glass & Casements have recently taken part in the complete restoration to St Pancras Cemetery Chapel in East Finchley, London by restoring the main West tracery. In addition to this, they manufactured & installed nine new leaded lights to the North, South & West windows and undertook many repairs to the other tracery stained lights within the chapel.

This grade II listed Anglican chapel sits in one the largest and oldest cemeteries in the UK and was built by J.Barnett and W.C. Birch in 1853. It is of a cruciform design with gothic styled decorated windows.

Read more...

Craven Dunnill Jackfield has underlined its ranking as the leading manufacturer and supplier of specialist tiles for major restoration projects, having taken top honours in the TTA Awards. The company has been named in The Tile Association Awards as both winner of the prestigious Excellence in Manufacturing and as the manufacturer for the Best Renovation Project 2017.

Read more...

Raikes Road Burial Ground in Skipton, North Yorkshire is a one-acre Victorian cemetery, originally opened for just 30 years from 1846 to 1878, after which it became forgotten and neglected with much damage.

The Friends of Raikes Road, a volunteer group, were formed in 2013 with the aim of restoring the old site, encouraging and studying the wildlife which had taken over the Ground, and bringing it back into Skipton's heritage. There was no surviving documentation about the site except for the Burial Register, from which it could be seen that 2,000 people were buried in this small area, being an overspill from the Parish Church graveyard.

Read more...

BLM British Lead, the UK's leading manufacturer of Rolled Lead Sheet, invite leadworkers and roofing contractors to enter their recently launched Photo Competition.

The theme of the Photo Competition focuses on unique and striking Lead photography from impressive and inspiring projects.

They are looking to see pictures of unusual and interesting detail from the hidden to the well-known, small to significant volume projects. Similarly, more common application detailing shot from unusual angles or in an unusual setting.

Read more...

Sound systems installations in places of worship can prove to be inherently difficult and challenging projects, often with complex architectural and acoustic obstacles to overcome, audio projects shouldn't be undertaken without the appropriate knowledge and expertise to do so.

With audio requirements of places of worship becoming increasingly demanding, regularly hosting live bands, multiple presentations often with numerous zones within multiple spaces requiring high-quality audio playback audio system design for places of worship regularly use the latest networked audio technologies, multiple radio microphone channels and digital mixing desk invariably controlled by popular mobile devices.

Read more...

The National Federation of Roofing Contractors (NFRC) have launched their Safe2Torch campaign. The focus of the campaign is new guidance, developed in partnership with stakeholders across the industry, which aims to reduce the risk of roof fires when using gas torches on roofs.

The Safe2Torch campaign will directly affect at least 50% of all the flat roofs installed in the UK.

Read more...

Protecting the fabric of the historic or listed buildings is undoubtedly the ultimate priority for anyone associated with building conservation. However, the conservation sector may be unaware that it is possible to future-proof heritage buildings with the same control-based technologies found in modern structures.

With this in mind, leading building controls manufacturer, Priva, has published a guide, which includes case studies covering the integration of building and energy management systems at some of the world's most famous buildings.

Read more...

Knole is in the throes of a £19.8 million conservation project, the largest ever undertaken by its owners the National Trust. The conservation and restoration of this 600-year-old property is firmly focussed on ensuring that its aesthetic is empathetic to its heritage and is historically accurate.

In the Cartoon Gallery named after the Raphael cartoons that hang in this the longest of Knole's galleries, bespoke chandeliers have been manufactured by Dernier & Hamlyn to designs by the lighting designers, Sutton Vane Associates. They were cast in solid brass and hand finished in silver in a traditional Knole style that was adapted to include LED spotlights fitted to the baluster which are used to highlight artworks. The chandeliers replicate those that previously hung there, evidenced by historic photographs and archival material.

Read more...

Sheffield-based Martin-Brooks were proud to be one of just four firms shortlisted for the National Federation of Roofing Contractors' (NFRC) heritage roofing award for its recent work at the Welbeck Estate near Worksop - the awards celebrate exceptional standards of workmanship in the roofing industry.

Martin-Brooks' craftsmen have restored the roof on the historic Poultry House, which is being redeveloped into a children's nursery as part of the Welbeck Project. It involved removing the existing coverings and replacing the highly decorative finish with as much salvaged material as possible.

Read more...
<< Start < Prev 1 2 3 4 5 6

7

8 9 10 Next > End >>


Page 7 of 75