Latest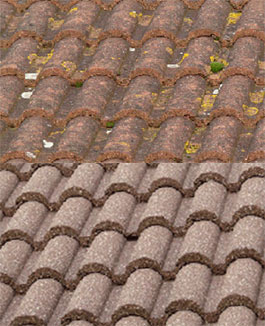 Moss on roofs is a common problem for older and cherished buildings. Such roofs are likely to be well into their predicted life span and aggressively cleaning ageing roof surfaces is not advisable. One treatment, developed and adapted to suit the weather conditions prevailing in the British Isles and Ireland, is AlgoClear Pro Softwash. Formerly known as MossGo, it is non-aggressive in nature.
According to suppliers Thames Valley Specialist Products Ltd, AlgoClear Pro Softwash gently cleans and restores old roofs to their former beauty without causing the physical damage that results from pressure washing. Its active ingredient is a quaternary ammonium, which has a rapid breakdown rate after use, leaving residues absorbed by bacteria.
Read more...
Dreadnought Roof Tiles, one of the UK's oldest and well-established manufacturers of traditional clay roof tiles, has won the heritage category in the first ever 'Pitched Roofing Awards'.

Organised by RCI magazine, these national awards showcase excellence in the roofing sector, highlighting successful partnerships between manufacturers and contractors and recognising commitment to quality.

Read more...

Over one weekend in August last year it was reported that a staggering 90,000 lightning strikes hit the UK. The Old Hunstanton Lighthouse in Norfolk was a victim of one those strikes and the photograph shows the severity of structural damage that can occur as a result of direct lightning strike.

The structural damage caused to the lighthouse, and the subsequent risk the falling brickwork and masonry posed to the residents and members of the public, emphasises the importance of having an up to date and certified lightning protection system fitted to your building to prevent costly structural damage, or worse, loss of human life.

Read more...

Recent work carried out by the Ipswich branch of Bishop & Son Organ Builders has included a historic restoration of the 1876 Bishop organ in the Church of the Holy Angels, Hoar Cross, Staffordshire.

The organ was returned to as near as possible the original specification dispensing with later additions and alterations by the firm of Conacher Sheffield in 1934. The organ contains pipes from the Samuel Green organ made for Bangor Cathedral in 1799.

Read more...

Tudor Roof Tiles Co Ltd, Britain's foremost independent handmade clay roof tile manufacturer, has scooped a win in the first ever national Pitched Roofing Awards.

King's College Music School, Wimbledon, was proclaimed outright winner in the best 'Commercial Property Application using Roof Tiles' category using Tudor Roof Tiles working with Avonside Roofing Group.

Read more...

The Steeplejack and Lightning Protection Training Group (SLPTG) recently celebrated National Apprenticeship Week (4 - 8 March 2019) by hosting its annual Apprentice Awards ceremony.

Members of SLPTG gathered on 7 March 2019 at the Park Plaza Nottingham to celebrate the success and outstanding achievements of apprentices within both the steeplejack and lightning protection industries. SLPTG are proud to announce the winners of the Apprentice Awards 2019.

Read more...

What it lacks in height, the spire at St Augustine's Church in the Endcliffe area of Sheffield certainly makes up for in distinction.

Clad in an unusual red tile, the octagonal 35 metre spire – or spirelette as it is officially called – makes a curious landmark on the city skyline, drawing the eye to what lies beneath and announcing its presence among the plethora of grey roofs and chimney pots nearby.

Read more...

Scanaudio have carried out a major upgrade to the sound reinforcement and induction systems in the Memorial Chapel at Charterhouse during the Easter Holiday. The chapel was designed by Sir Giles Gilbert Scott and consecrated in June 1927. It is the largest war memorial in England and dedicated to the Carthusians who gave their lives in the First and Second World Wars.

Read more...

Apprentices at Smith of Derby have been busy restoring Derby's historic Harrison clock for installation in the new Museum of Making when it re-opens to the public in 2020.

First installed at Derby Guildhall in 1842, the Harrison turret clock dates back to the same period. Its movement was designed by clockmaker, James Harrison of Hull (1792-1875), the great-grand nephew of John (Longitude) Harrison (1693-1776) who famously invented the marine chronometer to calculate longitude at sea.

Read more...

An order has been placed by the PCC of St Wilfrid's Parish Church in Grappenhall, Cheshire for their ring of eight bells (tenor 11 cwts) to be removed from the tower, together with its bell frame and all fittings. A new ring of ten bells, with a similar weight tenor bell, will be cast, tuned and hung in a newly constructed bell frame with all new fittings by Loughborough-based James Taylor & Co - some of the existing Taylor 'H' side frames will be re-used.

Four of their existing bells (3, 4, 6 & 7) were cast by Henry II Bagley in 1700 and are listed for preservation. These bells will be conserved, and rehung for chiming above the new ring of ten.

Read more...

An estimated 18.7% of all listed buildings were physically affected by crime in 2017 - that is over 70,000 listed buildings. The biggest single threat is metal theft and the most threatened type of building is a church. Around 3 in 8 churches or other religious buildings were damaged by crime last year. Panthera Security is the UK's first ever NACOSS Gold Accredited installer of NCP115 Compliant scaffold alarms and they are specialists in the installation of alarm and CCTV systems to listed and religious buildings whilst repair works are being carried out.

Part of Panthera Group, the company has been a leader and innovator of the scaffold alarm industry since 2003, when managing director Neal James recognised that there was a need for regulations and standards within this niche sector of the security market. In 2012 Panthera collaborated with the National Security Inspectorate (NSI) to develop the industry's first ever code of practice.

Read more...

Belmont Abbey, just outside Hereford, is a Roman Catholic Benedictine monastery which also serves as a parish church for the local community. The abbey church is a Grade Two*-listed building dating from 1860. It was designed by Edward Welby Pugin, son of the celebrated architect Augustus Welby Pugin, and is noted for the quality of its sculpture and stained glass.

As with many buildings of it age, the abbey had various dampness problems that required constant attention – rising, or structural, damp being just one of them. Specialist damp treatment company Core Conservation were engaged to survey the building and proposed the Aquapol non-invasive system.

Read more...

Having designed and made stained glass for many different situations including private houses, churches, public houses, exhibitions and galleries, Ann Sotheran derives the most pleasure from working in close consultation with the client or donor in the initial stages of the design.

She explains:

I like to explore, with them, their reasons for commissioning a piece of work in order that I can develop images which will most closely reflect their feelings and aspirations and evoke a positive response to the finished piece.

Read more...
<< Start < Prev 1 2 3 4 5 6 7 8

9

10 Next > End >>


Page 9 of 88