Latest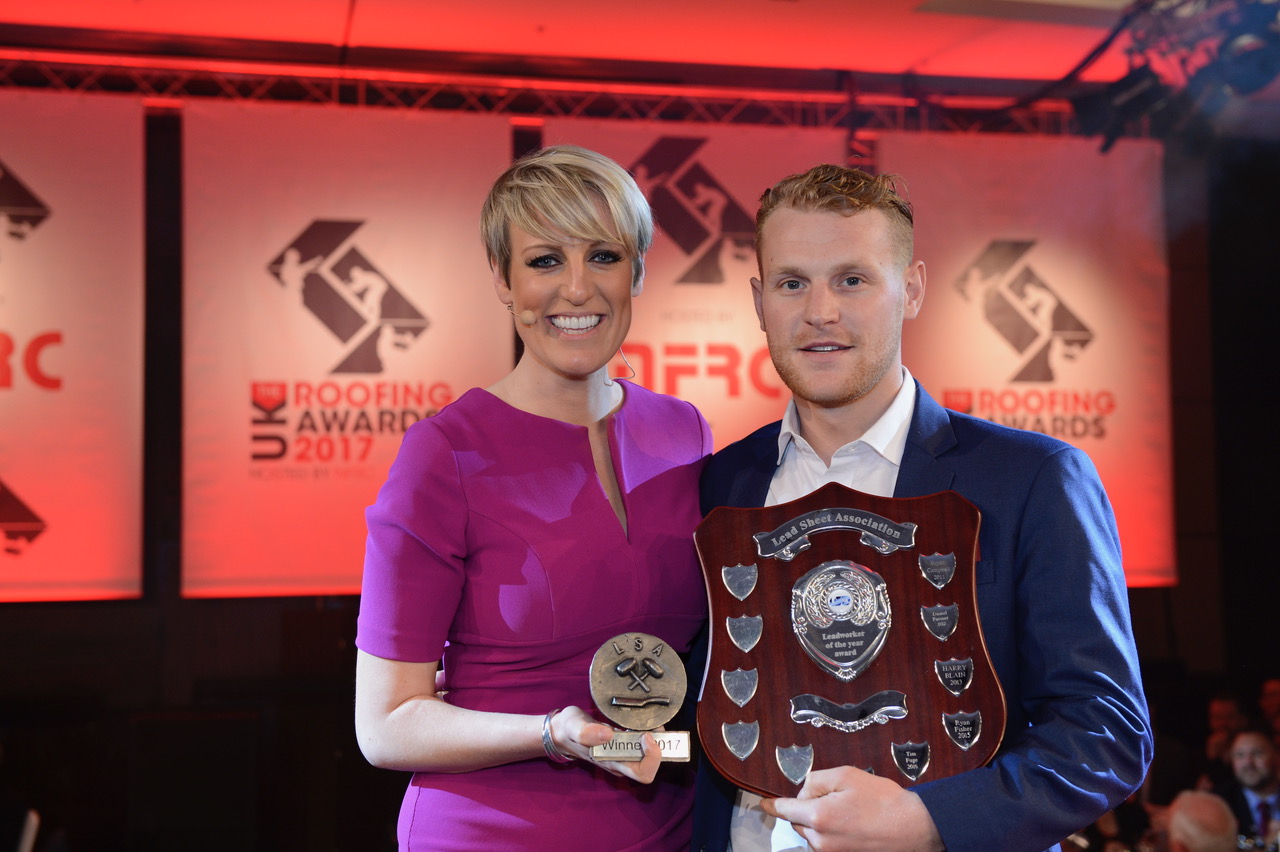 After a tough practical assessment at the LSA back in March, we are delighted to announce that Jay Stubbs, 26 years old, from Hornchurch in Essex is the LSA 2107 Young Leadworker of the Year.Jay received his award as part of The Roofing Awards 2017, organised by the NFRC.
Jay, who is self-employed and trades as LDN Leadwork Ltd, beat two other top candidates to the title – Callum Thornhill, a self-employed leadworker trading as CT Leadworks Ltd from Kirton in Lincolnshire; and Shane White, a self-employed Leadworker trading as SW Leadworks Ltd from Wiveliscombe in Somerset.
Read more...
A major project just completed at St Catherine's Parish Church in Horwich near Bolton, restores original terracotta features that were suffering from over a hundred years of weathering. More than 100 new blocks, manufactured by Darwen Terracotta (DTL) in Blackburn have been installed by Lambert Walker Limited under the supervision of Buttress Architects in Manchester.

St Catherine's is noted for its magnificent West window, framed in terracotta and part of the initial phase of construction undertaken between 1897 and 1902. "Time had not been kind, the prevailing weather had eroded joints permitting water ingress resulting in secondary frost damage to some of the blocks," observed DTL director Jon Almond. In total over 100 blocks were identified that had been damaged beyond repair including sills, mullions and window surrounds as well as wall copings and buttress units.

Read more...

Historic building specialist, Caroe Architecture Ltd, is delighted to announce the selection of their multi-disciplinary team for the delivery of an exciting £8.5million HLF-supported project at St Marylebone Parish Church, London.

The existing building dates from 1814 to a design by Thomas Hardwick and is Listed Grade I. In the 1980s and 90s the Crypt was developed to accommodate a medical centre. The St Marylebone Changing Lives project now seeks to build upon the success of the church and provide new community facilities through enlargement of the crypt space to the east side.

Read more...

The trees are in fresh leaf, the Spring sun is shining… well, occasionally… and you're thinking: "Shouldn't I be at CRE this week to discover all that's new in church resources?"

For more than 30 years this unique event has been held in mid-May, but in 2017 CRE are ringing the changes.

Read more...

Leading NFRC member, Heritage Roofing & Renovation Ltd is pleased to be the first contractor to complete a full roof refurbishment under ONE warranty.

AN EXTREMELY CHALLENGING PROJECT...

It didn't take long for Heritage Roofing & Renovation Ltd to realise that the job they'd taken on would be no ordinary re-roof. The building was an early 20th Century detached town house in Dorking, Surrey, with a 170m2 roof that comprised four Barn Hips and two Gable Ends – highly unusual, and extremely challenging, for a building of this size.

The varying pitches meant the roof had almost no straight runs, so every single component had to be cut to the correct size, depending on the area of the roof.

Read more...

Horizon recently removed an old and inadequate lightning conductor system from a church and replaced it with a new and up to standard system in line with BS EN 62305;2011

The old single bare copper down conductor had oxidised over the years and was not pleasing to look at, this was not helped by the unsightly installation of the tape by the original installer that had it running down the middle of the clock face of the church tower. Horizon removed the old tape by installation steeplejack ladders to the summit of the church spire and then using rope access techniques abseiled down the spire to remove the old tape and fixings.

Read more...

The issue of lightning protection in churches is one that has exercised this publication for many years. In this four-part series of spotlights on the issue we will be revisiting various aspects of the subject, beginning with an overview of current thinking.

The nature of church architecture means they are particularly prone to lightning strikes. The very act of projecting the building towards heaven with a tower or spire – to glorify God and to act as a landmark for miles around – works towards them attracting lightning.

Read more...

Aura Conservation Ltd have teamed up with RICS and the International Masonry Society (IMS) to present a one-day seminar entitled 'Through The Keyhole – The Victoria Quarter Conservation Project'. The seminar is being held on Thursday 15th June 2017 at the Rose Bowl Leeds Beckett University Lecture Theatre.

What makes this seminar different to other Heritage seminars is the 'case study' approach which they have undertaken to present this large complex project in detail; the seminar will be taking you 'through the keyhole' to all aspects of the 'Victoria Quarter' Conservation Project.

Read more...

Why Cast Iron?

Throughout the UK you'll find rainwater guttering and downpipes in cast iron on many heritage and period properties. It is incredibly strong, last for decades and is 100% recyclable. If properly installed and maintained it will enhance the properties it protects by looking timeless, authentic and beautiful for over 100 years.

If neglected and exposed to the elements without proper protection the characteristics that make it such a great eco choice, its recyclability, become its weakness – that process of natural recycling begin with rusting, then flaking and eventually end in disintegration.

Read more...

In addition to ecclesiastical projects, Agrell Architectural Carving are often requested to provide hand carving in the Gothic style for private residences around the world. Whether it's for a kitchen, a bathroom, some furniture or a whole manor, the Gothic style continues to be as popular now as ever before. Kate Agrell takes up the story:

"One of our recent projects was to provide a joinery company with 37 hand-carved Gothic tracery panels. These are to be placed in the furniture for a kitchen, bathroom and library at a private residence. As you can see from the photographs, the designs are marked out and all the Gothic tracery panels are carved by hand – no CNC's – to ensure beautiful, clean and crisp lines providing the highest quality product for the client. Due to our large team of carvers we were able to provide a high quality product, consistency in carving and delivery of the 37 hand carved panels in just over a month.

Read more...

Established in 1963 Wiltshire based family business William J Cook & Sons, who have been restoring fine furniture for two generations, are celebrating over 50 years in the buisiness.

The company was established by Bill Cook and his reputation for outstanding quality of work quickly spread. Since those early days clients have included our own Royal Household, Foreign Royalty, the Government, museums, leading collectors, dealers and private individuals. Whilst still retaining a London workshop the business is now based in Marlborough, Wiltshire.

Read more...

Traditional windows can often be simply and economically repaired, usually at a cost significantly less than replacement. For timber windows this is largely due to the high quality and durability of the timber that was used in the past (generally pre-1919) to make windows. Properly maintained, old timber windows can enjoy extremely long lives. It is rare to find that all windows in an old building require new sections. Many historic components continue to give service after 150, 200 or even 250 years. Traditional metal windows can also usually be economically repaired and their thermal performance improved, avoiding the need for total replacement.

Read more...

Reggiani Lighting's Yori and Envios LED projectors have been incorporated in a new lighting scheme for the Chapel at the prestigious Corpus Christi College, Oxford, as part of a major refurbishment project.

In coordination with GBS Architect Oxford and dpa lighting consultants designed and implemented the new lighting throughout the chapel to enhance the stunning architectural interior whilst ensuring that the new lighting allowed for all the appropriate scenes and flexibility required by a space which is used for a diverse range of functions.

Read more...
<< Start < Prev 1 2 3 4 5 6 7 8

9

10 Next > End >>


Page 9 of 75