Latest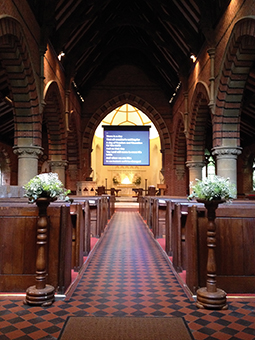 Queen Elizabeth II celebrates her Silver Jubilee, the Ford Fiesta goes on sale in the UK, British Airways inaugurates a regular supersonic Concorde service from London to New York and Cunnings Recording Associates is established in London.
Read more...
Rainclear Systems has been providing customers with high quality Metal Guttering for over a decade now. At the same time the friendly, knowledgeable team have been offering advice, free quotations and a 'take off' service to its customers.

But what is a 'take off' service and how does it take the guess-work out of buying your guttering?

Read more...

Planning permission has been granted for architect Purcell's two prison redevelopments for City & Country. Dorchester prison in Dorset and Shepton Mallet prison in Somerset will be restored and converted into high quality homes.

Read more...

On 27th November 2016 Stoke Newington Methodist Church opened the doors of its new church on Stoke Newington High Street. Somerset based Fullers Finer Furniture were approached to assist with the design and manufacture of furniture for the building, having in recent years worked in a number of methodist churches in London.

Whilst great care is taken to ensure that each project the company undertakes receives identical expertise, craftsmanship and customer service, each is uniquely created to suit the specification and character of the individual church – there is no 'one size fits all'.

Read more...

Church lighting specialists Anthony J Smith (Glos) Ltd will be exhibiting at CRE Sandown. The company have been re-lighting churches of all sizes and denominations for well over 30 years including a recent project at St Matthew's in Winchester.

St Matthews church was originally built towards the end of the 12th century as a chapel for the farming district of Wyke, or Weeke as it is known today, near Winchester.

Read more...

A new year is a fantastic time to think about reorganising your church hall in preparation for any upcoming events you may be hosting in 2017. At Mogo Direct, supplying halls with practical folding chairs and tables along with other key furnishings is one of our primary specialities, so we have a great range of products that may be suitable for what you need.

Of course, the first step you'll need to take is to thoroughly clear out and tidy your hall space. It's very common for miscellaneous bits and pieces to accumulate in church halls, as there simply may not be a place for everything to be tidied away immediately. If you want to maximise your space and put it to good use, though, you need to tackle this. Get your clutter organised and packed into storage if necessary.

Read more...

The past few months have been a busy time for specialist heating contractors Mellor and Mottram. The Stoke-on-Trent firm paused only for the Christmas celebrations before pushing on to complete jobs in both the South and North West of England.

February saw the final touches put to a new system at St Oswald's Parish Church in Brereton, Cheshire. An Anglican church in the diocese of Chester, St Oswald's is Grade Two* listed and has been described as 'an unusually complete late perpendicular church'.

Read more...

Northcot Brick's flagship project, the Newport Street Gallery, has been declared the outright winner of the'Supreme Award' - the highest accolade given by the Brick Development Association (BDA) in its annual 'Brick Awards'.

As one of the longest established and most widely respected building awards in the UK, the annual BDA Brick Awards recognise excellence in design and construction using brick.

Read more...

Most of the discolourations are due to the presence of a biological layer, the biofilm. The appropriate use of a mild surface biocide is often all it takes to recover the original surface in a matter of days, the time it takes for the dead biofilm to disperse. The biocide has to tick the right boxes for the task, Algoclear Pro - the market leader - is recommended by KRend.

Read more...

Oakham Castle, one of the finest examples of Norman architecture in the UK, has undergone a major renovation, thanks to a £2.1 million grant from the Heritage Lottery Fund. As part of the project, BJ Waller sourced and supplied architectural ironmongery to complement the history and grandeur of the historical castle, within a tight timescale.

Working closely with John Wright of Weston Allison Wright, BJ Waller produced an ironmongery schedule for high-end Frank Allart door furniture. The door furniture supplied was in unlacquered polished brass that slotted perfectly in with the aesthetics of the historical castle.

Read more...

In the Summer of last year Essex-based stained glass restorers AuraVisions were engaged to repair a large rose window at Christ Church in North Finchley. The window was made by Clayton and Bell in around 1870 and sits high in the west gable of the church. It consists of eight large cinquefoils (five-leaved designs), eight spokes and eight outer triangles, plus a central quatrefoil (four-leaved) light.

The geometric vine pattern, with varied multi-coloured floral motifs, swirls around the window with handmade glasses, giving a sparkly and intense kaleidoscopic feel. The window was restored as part of a major project to repair the whole of the west wall of the church, which involved extensive repairs to the stonework and tracery.

Read more...

The installation of the new Hope Window at Manchester Cathedral is now complete. In December 2016, the new Hope Window was dedicated at the east end of the Cathedral, where the Humphrey Chetham statue sits.

It is a modern design, by Alan Davis, in-keeping with the existing Antony Hollaway, Margaret Traherne and Linda Walton windows. The concept for the new east window revolves around the themes of hope and new life.

Read more...

Mr Dan O'Sullivan, NFRC Heritage Roof Master explains:

Roofing is a specialist industry, though unfortunately its all too common among non-professionals and some roofing contractors that mistakes are made and this can lead to costly problems. With over 19 years of experience we know that small errors can cause leaks, structural damage, and serious repairs and therefore particularly with conservation and heritage projects, you just can't afford for such mistakes to be made.

Read more...
<< Start < Prev 1 2 3 4 5 6 7 8

9

10 Next > End >>


Page 9 of 73