Latest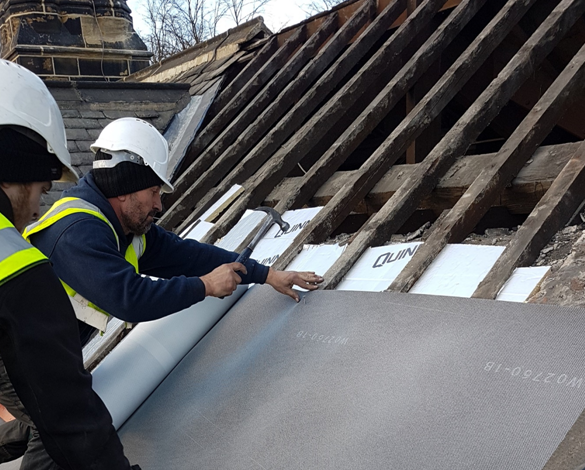 Bats are a protected species in the UK and play an important role in the ecosystem. Until now when bats are found, only Bitumen 1F felt has been used. This has come at considerable cost to the thermal performance of the roof because 1F felt requires extra rafter space if insulation is used; in old buildings this is often not possible.
Properties with an uninsulated 1F felt roof can release up to 10 tonnes of CO2 per year through the buildings fabric. Replacing 1F felt with a breathable membrane and additional insulation between the rafters can reduce CO2 emissions by 57%. These factors have a large impact on global warming and climate change.
Read more...
Cupa Pizarras has been specified for the historic Camphill Blair Drummond site. In keeping with the area's heritage Heavy 3 slate was chosen for six stunning homes for Camphill residents; due to its desired aesthetics, durability and flexibility.

Located in the outskirts of Stirling amongst rolling hills and exquisite Scottish scenery, Camphill Blair Drummond provides a warm, friendly and home-from-home living environment for young people with complex learning disabilities. The community provides meaningful activities and workshops where relationships can be built, and day students and residents can live, learn and relax in a unique family setting.

Read more...

The University of Birmingham boasts the tallest free-standing clock tower in the world at the heart of its campus, commonly known as 'Old Joe' or 'Big Joe'. In 2017 Old Joe fell silent as the Smith of Derby Group carried out repairs to the strike side of the clock so the famous chimes could be heard across campus once again.

The tower has also had other practical purposes over the last 113 years, since it was built in 1905 when the four JB Joyce clock dials were first commisioned. It was originally designed with the physics department in mind to help experiments. In the 1940's the tower was used to test equipment which would form the basis of RADAR technology in World War II and then provided a useful watchtower during the World Wars.

Read more...

That is the message to church managers from Essex-based Argonaut Heating Ltd, a company with over 40 years experience in the industrial and commercial heating sector.

Specialising in church heating systems, they can provide cost-effective and efficient design, installation, repair and maintenance services and understand the problems involved in heating churches, community centres, halls and other places of worship.

Read more...

Blenheim Palace is a large iconic country house near Woodstock in Oxfordshire. It is home to the Duke of Marlborough and birthplace of Winston Churchill. As part of a large restoration project on the East Courtyard Tower, Mansfield based Time Assured was chosen to restore four large stone clock dials and a decorative gold coronet above the west dial.

Read more...

A day of practical guidance which will lead you through the process of writing and understanding specifications on historic ironwork, highlighting pointers and pitfalls in the tendering and procurement process.

This course is offered free of charge thanks to funding from the Andrew Lloyd Webber Foundation for Historic England's heritage skills programme at Shrewsbury Flaxmill Maltings.

Read more...

Wootton New Life Church is a growing and lively Methodist church at the heart of the village of Wootton in Bedfordshire.

For many years the traditional rectangular church building had a suspended ceiling, which had begun to look tired; so the church decided to open up the whole space and redecorate.

Unfortunately, that would mean removing the main source of sound absorption in the building and lead to an increase in reverberation time – making speech intelligibility poor and their modern worship style fatiguing.

Read more...

Whether you have trouble finding good, reliable organists (or other musicians), have no instrument or simply want good music available for outreach, the Hymnal Plus is the solution.

As well as churches, the Hymnal Plus is widely used by Schools and Colleges, Chaplaincies in the Armed Forces, Prisons and Hospitals, Retirement Homes, Retreat Centres, Christian Holiday Centres, Cruise Liners, Crematoriums and private individuals – all of whom find the Hymnal Plus provides their complete worship music needs.

Read more...

In 2012 Sound Space Vision (SSV) won the competition to be the theatre design and acoustics consultants for David Chipperfield Architects' master plan to unite the Royal Academy of Arts' 18th-century Burlington House with its neighbour, Burlington Gardens, and transform the interiors throughout. SSV's brief was to modernise and equip Burlington Gardens' 19th-century lecture theatre for 21st-century presentation and performance, and was expanded later to include acoustics advice on the new gallery spaces, the learning centre, as well as mechanical systems.

Read more...

'What a wonderful exhibition – we have discovered so much here. Please, please, please come back to Manchester soon!'

That was the overwhelming feedback from visitors to CRE North in Manchester in March. In fact, such was the warmth of the welcome as the show returned to the city that it isn't a question of if, but when, the exhibition will be heading north again, according to the organisers.

Read more...

Mark Harrison, Head of Heritage Crime Strategy at Historic England, outlines the development of their Heritage Crime Programme.

Historic England defines heritage crime as: "Any offence which harms the value of England's heritage assets and their settings to this and future generations."

Harm caused to a heritage asset by crime or anti-social behaviour will often have both direct and indirect impacts. For example, the loss of historic fabric from a listed building through theft or vandalism will not only have a direct impact by damaging the fabric of the building itself. It can also have an indirect impact such as social or economic loss to the amenity of an area.

Read more...

Tourtalk is a portable short-range wireless system used to transmit an audio message from a presenter to an audience. The presenter speaks into a radio microphone transmitter and the audience use lightweight receivers to hear the message. Tourtalk systems are used by places of worship and heritage sites around the UK and abroad.

As the system is completely portable it requires no installation and can be setup within minutes with no impact to the buildings aesthetics. As the receivers don't rely on line-of-sight transmission, the system can be used discreetly and cover large areas including balconies. Tourtalk systems are used for many applications including guided tours, hearing support and simultaneous interpretation.

Read more...

The successful insulation of a 250-year-old farmhouse in rural Aberdeenshire has received a Commendation in the Scottish Energy Efficiency Awards, which took place in Glasgow this summer.

Bogendollo House, an early 19th century category C listed building at Fettercairn near Aberdeen, was the subject of an extended trial to assess the viability of high performance spray foam insulation as a means of preventing heat loss in architecturally significant buildings.

Read more...
<< Start < Prev 1 2 3

4

5 6 7 8 9 10 Next > End >>


Page 4 of 81