Latest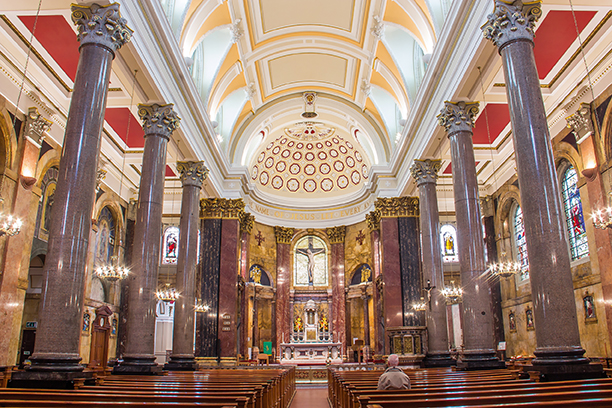 St Wilfrid's RC Parish Church in Preston city centre is a Grade Two*-listed Jesuit church which draws a substantial number of worshippers throughout the week. It is basilican in form and Italianate in style, with a particularly ornate and impressive interior carried out in exotic materials. Frank Roberts of Preston-based Francis Roberts Architects said of the interior: "Ranks of giant columns of polished Shap granite, topped with gilded composite capitals, define the nave, which terminates in a semi-domed and coffered apse. The aisle walls are lined in rich marbles and mosaics and there is an impressive display of stained glass."
Read more...
Global fire systems leader, Advanced, has launched a new guide to fire protection for historic and heritage sites.

Historic and heritage sites present unique challenges to end users, specifiers and installers. The new brochure is designed to help key stakeholders understand some of the solutions available for the challenges they face. It addresses many common problems in ensuring adequate active fire protection, tackling the challenges of minimising aesthetic impact, quick, safe evacuation and eliminating unwanted alarms, among many more.

Read more...

If you require promotional aerial pictures of your property suitable for publication, promotional videos or inspection imagery, then Wiltshire-based Skynamite can deliver to your requirements in a safe, fast and efficient manner.

Lead pilot Simon Knight, has been operating drones commercially for four years. He also works part-time as a UAV flight instructor with Phoenix UAV Centre and as a flight test examiner with The Aerial Academy. With a background in model aircraft flying and photography, Simon has the expertise necessary to operate a drone efficiently and deliver high quality imagery to meet your requirements.

Read more...

What are Quinquennial Inspection Reports?

Under the Inspection of Churches Measure 1955, as amended by the Care of Churches and Ecclesiastical Jurisdiction Measure 1991, all consecrated buildings of the Church of England must by law be inspected once in every five years by a registered architect or chartered building surveyor (the 'Quinquennial Inspector' or QI) who is approved by the Diocesan Advisory Committee (DAC). Most other denominations and many secular organisations which are responsible for historic buildings now adopt a similar approach to inspections.

Read more...

Historic England took leadership of the Shrewsbury Flaxmill Maltings project in March 2014. The Department for Communities and Local Government awarded £1,169,000 of funding through the European Regional Development Fund (ERDF) towards a Stage One, £2.5m, project to kick-start regeneration. Historic England provided the balance of the funds.

Completed work - Stage 1:

The Oice and Stables have been converted for use by the Friends of the Flaxmill Maltings as an interactive visitor centre and education facility The 1950's grain silo has been demolished, providing further external space for cultural, interpretation and public use. This added to work previously carried out by Shropshire Council to clear derelict modern buildings from the site.

Read more...

Morris Joinery has been awarded a coveted commission from Historic England to restore and replace a total of 39 windows at the town's historic Flaxmill Maltings, known as the grandparent of the modern skyscraper.

Four of the original 4ft square windows at Shrewsbury Flaxmill Maltings are to be carefully restored by hand with a further 35 other replicas hand crafted to complete this element of the major refurbishment project.

All the windows will be made from wood with sills crafted from English oak and frame and casements in Douglas Fir with modern thermal requirements included to ensure the new windows are 'future-fit'.

Read more...

The award-winning York Handmade Brick Company has played a crucial role in the restoration of one of Scotland's most iconic churches.

York Handmade, based at Alne, near Easingwold, has provided 12,000 specially-made bricks for St Bride's Church in East Kilbride, near Glasgow.

St Brides was designed by the celebrated architect, Professor Andy MacMillan, whose Scottish practice Gillespie Kidd & Coia worked extensively on ecclesiastical buildings from the 1950s through to the 1990s.

Read more...

The Faversham Brewery, the oldest working brewery in the UK, recently undertook a restoration project to restore their Brew House and enhance the key architectural features that had been lost, including the original cast iron gutters. Provided by Marley Alutec, the Faversham Brewery's rainwater system replicates the original Victorian aesthetic, whilst enjoying all the benefits of marine grade aluminium.

Shepherd Neame is Britain's oldest brewer - and while 1698 is the Brewery's official founding date, there is clear evidence that its heritage pre-dates even this period. Located in Kent, beer production has taken place on this site for centuries and whilst Shepherd Neame's dedication to brewing great beer has never wavered, the Victorian brew house was in need of restoration.

Read more...

Specialist insurer Ecclesiastical is supporting The Prince's Foundation in its bid to prevent specialist trade skills disappearing.

Ecclesiastical, the leading insurer of Grade 1 listed buildings in the UK, has pledged £225,000 to The Prince's Foundation over the next three years to enable 36 students to take part in the charity's Building Craft Programme (BCP).

The Prince's Foundation established the course to help preserve valuable crafts skills, which are gradually being lost as the average age of workers in the historic buildings sector approaches retirement age.

Read more...

Sheffield's Martin-Brooks has joined forces with fellow heritage building experts to share the unique work it is undertaking at a North Lincolnshire church with next generation roofers.

The specialist firm played an integral role in a heritage skills day, held at Holy Trinity Church in Messingham, to provide awareness and training for apprentices and young site operatives.

Read more...

Durham Cathedral, the 1,000-year-old World Heritage Site and one of Britain's most visited buildings, is now protected by market-leading intelligent fire panels from Advanced.

Founded in 1093 and the final resting place of St Cuthbert, Durham Cathedral remains the seat of the Bishop of Durham, the fourth most senior cleric in the Church of England. As well as being the North-East home of the Magna Carta, which was taken to London during the Reformation and now makes occasional trip back to the north, the Cathedral and its environs have also featured in numerous Hollywood films including the Harry Potter franchise.

Read more...

Home Farmhouse in north-west Suffolk is a two storey timber and attic framed house. The original part of the house dates to 1325 and can be attributed to a St Cross family called Collebells. Indeed Collebells was the original name of the house and only became Home Farm 200 years later. Originally a high-status Yeomans' house it gradually expanded and became a large dairy farm sometime in the 16th century.

Read more...

Compared with traditional methods, Chichester-based RTF Imaging can provide faster, safer and more cost effective methods of visual inspection at height, reducing the need to send human operatives into dangerous and inhospitable places.

They serve the domestic, commercial and industrial sectors, specialising in the close inspection of hard to reach places, and are now increasingly being asked to employ their services on ecclesiastical and heritage properties where minimal disruption to the building fabric is of key importance.

Read more...
<< Start < Prev 1 2 3

4

5 6 7 8 9 10 Next > End >>


Page 4 of 79