Latest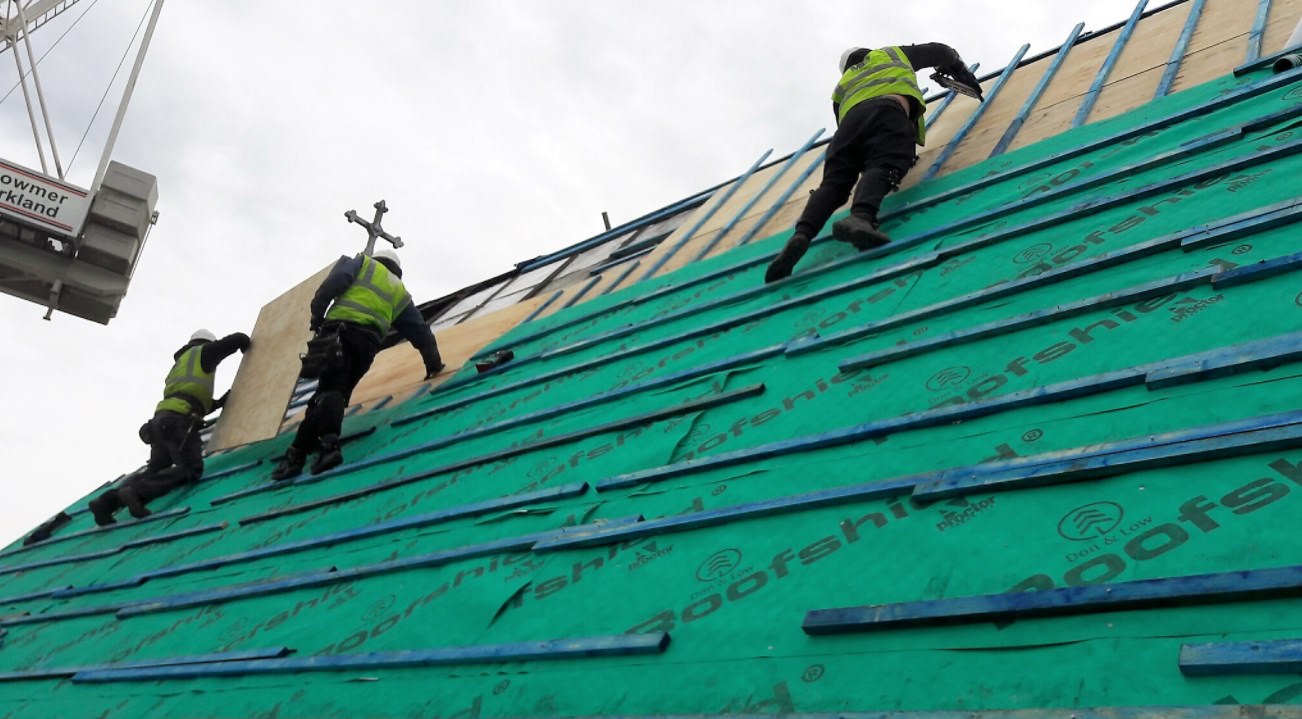 Sheffield roofing specialists, Martin-Brooks, are undertaking a fourth major project in 12 months for one of the UK's leading construction groups – this time, in their home city.
The firm's heritage experts are re-roofing St Vincent's church on Solly Street in Sheffield city centre, as part of Bowmer and Kirkland's transformation into a 574-bed student complex.
Martin-Brooks are carrying out extensive timber truss replacement in the 19th century Roman Catholic church before fully insulating and recovering it in new Spanish slates. Flat roofed areas and rainwater goods are also being replaced.
Read more...
Electronic Audio Systems Ltd has a long, proud and successful history since it was formed by Mr Eric Sawkins in 1988 and has hundreds of church sound system installations, mainly in London and the home counties.

Prior to the birth of the company, Eric had served an electronics engineering apprenticeship with Marconi at Chelmsford and then worked for various UK public address manufacturers and designers.

Meanwhile, after leaving school, Brian Latham served an apprenticeship with the GPO (now BT) and worked for them for 13 years.

Eric always supported the various Trade Associations that have represented the UK industry that he served. In the mid 1980s Eric was a board member of the Association of Public Address Engineers, as was Brian Latham.

Read more...

Sometimes it takes a little longer to finish the job, but the end result is worth it. That was the case with the longest-running project to date for AV specialists APi Communications.

Back in April 2012 they were approached by St Michael's Church in Alphington, Exeter, to specify a sound and projection system as part of an upcoming reordering project. That included many other elements such as a new gallery area, offices, removal of the pews and a new floor.

The construction phase of the gallery and offices duly went ahead in 2015 and APi Communications installed the projector and much of the cabling. However, due to an on-going issue over the removal of pews and the replacement flooring, there was a period of two years where the church used a temporary version of the sound system and trolley-mounted screens for the side aisles.

Read more...

It is hard to believe that it's 21 years since members and associates of the Lead Contractors Association (LCA) came together to celebrate the announcement of the first Murdoch Award. The award was presented in 1996 in honour of Dick Murdoch – 'Mr Lead' – on his retirement. They were founded to mark his tireless efforts and success in raising quality standards in lead-sheet work, part of which led to the founding of the LCA in 1984.

A decade later the Murdoch Sponsor's Award was added. That featured the smaller installations that used less than five tonnes of lead sheet, but which could be equally demanding of the leadworker's skills as the larger, more eye-catching projects.

Read more...

Darwen Terracotta and Faience appears alongside Prime Minister Theresa May in the 2016/17 Parliamentary Review. The company was formed by Jon Wilson and Steve Allen two years ago, saving skilled jobs when another company laid off some employees. Since then the company has gone from strength-to-strength.

The Parliamentary Review was established by former minister The Rt Hon David Curry in 2010, and is now a key fixture in the political calendar. Darwen Terracotta features alongside the Prime Minister and other outstanding organisations in a document that looks back on the year in industry and Westminster. The main aim of the Review is to showcase best practice as a learning tool to the public and private sector.

Read more...

Pigeons were roosting within the circular windows of this property in Sutton - the first photo shows where they left fouling marks - and so the owners called in London-based Microbee Bird Control Ltd who are specialists in a wide variety of bird control systems.

The first job was to clean and sterilise the affected area and then a net was fitted to cover the whole circle. They also installed anti perching wire to the ledges of the windows below this - the second photo shows the finished work.

The company offer such protection for a wide range of properties, including churches and heritage buildings.

Read more...

Church and listed building owners - and managers for large property owners in the sector such as Historic England, the Public Monuments and Sculpture Association, and the National Trust - understand property wear-and-tear very well. In fact, those who manage such facilities must budget for repairs and maintenance of their grounds and buildings each year.

A problem that carers and keepers of these buildings may not predict is bird damage and liability caused by pest bird infestation. However, there is one very important difference between a lot of other hazards and a pest bird problem - whilst you cannot predict it, you can prevent your bird problem!

Read more...

From a lively opening featuring Eurovision winner Dana, to a solemn ending – when former special envoy to the Archbishop of Canterbury, Terry Waite, spoke of his five years' imprisonment – the Christian Resources Exhibition's return to (CRE) Sandown Park, Surrey, 'touched all the emotions.'

A total of 4,061 people (excluding exhibitors and their staff) visited the show during its three days and some 200 exhibitors were so enthusiastic that more than 30 have already booked stands for next year.

Read more...

Ironically, few things today are changing as rapidly as our views on conservation. According to the European Confederation of Conservator-Restorers' Organisations 'conservation consists mainly of direct action carried out on cultural heritage with the aim of stabilising condition and retarding further deterioration'. 'Active' or 'hands on' conservation is commonly used to describe what is, in reality, a form of restoration.

Read more...

Designers of a new community Baptist Church, nearing completion in Dumfries, turned to spray applied insulation specialists, Icynene to solve a complex insulation challenge.

The new Church is a 2000sqm, multi-purpose building designed by Glasgow based, McLean Architects and built in the Georgetown district of Dumfries in the Scottish Borders.

The building was conceived as a flexible-use community hub comprising worship, conference and youth facilities together a full specification games hall and multi-use games area.

For the games hall, McLean Architects designed an 18.00x 18.00 m sq 8.00m high structure comprising a 140mm thick internal leaf of concrete blockwork with an external steel frame, supporting fibre-cement rain-screen cladding.

Read more...

East Anglia is home to some of the most precious ancient churches in England – a good number of which date from the Saxon period. It is no surprise, therefore, that some of the most innovative methods for ensuring their continued good condition are to be found there.

One deployment of modern technology is the use of unmanned aerial vehicles (UAVs), or drones, to overfly sites in need of examination.

Read more...

In July and August 2017 Suffolk Archaeology undertook three detailed geophysical surveys within the bailey of Bungay Castle, Bungay, Suffolk at the request of Historic England and the Bungay Castle Trust.

The aim of the project was to identify potential archaeological features or former buildings relating to the occupation of the castle, within a 0.24ha area of lawn, and to compare the results from modern equipment with those from a previous geophysical survey carried out in 1990.

Read more...

This listed property had been rendered with cement at some stage which had been causing damage to the structure over the years. Lime render was required to restore the property to its original status.

Somerset based Trendle Conservation were asked to come in and look at a gable end as the render was starting to flake on this Grade II listed property.

Read more...
<< Start < Prev 1 2 3

4

5 6 7 8 9 10 Next > End >>


Page 4 of 75