Traditional Lime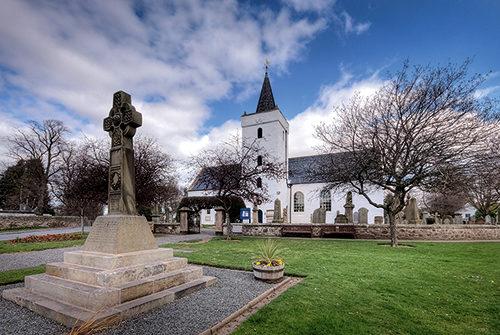 Lime: it's better for buildings – and for the environment
It is now fairly well known that cement is not good for old buildings and that lime mortar should be used. But why? What are the advantages and what are the disadvantages? In order to begin to answer those questions it is necessary to understand the nature of traditional building, the process by which buildings used to be built, and how it differs from modern construction, the process by which we build today.
CRE Events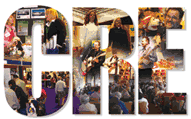 CRE Midlands – vibrant before the virus
Organisers of CRE Midlands, held at Stoneleigh Park on 4-5 Mar, were encouraged by a positive response from exhibitors and visitors alike after fearing the worst from coverage surrounding the coronavirus.
Audio Visual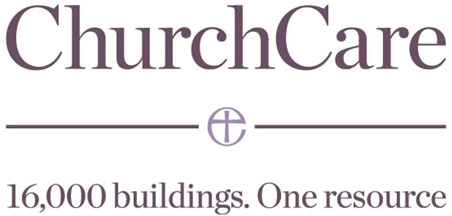 Audio visual equipment in church buildings
This guidance is issued by the Church Buildings Council under section 55(1)(d) of the Dioceses, Mission and Pastoral Measure 2007. As it is statutory guidance, it must be considered with great care. The standards of good practice set out in the guidance should not be departed from unless the departure is justified by reasons that are spelled out clearly, logically and convincingly.

Read More...
Stained Glass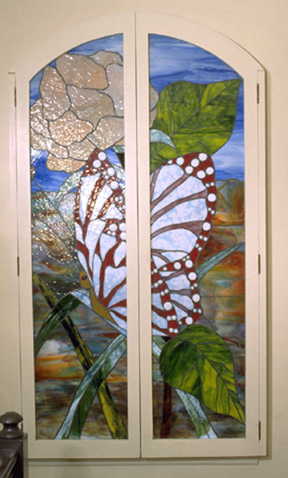 A brief history of stained glass
The origins of the first stained glass windows are lost in history. The technique probably came from jewelry making, cloisonné and mosaics. Stained glass windows as we know them, seemed to arise when substantial church building began.
By the 10th century, depictions of Christ and biblical scenes were found in French and German churches and decorative designs found in England.
Products Showcase
New products help to conserve our heritage
Whilst visitors to this website operate in the sector committed to restoring and conserving the historic buildings and artefacts belonging to the past, they are non the less reliant on the very latest products on the market place to perform this task.
Showcased here you will find some of the latest and most innovative new products and services currently available to help us preserve and maintain our heritage for the enjoyment of generations to come.
Ironwork

A guide to architectural metalwork, wrought iron and its restoration
Our next issue will feature a fascinating insight, exploring metallurgy, production techniques, its architectural and historical context and best practice conservation.

Read More...
Decorative Leadwork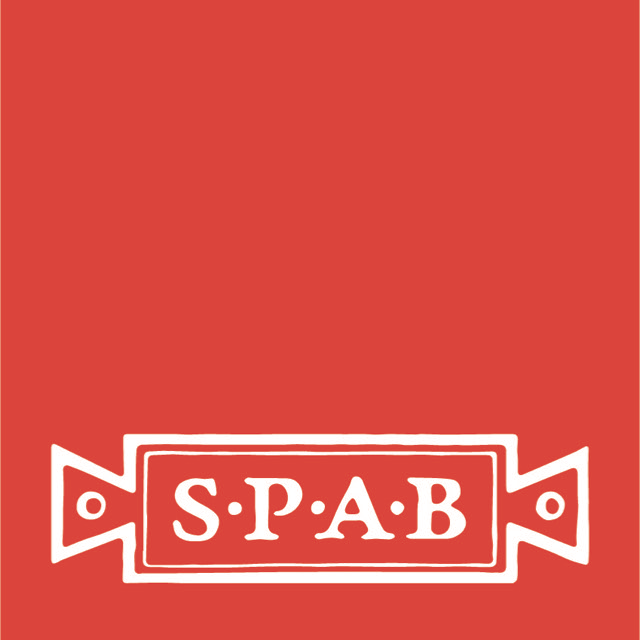 Saving the artistry of early craftsmen
Beaten, twisted, cut or cast, ornate designs bear out the skill and artistry of early craftsmen. And surviving examples are under threat.
Heritage Roofing

Heritage Roofing Register - a helping hand for architects
A unique register of heritage roofing specialists is providing much needed help and assurance for architects and specifiers when working on heritage projects. The Register is the brainchild of the UK's largest roofing trade association, the National Federation of Roofing Contractors (NFRC).
Heritage Crime

The development of the Heritage Crime Programme in England
Mark Harrison, Head of Heritage Crime Strategy at Historic England, outlines the development of their Heritage Crime Programme.
Historic England defines heritage crime as: "Any offence which harms the value of England's heritage assets and their settings to this and future generations."
Promotional Videos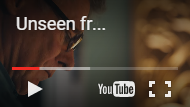 Watch the latest videos from the church & heritage sector here
Lead Roofing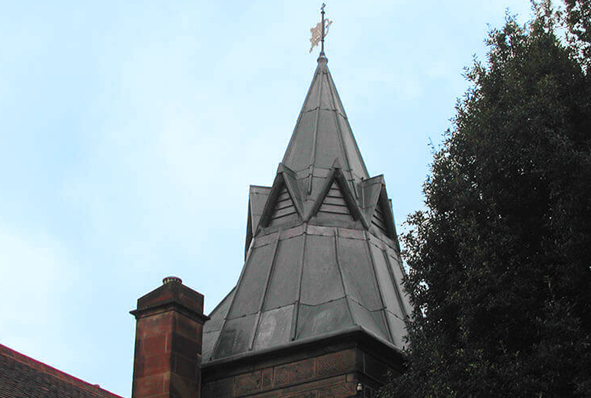 Lead is one of the oldest materials in the roofing industry and is still commonly used throughout the world today.
Lead roofing is a traditional roofing method which has been used in the industry for hundreds of years, and is therefore proven to be extremely reliable. Lead roofing, and sand-cast lead, in particular is ideal for old buildings such as churches or historical renovations, whereas milled lead roofing is a mass-produced alternative, used for precision and accuracy in homes and commercial buildings alike.
Tree Care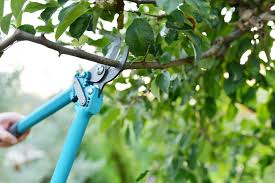 Tree care and planting in the church and heritage sector
According to a report in The Independent the UK will have to plant 1.5 billion trees if it is to tackle climate change. The London Tree Officers Association has this to say on the subject: "Future Governments are committed to planting trees to reduce carbon emissions, however there is concern that some of these proposals are focussed on a rapid increase without considering the intricate steps that are required to ensure that trees establish and thrive and it is important that this is made clear to avoid good intentions resulting in failure."
Professional advice and expertise needs to be sought and implemented.
Lead Training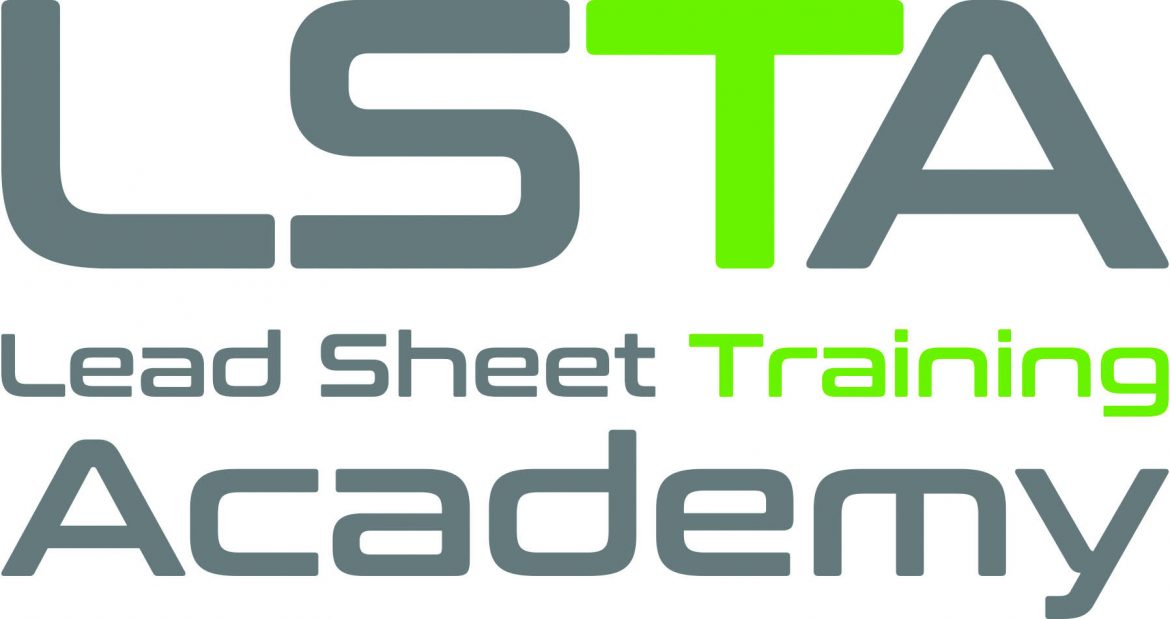 Training at the Lead Sheet Training Academy
The Lead Sheet Training Academy is at the forefront of training for those using lead or hard metals in the construction industry.
Disabled Access

Are Britain's heritage attractions inclusive?
Research commissioned by specialist heritage insurer, Ecclesiastical, has revealed many parents of children with special needs feel uncomfortable or unwelcome while visiting museums, art galleries, theatres, stately homes or castles with their children.

Read More...
Lightning Protection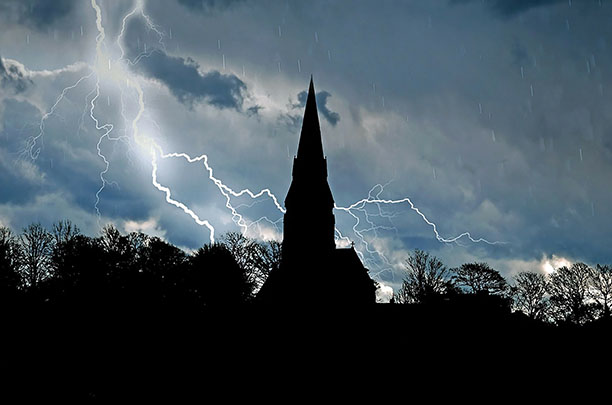 When lightning strikes are you protected against this act of God?
The issue of lightning protection in churches is one that has exercised this publication for many years. In this four-part series of spotlights on the issue we will be revisiting various aspects of the subject, beginning with an overview of current thinking.
Or click to browse our selection of categories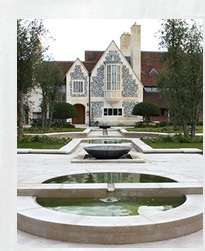 At the LCA they never cease to be amazed at the skills and creative ingenuity of their members. Those that consider leadworkers as 'just another roofing trade' should look closely at the photographs below and perhaps think again.
Water features in lead are not that unusual with various styles of fountain head decorated by cast cherubs, birds, fish, etc often featuring in the bespoke catalogues of those that focus on the more decorative side of the craft.
However the sheer scale of the chalices tackled by Brian Turner of Turner's Ornamental Leadwork was in itself hugely impressive and when considering the finished item in the final photographs shown here, one can only wonder "how on Earth did he do that?"
The requirement from the client was for two lead chalices each made of an internal and external bowl, shaped and then lead welded together to form a water feature at his large country house.
Straightforward enough perhaps, until you look at a few dimensions:

Finished diameter - 1.5M (starting from a diameter of 1.7M)

Thickness - 50mm (centre) tapering to 10mm at the edge

Weight - 905 kgs (the second chalice was 'only' 825kgs)

Finish - Planish (hammered effect)

To address the handling logistics Brian first built his own turntable from steel and plywood.

The basic pattern shape was a 1400mm diameter panel with two cords cut off to allow for sand casting. The centrepiece casting was a plate 300mm diameter, 50mm thick, with further plates of 25mm and 10mm then welded around the circumference.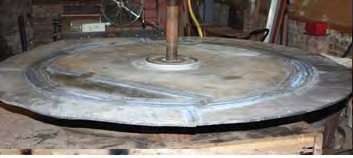 The two cord sections were then sand cast and lead welded into place. Brian then sand cast further plates in curved section 150mm wide by 10mm thick which he welded to the outside circumference of the centre plate to form a complete circle of solid lead 1.7M in diameter.
Using firstly a large rubber mallet and then specially adapted metal club hammers to boss the lead (unusually) inwards.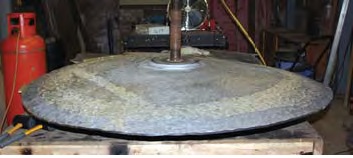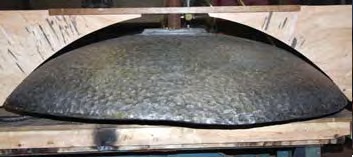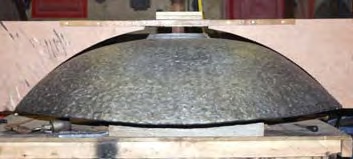 Brian worked the lead from the outer edge towards the centre, at the same time shaping the circle downwards to form the outer inverted bowl of the chalice. Having shaped the outer bowl and introduced the required hammered effect (planish) finish.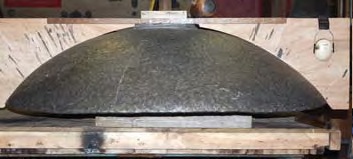 The next step was to weld 12 supporting ribs made from 10mm cast sheet to the inside of the outer bowl.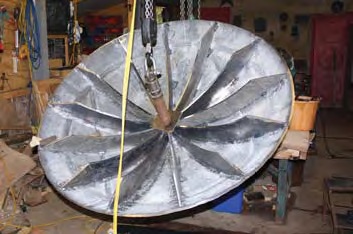 After finishing the outer bowl, Brian then set about the inner bowl in exactly the same fashion.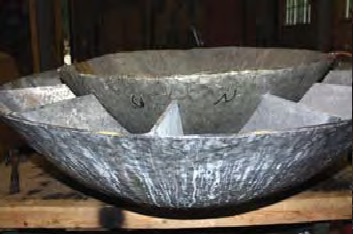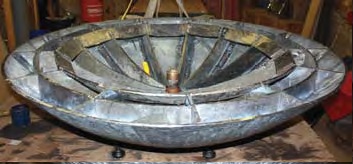 The inner bowl was then set onto the supporting ribs of the outer bowl, with great care needed to check that the bowls were level.
Next was putting the hammered effect finish to the pieces to be welded together to form the circular shelf section. These were then tacked onto the supporting ribs and then welded inside the circumference of the outer bowl and to the outside circumference of the inner bowl.

Having completed the first chalice, Brian then started all over again for the second chalice.

The bossing work to shape the inner and outer bowls took a total of FOUR DAYS for each of the chalices and Brian used a gas burner underneath continuously throughout the process to assist in the workability of the lead.

The finished effect is a stunning tribute to the skills of a dedicated craftsman. However, those that might casually admire the finished result in situ would have no concept of the sublime craft work and sheer physical effort required to create this work of art.

Would anyone ask themselves "How on Earth did he do that?" Find out more by emailing Brian at This email address is being protected from spambots. You need JavaScript enabled to view it.