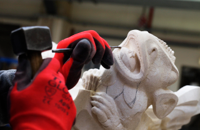 Ecclesiastical Insurance has made a £12,500 grant to the Cathedrals' Workshop Fellowship (CWF) to support the conservation and repair of UK Cathedrals.
Working with nine cathedrals across the UK, including Gloucester, Canterbury, York Minster and Salisbury Cathedral, and in collaboration with the University of Gloucestershire, the CWF offers stonemasons, carpenters, joiners and electricians a recognised career path and route to higher qualifications through a two-year, work-based study programme.
Read more: Ecclesiastical makes grant to help support the next generation of stonemasons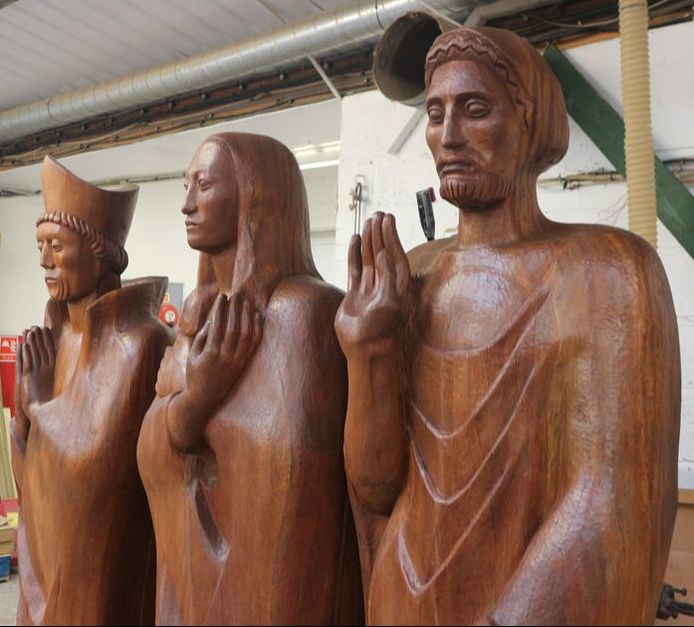 Recently Houghtons of York completed the restoration of three statues – each over six feet tall and carved by John Skeaping, the husband to Barbra Hepworth for six years and well-renowned carver who is best known for his work in stone and equestrian pieces.
They were the artist's last large scale commission and were carved from Nigerian Opepe for Kings College Cambridge – below left is a historic photo of them stood in place.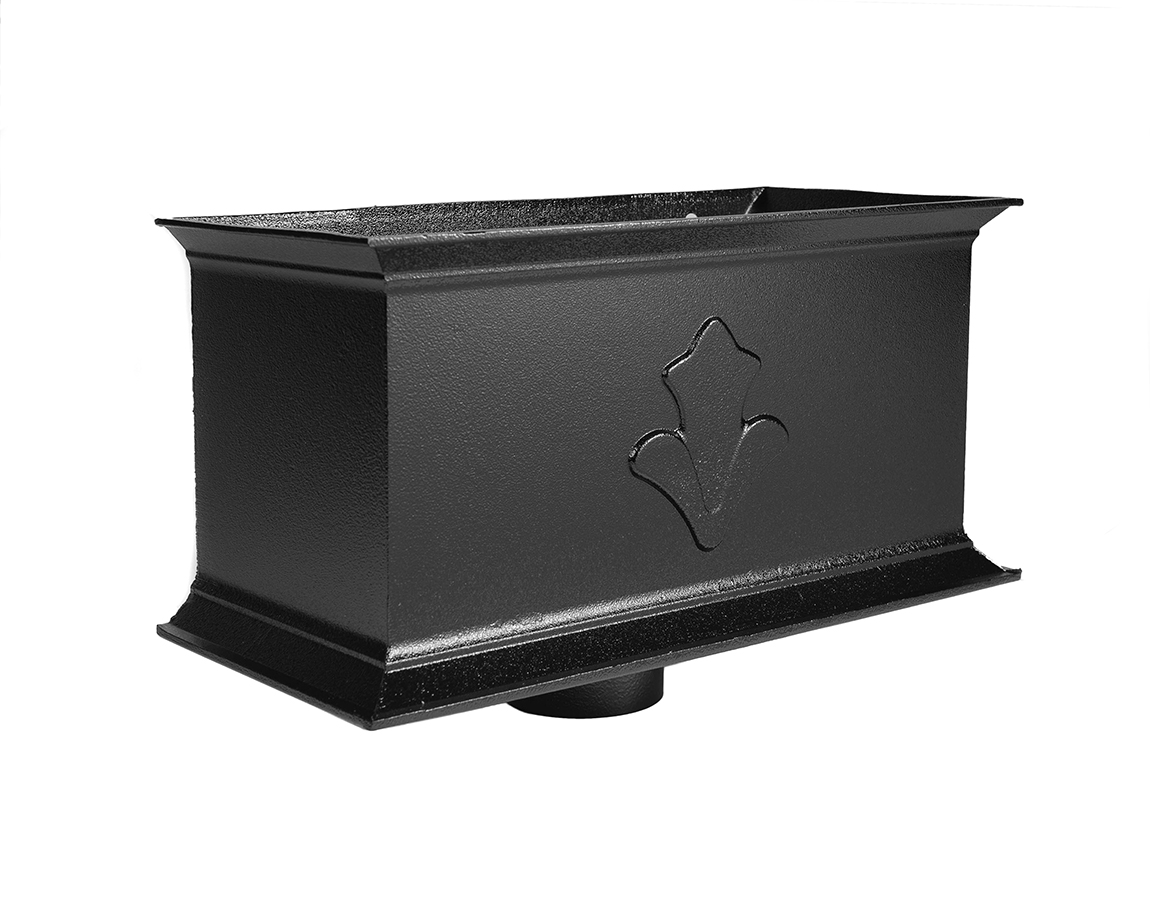 Rainclear Systems, the UK's leading stockist and online retailer of metal rainwater systems, has recently broadened the range of cast aluminium ornate hoppers it offers from stock for next day delivery in 'textured black' – the most frequently requested colour and finish.
They have seen a slow decline in demand for cast iron rainwater systems and an equivalent increase in demand for cast aluminium for restoration and refurb projects – being easier to install, less expensive and requiring very little ongoing maintenance.
Read more: Cast aluminium ornamental hoppers – in 'textured black' with next day delivery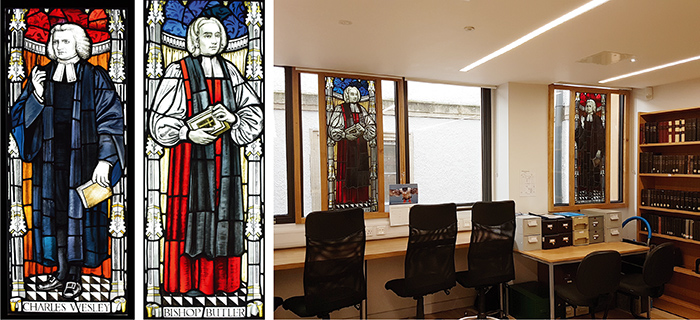 John Wesley's Chapel in Bristol – known as The New Room – opened its doors in 1739 and is the oldest Methodist building in the world. It has been a place of worship, heritage and social action ever since.
In 2017 a new visitor centre opened in the Horsefair courtyard next to it, featuring a café, shop, atrium, library and archive, meeting rooms and new offices – as well as a revamped 12-room museum above the existing chapel.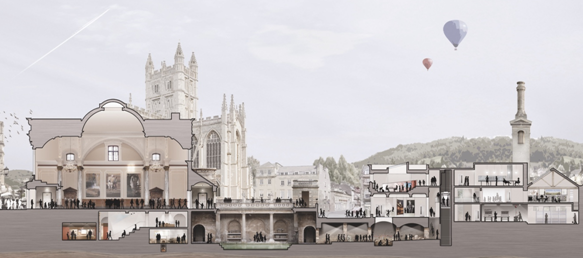 Founded by the Romans as a thermal spa, Bath became an important centre of the wool industry in the Middle Ages. In the 18th century, under George III, it developed into an elegant town with neoclassical Palladian buildings, which blend harmoniously with the Roman baths.
There is a World Heritage Site Management Plan (2010) for the site and a World Heritage Site coordinator is responsible for implementing the objectives and action plan.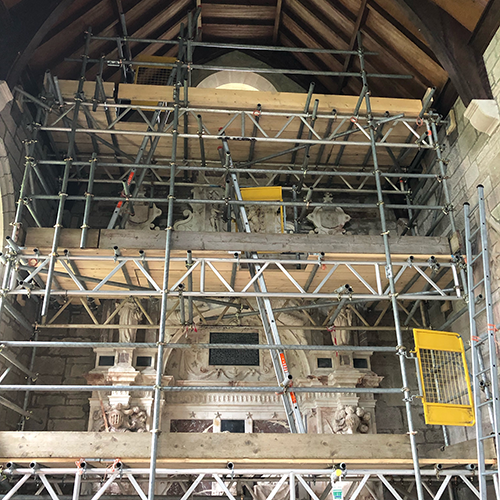 Specialist work to restore the intricate alabaster monument in Scone Palace's gothic chapel has been completed. A four week project, this is the first time the monument has undergone restoration work since 1921.
The work inside the small Presbyterian chapel, which looks upon the famous replica Stone of Scone on Moot Hill, has been completed by a specialist mason after a report by a conservation architect identified a number of areas requiring restorative work on the monument.
Read more: Specialist work inside Scone Palace chapel restores historic alabaster monument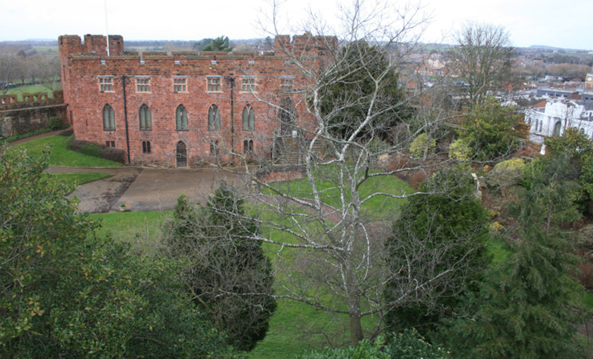 The Castles Studies Trust are excited to announce five grants totalling a record £27,000 that will advance our understanding of castles. These awards mean they have reached the landmark of giving away £100,000 in grants. It has taken six years to do that, during which time the Trust has doubled the maximum amount they can award to £10,000.
Druminnor, Aberdeenshire – Using GPR for an investigation of the 15th century core of the castle – presently under a hardcore car park. This was the original caput of the lords of Forbes. During the 15th century they were amongst the most powerful families in the North-east of Scotland.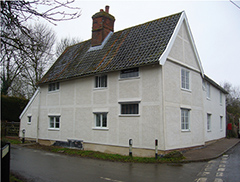 At Suffolk-based Rickards Period Plastering Ltd they feel fortunate to have the opportunity to be working in an area of the country that has a wealth of unique architectural design, using what they feel is a special product: the chalky lime plaster and render. Here, Mike Rickards shares his enthusiasm for traditional plasters.
Read more: Preserving traditional buildings: it's a matter of application

A survey of reported metal thefts from heritage sites across the UK indicates that the country is seeing an alarming rising trend in metal theft, leaving hundreds of historical buildings with repair bills they cannot meet.

On the eve of the first major conference on metal crime by the British Transport Police (BTP) and the National Police Chiefs Council (NPCC), the survey, conducted by VPS Security Services, found 100's of reports of church roofs being stripped of lead in the 12 months leading up to April this year, averaging 37 incidents a month.
Read more: Metal theft is threatening Britain's heritage - 37 thefts every month from churches alone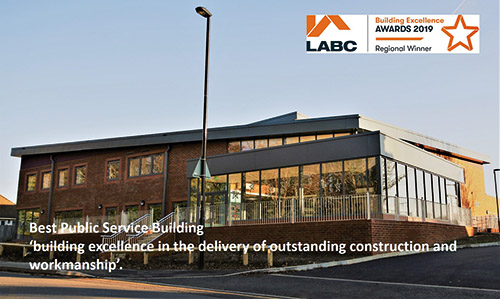 On 12 May 1894 a parcel of land on Elizabeth Road in Caterham – now Francis Road – was purchased at a cost of £32, for a new church building to be called Oak Hall. The church building was completed during July and August at a cost of £206, and opened on Thursday 13 September of that year.
Fast forward 125 years and there is a new Oakhall church building in the heart of the Caterham community – a building which has been named South East Regional Winner in the 2019 LABC Building Excellence Awards in the Best Public Service Building category.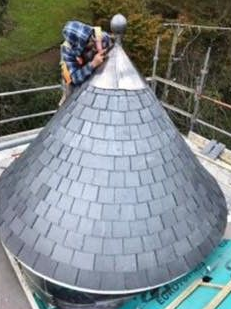 Ayrshire-based family run Glenbuild Roofing Contracts scooped the Roof of the Month award from the Confederation of Roofing Contractors in January of this year. This follows a similar award in June last year which on that occasion lead to the firm being entered into a further competition for Roof of the Year in which they came first runner up - pictured right.
Director John Stewart has over 40 years experience in the roofing trade and the company boasts a team of roofing specialists holding the LSTA qualifications as well as experienced plumbers, electricians, joiners, bricklayers, plasterers and roughcasters, enabling them to successfully carry out major contracts throughout Scotland and the UK.
The company has been honoured and privileged to work on various Historic Scotland sites and The Great Steward of Scotland's Dumfries House Trust projects such as Kelburn Castle in Largs and New Cumnock Town Hall.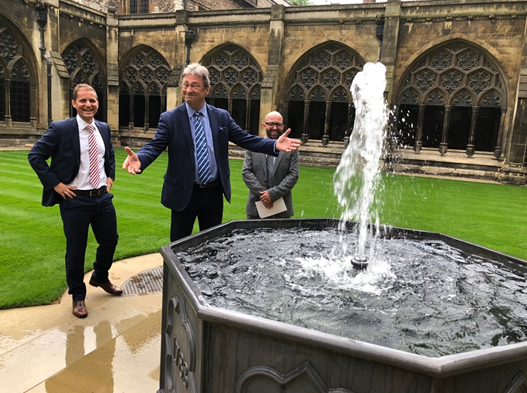 A fountain in Westminster Abbey's cloister garth to commemorate the tercentenary of the great 18th century landscape gardener Lancelot 'Capability' Brown was dedicated last year.
The fountain was made in lead by Brian Turner, who is a veteran exhibitor at the Chelsea Flower show and prominent committee member of the Lead Contractors Association.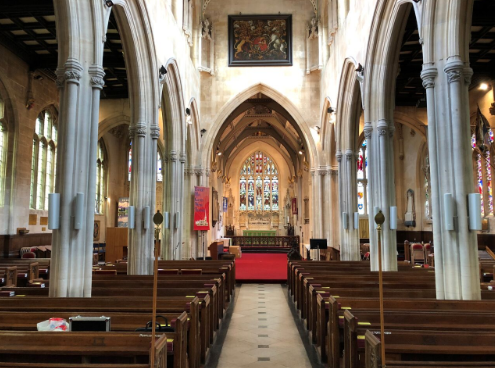 Creative Audio-Visual Solutions (CAVS) are a dedicated church audio and visual supplier working throughout the UK.
The Hertfordshire-based company were recently commissioned to install a new audio and visual system into the Parish Church of St James in Trowbridge. The brief was to ensure that that all new equipment fitted seamlessly into the environment whilst providing the latest technologies for full range worship and advanced multimedia display.
Read more: CAVS install new AV system 'seamlessly' at St James Church, Trowbridge