Masons and conservators across the UK and beyond are rediscovering traditional mortars through research, use and experience. They are moving away from the default specification of natural hydraulic limes for conservation works and are determined to practise like-for-like repair.
A registered charity, the Building Limes Forum exists to encourage that expertise and understanding in the appropriate use of building limes, and to promote education in the standards of production, preparation, application and aftercare. Throughout the year, the organisation invites its members and others to learn, discover and share knowledge about the use of building limes through talks, practical demonstrations and tours of historic sites.
In June the forum held a three-day Traditional Mortars Symposium at St Anthony's Hall in York and York Minster Stoneyard – supported by Historic England and Historic Environment Scotland. A total of 165 delegates attended the event to hear about recent research outcomes, revised heritage agency guidance and case studies.
Speakers gave presentations on recent experience of using traditional mortars for the repair and conservation of historic fabric – sharing their insights and knowledge in theory and in practice.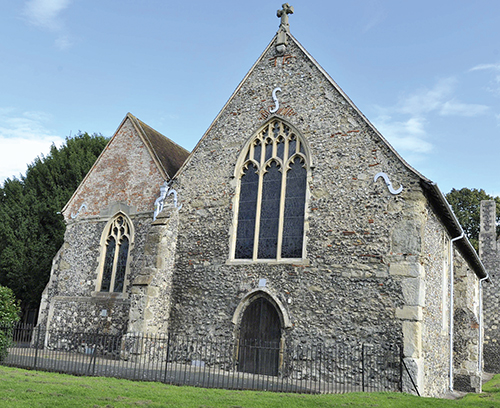 That included detailed presentations giving examples of hot-mixed lime and earth-lime mortars in use by craftspeople around the UK and in Canada, as well as in Spain.
Day one focused on earth and earth-lime mortars, in which there is growing interest. Fernando Vegas and Camilla Mileto from the University of Valencia gave a glorious overview of traditional mortars and building materials in the Iberian Peninsula. Ben Gourley of the University of York presented on the use of earth-lime mortars in Western Canada and the context of their use by European settlers.
Alex Gibbons, a SPAB scholar working in the Solway Firth on 'mud' buildings, and William Skinner from Cliveden Conservation detailed the effective use of earth and earth-lime mortars, surprising everyone with the simplicity of such success. Well-known architect and lime expert Stafford Holmes made the importance of such endeavour clear in his discussion of flood and earthquake-resistant earth-lime structures in Pakistan and Nepal.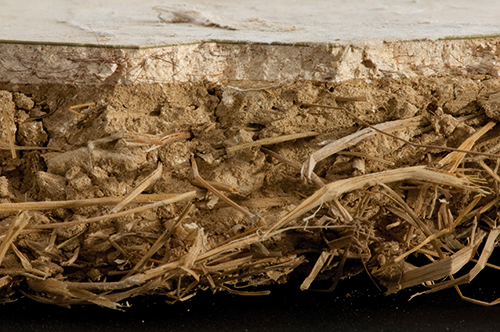 Roger Curtis of Historic Environment Scotland also spoke about earth and clay mortars in Scotland, giving an insight into a current project to preserve the small fortified buildings which were built using clay mortars on each side of the Scottish border.
Other speakers included mudmason Becky Little and architect Tom Morton, who talked about earth buildings past and present. Alison Henry, Head of Building Conservation at Historic England, gave guidance and research about earth and earth-lime mortars.
Day two focused on the use of lime in hot-mixed mortars, with presentations from around the British Isles and Norway and a well thought out presentation from David Wiggins, a senior engineer working for Curtins in Cumbria. He explained the importance of free-lime content in the delivery of effective porosity and capillarity within a mortar, to achieve its effective functional performance in drying a building.
Consultant Bill Revie also set out the material scientist's perspective and offered information on the identification of different binders – most of which, however, were hot-mixed in the past.
SPAB's Eoin Madigan related his experience working with hot-mixed mortars in the West of Ireland and Philip Scorer of Vitruvius Conservation described a large-scale project in the Cotswolds. Stone conservator Nick Durnan detailed his own very positive exploration of the potential of hot-mixed lime mortars, sheltercoats and limewashes. He's pictured below demonstrating lime washing using hot-mixed wash, some of which included turmeric as pigment.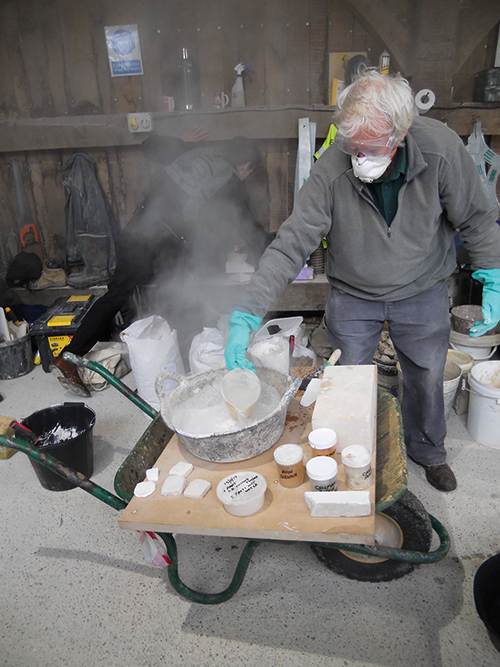 Both Craig Frew of Frew Conservation and Roger Curtis of Historic Environment Scotland discussed Scottish practice in an ever-wetter climate and Thom Kinghorn-Evans of Coe Stone also offered insights into the use of hot-mixed air lime mortars in wet environments such as West Wales.
The discussions were followed by a day of practical demonstration and involvement at the Minster Stoneyard. Tours were given of the current works at the Minster using traditional materials, including locally-burned magnesium lime.
Stonemason and building conservator Nigel Copsey from the Building Limes Forum was instrumental in organising the event. He summarised it thus: "Most of this information was new to delegates and confounded the lime orthodoxy of the past 40 years. The symposium revitalised confidence in the good sense of like-for-like repair and an empowering faith that this remains possible, practical and economic. This is essential for the well-being of our traditional buildings and those who live and work within them."
The Building Limes Forum is now looking forward to its annual event: The 2019 Conference and Gathering, on 20-22 September at The Engine Shed in Stirling. The themes are Lime Finishes and Lime in Extreme Climates and papers on those topics will be interspersed with contributions from members.
Hands-on activities will take place at Doune Castle, where it is proposed to build and fire a small-scale kiln using shell and fired with peat. Delegates can also enjoy visits to see the interiors of Kinneil House, Bannockburn House and Charlestown – the largest lime-burning complex of historic lime kilns in the whole of the UK. The gathering will end with guided tours of Stirling and its historic castle.
For more details visit www.buildinglimesforum.org.uk
Does hydraulic lime always give us the result we want?
When talking about the use of lime, the 'conversation' regarding hydraulic sets must have been going on for millennia – ever since, in fact, lime mortar became a thing. Here, Harry Cursham of Vivus Solutions Ltd postulates that hydraulics aren't all that they seem.
Click here to read the full story.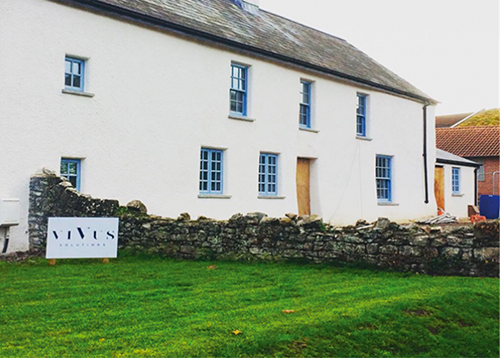 Preserving traditional buildings: it's a matter of application
At Suffolk-based Rickards Period Plastering Ltd they feel fortunate to have the opportunity to be working in an area of the country that has a wealth of unique architectural design, using what they feel is a special product: the chalky lime plaster and render. Here, Mike Rickards shares his enthusiasm for traditional plasters.
Click here to read the full story.