Ecclesiastical and Heritage World
Rosehill Furnishings Ltd

Stanley Green Business Estate
Contact Person:
Stephanie Maguire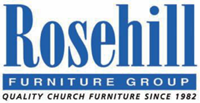 Rosehill Furniture Group have been supplying quality furniture since 1982.
We have a wealth of experience dealing with a varied range of customers from Churches to Shoe Shops and Schools to Hotels.
Our aim is to provide greater choice, quality and service at better value than any of our competitors.
Church Furniture • Multi purpose Furniture • Metal Chairs • Wooden Chairs

A combination of modern furniture making techniques, combined with traditional craftsmanship,
ensures all of our chairs, tables and accessories are produced to the highest standards.