Ecclesiastical and Heritage World
Martin-Brooks Roofing Specialists

Contact Person:
Nick Brooks
Occupation:
Roofing Specialists



Whatever you need whether its a new pitched roof, a new flat roof, repairs or renovation, new upvc fascia or gleaming new guttering we're sure you'll find the best products installed to the highest standard by the best tradesman right here at Martin-Brooks. Since we began back in 1984 we've helped thousands of people improve their homes with a new roof, repairs to their existing roof or with stylish additions such as rooflights, dormers or new upvc fascias and guttering, and we could help you.

We are one of Yorkshires largest roofing contractors and have a strong regional presence in both flat and pitched roofing in the UK. Our skilled workforce of over 60 highly trained personnel help us provide a customer friendly approach to roof work.

Our origins began over 20 years ago as a small roofing company with just six employees. Today our approach to the services we offer is in many ways the same, helping us to maintain our personal friendly approach many have trusted over the years. The principal difference these days is that we now provide even more quality services not only to other contractors but also to domestic customers as well.

We really can offer you everything you need.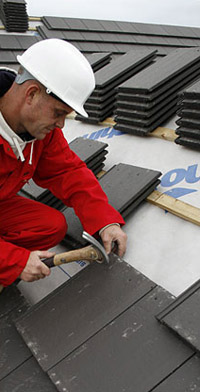 Pitched roofing services
• Natural Welsh, Spanish, Chinese and Canadian slating.
• Random Burlington, Westmorland and Welsh slating.
• Random Stone slating.
• Cement fibre slating.
• Concrete and clay interlocking tiling.
• Clay Pantiling.
• Plain clay and concrete tiling.
• Reconstituted stone slating.

Flat roofing services
• Built up felt.
• Mastic asphalt.
• Single ply.
• GRP (Polyroof).
• Liquid rubber.
• Green roofs.

Lead work services
• Structural and decorative flat roof work.
• Lead parapet and centre valley gutters.
• Flashings.
• Lead bay tops and canopies.
• Domes and Cupolas.
• Lead pipes and decorative hoppers

UPVC roofline services
• White, woodgrain and coloured fascias.
• White, woodgrain and coloured soffits.
• Cladding board.
• Seamless aluminium guttering.
• PVC guttering.
• Cast iron guttering and downpipes.
• Extruded aluminium guttering and downpipes.