Ecclesiastical and Heritage World
Cunnings Audio-Visual

Brodrick Hall, Brodrick Road
Contact Person:
Malcolm Cunnings
Occupation:
Audio Visual Solutions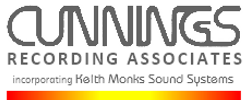 Designing, Supplying and Installing Quality Audio and Visual Systems
for Churches & Prestigious Buildings since 1977

Cunnings Recording Associates is a family run business based in South London. We have been designing, supplying and installing quality audio and visual systems for churches and prestigious buildings since 1977. This experience helps us provide the very best audio and visual systems to venues of all sizes throughout the country from heritage buildings to modern auditoriums. Our product and technical knowledge and engineering background gives us a unique perspective. We don't just know the name of a product, we fully understand how it works too.
We have a passion for providing great quality audio and visual systems for our customers which are well designed and easy to operate. We know from experience that it makes sense to invest in an audio visual system that will last. Cunnings use the latest audio and visual technology and our many years of experience to integrate modern technology into historic buildings in a way which does not detract from the architectural beauty.