Products Showcase

Since 1992 Conservation by Design (CXD) has provided a comprehensive
range of high quality conservation storage and display products including
furniture, showcases acid-free boxes, museum boards and specialist
papers to Museums, Galleries, Libraries and Archives worldwide.
A comprehensive range of high quality conservation products
supplied worldwide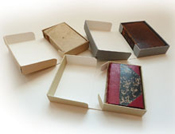 Boxes & Storage Products
The Conservation By Design (CXD) range of storage boxes is one of the largest available and has been
built up over many years. It is unique in the variety and quality of materials used to produce them. We
provide a design and manufacturing service for die-cut, mass-produced or one-off, computer-generated,
made- to-measure Storage Boxes - Smart Boxes'.

Most of the storage boxes are manufactured at the CXD Timecare Works factory in Bedford with others
made by our sister company in France. All of our storage boxes have been designed in partnership with
clients for the safe long-term storage and preservation of books, documents, newspapers, artworks and
photographs. A key figure in the development of the CXD box range is Christopher Clarkson who
developed an integrated box, folder and envelope system in 1981 when he was the Conservation Officer
at the Bodleian Library in Oxford. Stuart Welch, the founder of CXD, worked with Christopher to develop
an improved range of papers and boards from which to produce the Clarkson system. This was the
beginning of the CXD Premier Duo' Archival Folding Boxboard range and Heritage Archival photokraft'
papers.

For more information click HERE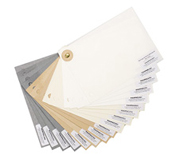 Paper Boards and Materials
The majority of the archival paper and archival boards in the Conservation By Design range are exclusive
and have been made to our specification specifically for conservation repair, storage and bookbinding.
This is usually denoted by them being specified for their purity and or their strength. Papers which have
been specified simply as acid free for use in graphic reproduction may not necessarily meet these
requirements.

For more information click HERE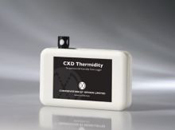 Conservation Equipment & Supplies
The CXD range of conservation equipment has been developed to provide a 'one stop shop' for all
conservation and restoration needs. Since conservators have been involved in the development process
of our conservation equipment, product functionality and ease of use are particular features of the range.
Most items are available for sale, but some can be hired to avoid the need for capital expenditure.

This range of products includes conservation equipment to perform most of the tasks required by a
conservator such as book cleaning, polyester edge welding, board chopping and creasing, box making,
vacuum packing and many more. Included in the range is specialist equipment for Libraries, Archives,
Museums, Historic Houses and Galleries, from large mobile automatic book cleaners to mini HEPA
vacuum cleaning machines. Particularly interesting is the new monitoring equipment for environmental
control that includes measurement devices for oxygen in sealed packages; this equipment is vital for all
conservators looking at Anoxic conditions.

For more information click HERE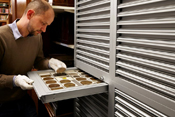 Storage Solutions & Workshop Furniture
Since 1992 Conservation By Design Limited (CXD) have been supplying well-designed, high-quality storage
systems, workshop and display furniture to the conservation marketplace. Some items such as the
Planorama® Aluminium Drawer Storage System are made in our Bedford factory and others are made by
selected partners chosen for their specific expertise.

The product portfolio contains a variety of standard and bespoke storage systems, which will suit most
applications, in addition to specialist museum cabinets, picture-racking and mobile storage systems.

Conservation furniture should be manufactured from safe, non-reactive materials such as powder-coated
steel, stainless steel or anodised aluminium, as they may be required to store anything from coins to flags
or even dinosaur bones, all of which may have special requirements for their preservation. CXD take pride
in providing solutions for the most difficult of storage problems.

For more information click HERE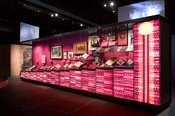 Museum Showcases & Display Cases
CXD Museum Showcases are renowned worldwide for their elegance and durability. Showcases are
typically supplied frameless so as not to distract from the objects on display. To overcome the problems of
restricted access given by pull and slide type showcases, doors are mounted on strong but discreet hinges
providing 100% access to the showcase interior. The integral silicone gasket on the doors and desk tops
provide a perfect seal which will not deteriorate like standard adhesive seals. Glass joints are mitred for a
stronger bond and better aesthetics. The mitred glass on table showcases and small glass hoods are
bonded with an invisible UV cured adhesive and on larger showcases with a conservation grade silicone
which is both durable and flexible. Depending on the specification the cases are manufactured dust proof
or vapour tight. Well-sealed cases allow a stable climate within the case to be controlled using Prosorb™
silica gel. Alternatively they can be supplied with a mechanical climate control system. Conservation By
Design have been at the forefront of supplying materials to protect against corrosive gasses which may
come from the outer environment or from the objects within the showcase. Pollution scavengers such as
Charcoal Cloth®, Charcoal Matting™, Charcoal Paint™ and Corrosion Intercept® can be provided for the
cases.

Since first offering conservation-grade showcases in the UK and Irish markets in 1995, Conservation By
Design Limited (CXD) have completed a large number of prestigious projects, most notably in recent
times supplying The William Morris Gallery, which was named Museum of the Year 2013 by the Art Fund.

For more information click HERE

For more information and to see the full range of
Conservation by Design's products please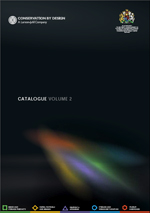 visit their website at www.conservation-by-design.co.uk
and to view their catalogue click the cover opposite.