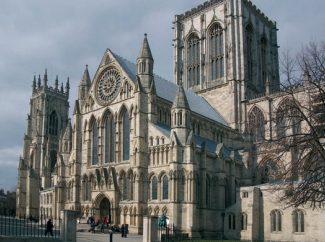 The massive presence of the tower atop York Minster dominates the skyline far beyond the borders of that ancient city. It forms the centre of a diocese that encompasses what used to be by far the largest county in England and once included counties across the Pennines and as far as the Cheviots.
The Minster still acts as a hub for one of the largest concentrations of craftspeople in the country, with ancient skills that have kept our cathedrals and other treasured buildings in operation for centuries.
In the next issue of Ecclesiastical & Heritage World we will be offering a glimpse into the world and work of these craftspeople, including the select band of members of the York Consortium for Conservation and Craftsmanship.
The Diocese of York, however, together with the new Diocese of Leeds and the West Riding, have within their borders all of the ancient three Ridings and offer a wide variety of heritage buildings – from ancient abbeys now in ruins to modern masterpieces celebrating the mass media and from rural manor houses to industrial behemoths.
This special feature celebrating the heritage of Yorkshire will likewise be venturing forth from the ancient city to learn a little about that heritage.
In the former East Riding are to be found the beautiful Beverley Minster – one of the country's Gothic marvels – and the railway town of Doncaster, whose own Minster church has recently received Lottery funding to restore its high altar reredos.

Sawley Hall, Lancashire was built in period style as specified by the client but newly constructed in Yorkshire Stone. The whole project was managed and carried out by Heritage Masonry of Yorkshire. You can find out more about what they offer by visiting
www.heritagemasonryuk.co.uk
The modern county of South Yorkshire was a centre of the coal industry that powered England for decades and enabled the Industrial Revolution to accelerate into full industrialisation.
A project to restore a rare relic of the early days of the pits – the Newcomen engine at Elsecar Heritage Centre near Barnsley – has reached its halfway point.
The West Riding was the powerhouse of Yorkshire during the Industrial Revolution and retains many reminders of the era that now form a cluster of heritage sites. That same county was also the birthplace of great artists such as David Hockney and Barbara Hepworth, and it was the Yorkshire Sculpture Park in Wakefield that was named the Art Fund Museum of the Year in July of last year.
North Yorkshire is noted for its wealth of abbey ruins. From the imposing arches of Fountains Abbey and its surrounding Studley Royal Park – a UNESCO Heritage Site – to the visitor-friendly Bolton Abbey on the banks of the River Wharf, their origins predate the Normans but both suffered from the attention of Henry VIII during the Dissolution.
Back in York, the city is returning to normal following the 2014 performance of the quadrennial Mystery Plays. But what is normal for York is nothing short of extraordinary for anywhere else.
Image © Copyright Keith Laverack and licensed for reuse under the Creative Commons Attribution 2.0 Generic Licence.


World famous Scotch Malt Whisky Society has fanlight by Yorkshire craftsman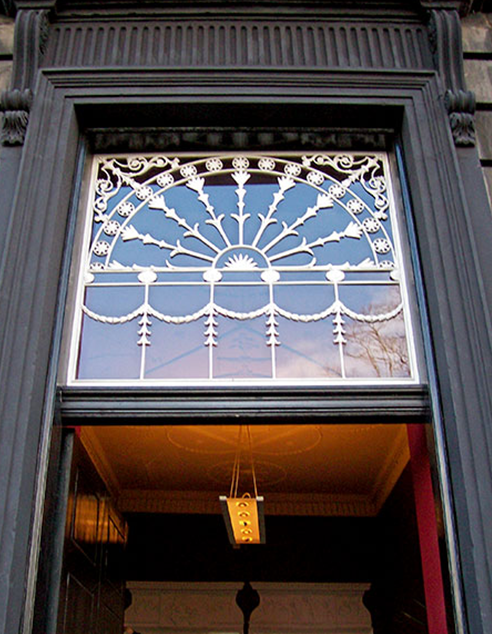 The fanlight is an architectural device of having a window or 'light' above a doorway to allow light into an otherwise gloomy hall or passageway in the shape of a fan.
Initially, fanlight windows were rectangular and this example made by Anthony Temperton is above the dining room of the world famous Scotch Malt Whisky Society, Edinburgh – a stunning contemporary conversion of a Georgian New Town townhouse – where the whisky bottle is kept away from the stove and reserved for postprandial tipples – all bottlings are straight from the cask and unique to the society.
Fanlights can be Conserved or Remade
Sambrook & Temperton offer a conservation service as well as rebuilding from scratch and designing fanlights to your specification.
Fanlights are supplied painted white on the decorative side (unless otherwise requested) and left unpainted on the putty side, to be finished by the client after fitting.
The strength and rigidity of the fanlight comes from the armature, which is made of brass (not the rust prone wrought iron usually used in the 18th century).
• You can find out more about fanlights by visiting www.fanlights.co.uk
Woodsbuild Heritage Ltd, YCCC member and traditional builders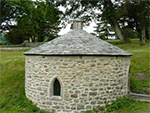 Woodsbuild Heritage Ltd are old and listed building specialists. Managing director, Kevin Wood, took time out recently to tell Ecclesiastical & Heritage World a little more about his company.
"We are based in Barnoldswick, eight miles from Skipton on the Yorkshire-Lancashire border. Most of our work is done in the local area on old properties, but we do work further afield when required.
"We work with traditional materials such as lime mortars, plasters and renders and pride ourselves in keeping largely forgotten Heritage skills alive by practising traditional craftmanship.
"Thankfully, the importance of lime as a building material, for use in restoration and also new builds, is becoming increasingly recognised. The use of lime and naturally pigmented lime washes go hand in hand to ensure an old buildings breathability and longevity. These methods and materials are far more suited for the repair and care of historic buildings than the use of hard cements or gypsum plasters, and are also more environmentally friendly in their production. Every old building has a story to tell and generally a few pages unfold whilst work is being carried out. We take great care to preserve the character of the buildings we are asked to work on and being a family run company, we offer a personal service that is committed to craftsmanship."
• Visit the website for more information about the traditional skills Kevin has to offer www.woodsbuild.co.uk
Restoration Sector Yorkshire - Martin-Brooks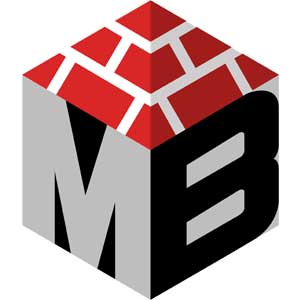 Nick Brooks is a director at Sheffield-based roofing specialists, Martin-Brooks. The firm is a member of the NFRC's heritage register and works on numerous town and country churches, as well as some of the UK's most historic properties, including Sheffield, Bradford and Wakefield Cathedrals.
Heritage roofers have a unique view of our architectural legacy – both literally and figuratively.
Surveying these historic gems from the top down heightens your appreciation of the skill and sheer determination demonstrated not only by the architects who conceived such ornate structures, but also those who helped wrestle them into life.
Church Heating Installation Yorkshire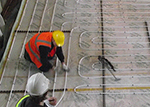 For several years Byfield Heating Ltd has felt proud and privileged to work closely with heating advisors on the York, Wakefield and Bradford Diocesan Advisory Committees.

On 9 October 2013 the Reorganisation Scheme was approved by an Order in Council - Her Majesty The Queen – who said yes to a new single diocese for West Yorkshire and the Dales to replace the three existing dioceses of Bradford, Wakefield, Ripon and Leeds. Being involved with these bodies and having a positive input into important decisions that affect their heritage is a constant source of satisfaction and pride to Byfield Heating.
Bob Middleton the MD of Byfield tells us: "The core of our success can be attributed to the unfailing commitment to quality in both materials and workmanship. The sympathetic approach to working in an architectural rich environment has won many accolades from heritage and ecclesiastical architects and PCC's alike throughout the north of England.
Leeds based company fit for a Queen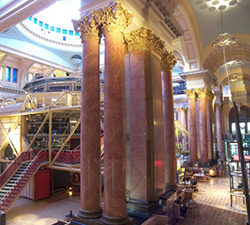 The Scagliola Company is a Leeds based company who are solely devoted to the manufacture, installation and restoration of Scagliola artefacts operating in the UK, Europe and worldwide.

It is a highly specialised organisation employing diverse personnel for specific projects that range from private interiors, luxury hotels, stately homes and super yachts.

The practice was established in 1986 and under the guidance of Michael Koumbouzis, was able to make the undeniable and timeless beauty of this high craft known to architects and designers, who have in turn used it in their projects and in many elegant interiors. The company has co-operated with some of the most important architectural and design practices worldwide and has enjoyed an ongoing relationship with many classicists who have used Scagliola with imagination and thoughtful perception.

Among the company's many prestigious projects you will find Buckingham Palace as one of the more famous carried out by Michael.
Read more

Hetton Methodist Church - Insulead Frameless Double Glazing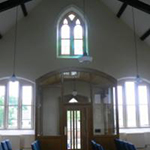 Built in 1859 Hetton Methodist church comes under the control of North Yorkshire Moors National Park. A Grade Two listed building it is a traditionally constructed small stone chapel on one level with stone and mullion type windows. Originally glazed with obscured glass diamond quarries, the glazing had been replaced by single glazed 'Arctic' type glass that was now in poor repair, having cracked with the expansion and contraction of the stone work – the glass had been split into horizontal panes using steel T section steel bar.

West Yorkshire based Touchstone Glazing Solutions were initially contacted by Bill Haig, the church warden, to enquire if they could visit the site and suggest methods of installing double glazing. After their initial visit the following brief was outlined – the insulation properties were paramount in complying with the congregation's deep felt belief that they did not want to conscientiously contribute to global warming and therefore wished to lessen their own carbon footprint.
The Beauty of Glass - Work by Ann Sotheran FMGP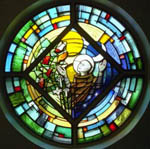 Having designed and made stained glass for many different situations including private houses, churches, public houses, exhibitions and galleries, Ann Sotheran derives the most pleasure from working in close consultation with the client or donor in the initial stages of the design.
She explains: I like to explore, with them, their reasons for commissioning a piece of work in order that I can develop images which will most closely reflect their feelings and aspirations and evoke a positive response to the finished piece.

Read more
Award winning masonry firm offer a range of services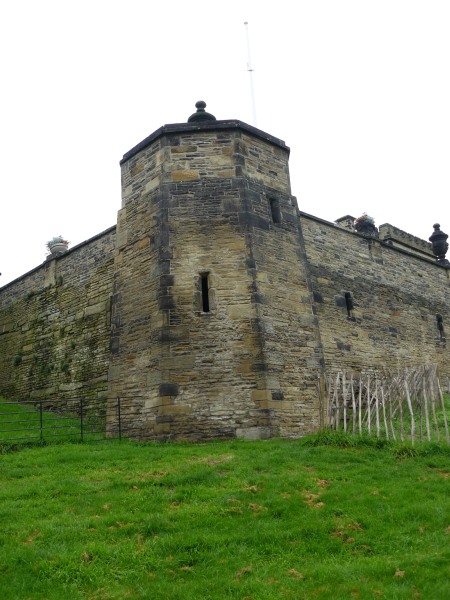 Skipton based Heritage Masonry are experienced and highly skilled stone masons, covering all aspects of stone masonry, stone walling and cladding nationwide. The company has years of experience in the industry and has worked hard to build up a first class reputation for the quality of the work and service provided.
They have worked with a number of large organisations, including the National Trust, Woodland Trust and English Heritage.
Recently they have also contributed to a number of award winning projects, including a Regional RIBA award with ShedKM architects and a RHS Chelsea Gold Medal on behalf of L'Occitane.
Heritage Masonry employ only the highest trained tradesmen and work with the very best quality material on the market to ensure that they deliver an unparalleled level of quality and service for each and every job.
Ornamental plasterwork throughout Yorkshire
Before and after pictures of an ornate plaster panelled ceiling by Leeds based PJ Glover Coving and Cornice Ltd. The company, who are members of the Guild of Master Craftsmen, specialise in the manufacture and installation of contemporary, traditional and bespoke ornate plaster mouldings. They are experts in restoration work, matching to existing, and stock a wide range of period and modern cornice.
Recent restoration projects include the Taverners Bar at Yorkshire County Cricket & Rugby Stadium, Farnley Hall in Otley, Huddersfield and Chester Railway Stations, York City Council main offices and Rossington Hall, Doncaster as well as numerous prestigious properties and manor houses throughout the Yorkshire region.
Additionally they also work on new building sites supplying and fixing contemporary cornices, lighting troughs, etc. For further information visit www.covingandcorniceltd.co.uk
A 'magical' project by Sebastian Wakefield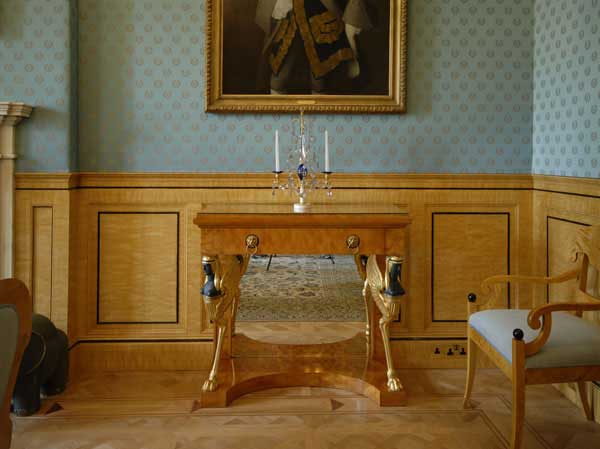 This room was Georgian addition to a much earlier priory, the client had added dado panelling. They had used mdf and tulip wood, both cheap. Sebastian Wakefield was then employed to grain all the woodwork.
The room was furnished with the client's collection of Beidermeier furniture.
Beidermeier furniture is a 19th century style from German, Austrian and Scandinavian parts of Europe. It emanated from the growing middle classes, influenced by English Georgian and French Napoleonic designs, with a tendency towards simpler neoclassical designs. A particular variety of satinwood veneer was used a lot with ebony inlay.
All the woodwork was grained to match the client's collection of Biedermeier furniture.
Restoration of the garden conservatory at Scampston Hall

Skipton based YCCC member Sebastian Wakefield has successfully completed a small project to restore the garden conservatory at Scampston Hall in Malton, North Yorkshire.
Sebastian has been painting and gilding for over 30 years and successfully used a mix of skills to match the original layers of paint, as the client wanted to keep the weathered look of the wall.
Starting with yellow limewash and dry brushing a low polymer paint over the top to match the colours, he successfully blended it in. The new wall was painted with limewash in a matching pink and, to tidy the job up, he also painted the air conditioning units in a pink acrylic paint that is designed to adhere to plastic.
Sebastian was also able to match the damp proof rendering, at the bottom of the wall, to the rest of the wall.
For further information on the work of Sebastian and his associates visit www.paintersandgilders.com