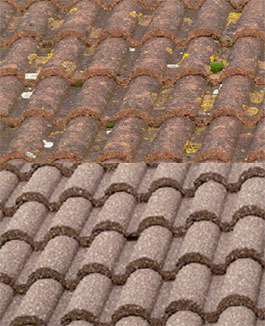 Moss on roofs is a common problem for older and cherished buildings. Such roofs are likely to be well into their predicted life span and aggressively cleaning ageing roof surfaces is not advisable. One treatment, developed and adapted to suit the weather conditions prevailing in the British Isles and Ireland, is AlgoClear Pro Softwash. Formerly known as MossGo, it is non-aggressive in nature.
According to suppliers Thames Valley Specialist Products Ltd, AlgoClear Pro Softwash gently cleans and restores old roofs to their former beauty without causing the physical damage that results from pressure washing. Its active ingredient is a quaternary ammonium, which has a rapid breakdown rate after use, leaving residues absorbed by bacteria.
AlgoClear Pro Softwash starts to act immediately and usually begins to show results within 24 hours, although some organisms will take time to wither away. The rate of cleansing varies with every roof, with the severity of the weather cycles and wind exposure. The cleansing is normally complete within a year.
The factors influencing the return of the growth are exposure to the sun, humidity of the site, and the porosity and surface roughness of the tiles. The proximity of trees is an aggravating factor. If the roof has been jetted, porosity and surface characteristics will have changed and the contamination is likely to return faster. In some cases, jetted tiles do not cleanse completely at all.
AlgoClear Pro Softwash is for use by professionals only: information on local contractors is available from the website at www.roofclean.co.uk.