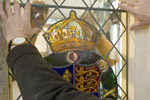 - Major New Cultural Venue in Maritime Greenwich World Heritage Site Moves Closer to Opening -
 29 January 2010:  A window from the Royal Tudor Palace of King Henry VIII was reinstalled on the site of his famous palace on the exact day Henry died, 463 years ago on 28 January 1547.  The window, reconstructed from stonework excavated on the site of Tudor Palace is one of the unique exhibits in Discover Greenwich at The Old Royal Naval College, a new £6m contemporary cultural venue exploring the history of the area, opening on 23 March 2010.  [Link to pictures below].  The site of King Henry VIII's Greenwich Palace lies under the Old Royal Naval College.  
 Discover Greenwich will unlock the history of Maritime Greenwich for over a million visitors a year and becomes the starting point for understanding and appreciating this World Heritage site and international tourist destination. The new destination also includes a micro-brewery creating historical and modern beers, a bar, café and restaurant.
 The window stone created from several similar windows, has been carefully reassembled into a single two-light window typical of about 1530. 
 The replica stained glass shows two coats of arms.  On the left, the royal arms of Henry VIII show the Tudor crown at the top with the alternating white and red Tudor roses of York and Lancaster. The rose beneath the crown is half white and half red. The arms of Anne Boleyn, on the right, are among the most complex ever devised and reflect the King's desire to enhance the status of his new wife.
The design incorporates the arms of several English and French noble families, and a motif of interlocking initials, H and A. The arrival of Anne Boleyn at Greenwich as Queen (Henry VIII and Anne were married on 25 January 1533) led to all the Palace windows being re-glazed, as her arms and badges replaced those of Catherine of Aragon. Sadly, they did not last long: only three years later in 1536, Anne was executed and the King's master glazier replaced Anne's arms and badges with those of the new Queen, Jane Seymour.
The replica glass in the reconstructed window has been made by Alfred Fisher, a specialist in stained glass.  He has used glazing techniques from the 1530s to produce the panes, including abrasion, etching, painting, silver staining and firing. Glass of this period was thinner than glass today, and the new glass was carefully selected for depth and tint. The finished panels have been inserted into the original groove in the stonework and sealed with lime mortar, in keeping with the original.
Alfred Fisher said:  "One of the tricky things about recreating glass from this period is that windows were made by individual craftsmen, each with their own design quirks and methods. The Lions on the Royal Arms in particular are all very different – ranging in position to expression – from smiles to scowls. We've overcome this by incorporating different styles through the reconstruction of what is almost a 500-year-old design. In total it's taken a team of three expert glaziers and designers six months to recreate the windows.  We used traditional medieval techniques, including the ironwork that supports the windows.   It was a real thrill putting into them back into the window frames from Henry's own Royal Palace and seeing them in the exhibition space."
Duncan Wilson OBE, Chief Executive, The Old Royal Naval College said:  "It's exciting to see the window being recreated in such painstaking detail, and Discover Greenwich taking another step closer to opening!  The window is a good example of how Discover Greenwich will use modern archeological methods and artefacts to bring the history of the area to life – making Discover Greenwich the starting point for understanding and appreciating the World Heritage site.   I very much look forward to the building opening on 23 March 2010."