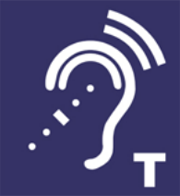 Did you know that in the UK it is now MANDATORY (Under the terms of the Disability Discrimination Act) for ALL public buildings to make adequate provision for the disabled (eg wheelchair access) and specifically, the hearing impaired?
Did you also know that the international standard (IEC118-4) has recently been revised and that your loop system now needs to be louder?
What is an Induction Loop System?
Induction loop systems allow hearing impaired people to hear more clearly.
Most hearing aids have a 'T' or 'MT' switch that allows them to pick up the electromagnetic field generated by a telephone earpiece. This signal is converted by the hearing aid into a sound suited to its user's specific hearing requirements. An induction loop system uses this same principle but generates a much larger magnetic field than that created by a telephone earpiece and radiates it around a room via a 'loop' of cable. Any hearing impaired person positioned within the loop can hear the loop signal by switching their hearing aid to the correct position.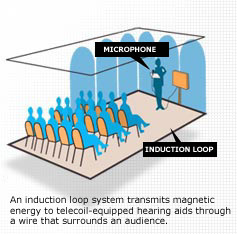 An induction loop system therefore comprises four main elements:
The audio source - typically a microphone, a television or a radio or any combination.
The induction loop amplifier.
The loop - a single turn of wire usually run around the perimeter of the room.
The receiver(s) - any behind-the-ear type hearing aid with a 'T' or 'MT' switch.
The size of the field required can vary depending on the application, from 1m² for ticket booths or bank counters, to in excess of 600m² for larger installations such as churches, theatres and cinemas.
You can find out more about your specific requirements by contacting a loop system expert in your area and there is a selection in our online directory under Loop Systems - just click here.
Scanaudio provide induction loop at Temple Farm
Temple Farm is a new 84-acre UK headquarters for the International Bible Students Association (IBSA) located near Chelmsford, Essex. The site has up to 1,000 volunteer workers per day alongside a small number of outside sub-contractors and is professionally managed and run by the organisation.
Click here to read the full story.