Brick is one of the oldest building materials and dates back to the beginning of civilisation. We represent the nations leading clay brick and paver manufacturers and are responsible for promoting the contribution that brick makes to the places and spaces that people live and work in today.

HOW WE PROMOTE BRICK

CONSULTANCY
We provide consultancy on the matching and sourcing of bricks. We feature exceptional brick buildings throughout our regularly published Brick Bulletin and celebrate brickwork design and craftsmanship success through our annual Brick Awards.

LIFETIME PERFORMANCE
We believe that what sets clay brick apart from any other building material is its unrivalled long-term performance. Clay bricks and pavers provide a lifetime of certainty and historically are tried and tested having proved their superiority over newer rivals when it comes to low maintenance, durability, colourfastness and timeless appeal.

SUSTAINABILITY
We invest in research to ensure brick products and forms of construction lead the debate on sustainability. We were one of the first sectors to produce a sustainability strategy ensuring that we measure, evaluate and annually review our industry on the responsible use of all resources.

TECHNICAL
We regularly lecture to architecture and engineering schools to ensure the teaching of brickwork design remains high on their syllabuses and we frequently hold seminars at Continuing Professional Development events for industry professionals. Through our association with the Better Brick Alliance we work with schools to encourage young people to consider a career with brick. We also carry out work on drafting technical publications, codes and standards and have been involved in the harmonised European standards for clay brickwork.
H G Mathews - Traditional Brickmakers since 1923

The Brick Works, Bellingdon, Chesham, Bucks HP5 2UR
Tel: 01494 758212
Fax: 01494 758077

Email:This email address is being protected from spambots. You need JavaScript enabled to view it.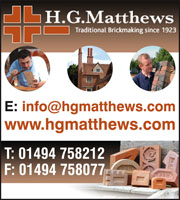 Making the right Impression
Rolling chalk hills, magnificent beech woods and charming brick and flint villages characterise the Chilterns, now designated as an area of outstanding natural beauty.

Indeed, it is in everyone's interest that properties are built or restored in keeping with their setting, paying attention to vernacular features and the use of materials that compliment the natural surroundings.

As manufacturers and suppliers of hand made bricks and machine-made bricks since 1923, using local clay and traditional firing processes, H.G. Matthews are proud to play their role in supporting the heritage of the Chilterns and the heritage of our nation.
 York Handmade Brick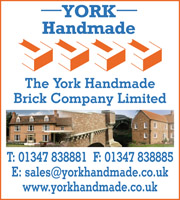 The York Handmade Brick Company is based in Alne just North of York and has been making bricks here for over 70 years.
Over the past 19 years, we have spent almost £2million in building and maintaining the most up-to-date facilities for producing our
individual, handmade products.
York Handmade Brick has received wide acclaim for its products, winning awards such as the Supreme Brick Award, Craftsmanship
Award and Public Building Award. Our range now extends beyond handmade bricks: terracotta floor tiles, landscape pavers, garden
edgings and various specials are proving popular additions. Examples of our products can be seen in our new showroom, with various
ancilliary materials - mortars, pipes, gutters and other related fittings.
Brick matching
Service is a key element in the unique selling proposition which York Handmade offer. As a small company our lines of communication are short and you can always contact a key executive when you have enquiries about products, quality or delivery. A special aspect of our service is ourability to visit your site to match up to an existing brick wall which includes the facility to mix and match different bricks to create bespoke blends.
Remember that at York Handmade the customer comes first.
The York Handmade Brick Company Limited,
Forest Lane, Alne,York, North Yorkshire YO61 1TU United Kingdom
T: +44 (0)1347 838881 • F: +44 (0)1347 838885 • E: This email address is being protected from spambots. You need JavaScript enabled to view it.