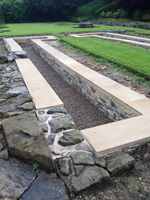 Stone Edge has completed a building conservation project on one of the last remaining choir pits in the country.

The conservation works to Whalley Abbey Choir Pits, near Clitheroe, which lasted from May until July, saw the repair and consolidation of the low level ruins.
The 16th century choir pits were considered to be the area of the abbey ruins in most urgent need of repair, for reasons of public safety and pending loss of historic architectural fabric.

The abbey owner, Blackburn Diocese, used the work on the Choir Pits to raise public awareness of the abbey site.
Steve Burke, Architect for the Choir Pits, said: "Stone Edge's attention to detail was excellent.

"When repairing medieval structures, there are always unforeseen difficulties and Stone Edge have been extremely flexible and easy to work with."

The choir pits were excavated in the 1930s, unfortunately, without much of an archaeological record.



Years of weather and visitors have taken their toll, which led to the need for Stone Edge's building conservation services to conserve the pits for future generations.

The choir pits, or resonating chambers, at Whalley are a rare survival in Britain, and may be the only fully excavated examples in the country.
Although the work on the abbey's church began in 1330, with the first mass around 1380, the choir pits may be a later feature.

This is because the two facing rows of wooden choir stalls, which stood above them, are inscribed "WW", the initials of William of Whalley, the abbot from 1415 to 1434.

After the Dissolution of the Monasteries, in 1537, 22 of the beautifully carved stalls were re-used in St Mary's parish church, Whalley, where you can still see them today.

The misericords – the 'perching' seats for the monks – are fine examples. There would rarely, if ever, have been more than 20 monks.

Unique to the North West, three of the misericords have inscriptions. The satyr and the young woman's misericord inscription translates 'think much & speak little'.

• The position of the choir in abbey churches varies, and is sometimes farther East (e.g. under the Crossing Tower), than at Whalley.

• Operating throughout the UK, with offices in London and Nelson, Lancashire, Stone Edge's stonemasons and cleaners carry out building conservation and restoration works for commercial and private clients providing unsurpassed quality and best value.
 
Stone Edge's team of stonemasons are specialists in the natural stone masonry repair of historic buildings, structures and monuments, from listed buildings to World Heritage Sites.
 
Stone Edge offers an array of services, including façade cleaning, stone restoration, conservation and stone repairs, brick cleaning and repairs and general building stoneworks. For more information, visit http://www.stone-edge.co.uk.