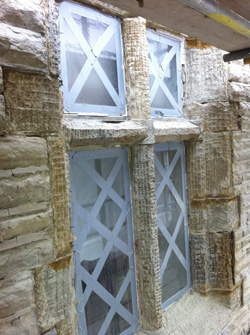 James Stone Masonry Ltd were used as the specialist sub contractor to carry out the restoration work at St Paul's Court Macclesfield, the original scope of works was to cut away the old hard sand and cement repairs to window surrounds and replace with a lime mortar repair system.
First of all samples were carried out to be approved by the client and conservation officer, once approved the work commenced on the window surrounds.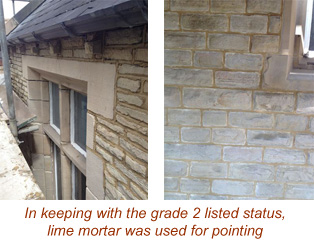 During the works James Stone Masonry Ltd were asked to look at further works needed within the project this included taking off and re-bedding copings to gables, descaleing loose and friable stone work and 100 percent pointing to the front and two side elevations, once again samples were carried out and approved by client and conservation officer.

Also during the project the original pointing was replaced by a sand and cement mix causing stains to the brickwork.

This project will be finished June/July and further pictures of this job and other projects can be viewed on our website www.jamesstonemasonryltd.co.uk.