London's 120-year-old Blackfriars Railway Bridge is to undergo a £6m refurbishment by industrial services group Pyeroy.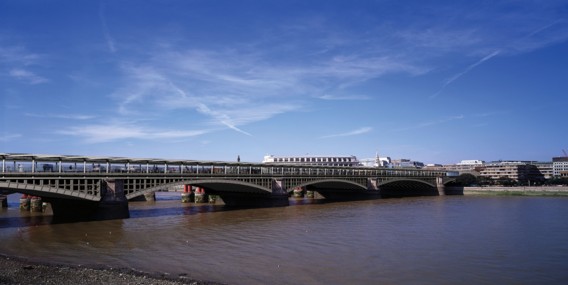 The work will be carried out over a two-year period for main contractor Balfour Beatty on behalf of Network Rail, as part of the Thameslink Programme. The platforms at Blackfriars Station will also be extended across the Thames, partially supported by the bridge piers.
The Thameslink Programme will see a new station at Blackfriars able to handle 12-car trains for the first time, with significantly more trains being able to stop at the station every hour.  The station also becomes the first to span the Thames, with a new roof over the entire platform length (illustrated) and a new entrance on the South Bank providing better access to the Tate Modern and the surrounding area.
Pyeroy's involvement will see the Gateshead-based firm's infrastructure services division providing scaffolding and steelwork support ahead of applying a new long-lasting protective coating to the wrought-iron bridge.
Designed by W Mills, the current bridge opened in 1886 and was built alongside the original St Paul's/Blackfriars railway crossing. On the downstream side the bridge is decorated with pulpit turrets, while on the upstream side there are Gothic cast-iron parapets.
The work to be carried out by Pyeroy follows the company's appointment on extensive refurbishment contracts on Tower Bridge and Southwark Bridge for the City of London Corporation.