A new lighting scheme has been designed for The Catholic Church of St Teresa in Morden, Surrey by church lighting specialists, HSE Lighting and Electrical Services.
Part of an extensive refurbishment, the new scheme has been developed using a central intelligent dimming system and the most energy efficient lamps on the market today.

The refurbishment, completed in anticipation of St Theresa's 75th anniversary, dramatically improves the overall illumination levels in the imposing structure whilst utilising lamps with a longer lamp life which will dramatically reduce costs in terms of maintenance and operation. Key liturgical features are now highlighted including the Cross, Tabernacle, Ambo and Font, in addition to the large Nave which can accommodate a congregation of up to 1100. An intelligent central dimming system with easy to use controls is discreetly located within the Sanctuary.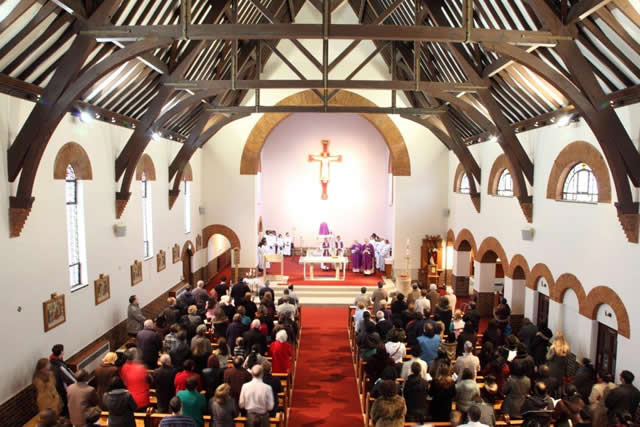 HSE's specialist design team suggested changing the lighting from the existing metal halide floodlights to LEDs and halogen light sources in conjunction with a Rako Controls dimming system, RAK-4 dimming racks. Philips Masterspot and Masterline lamps were chosen for the project to provide a warm glow of colour, whilst Philips LEDspot was utilised for highlighting and accent lighting throughout the project.



On completion of the project Father John Mulligan commented "We are delighted with the result of the new lighting scheme and this has been an excellent start to the build up of our anniversary celebrations. The whole building seems to have developed a much warmer feel and there has been a very positive response from our clergy and congregation".