Keim Mineral Paints have been used by award winning, London based artist, Gary Drostle, to paint a trompe l'oeil mural at Chester's Roman Amphitheatre, which was discovered back in 1929.
In 2004/05, public interest led to a large-scale re-excavation by English Heritage and the Cheshire West and Chester Council which revealed two successive stone-built amphitheatres with wooden seating.
Being the largest in Britain and such a symbolic construction, it was thought the amphitheatre was a shadow of its former glory and needed bringing to life.

English Heritage, Chester Renaissance and the Council have worked in partnership to improve its access, the landscaping of the site and brought the interpretation up to date, making it more attractive and accessible.

With a budget of over £300,000 to fund the programme of improvements the partnership's key objective was to heighten the appeal of Britain's largest amphitheatre as an open-air performance venue as well as an enhanced tourist destination.

As part of the scheme of works, the foundations of the walls have been reconstructed and a path has been created around the outer wall to link together all parts of the site, making it more accessible.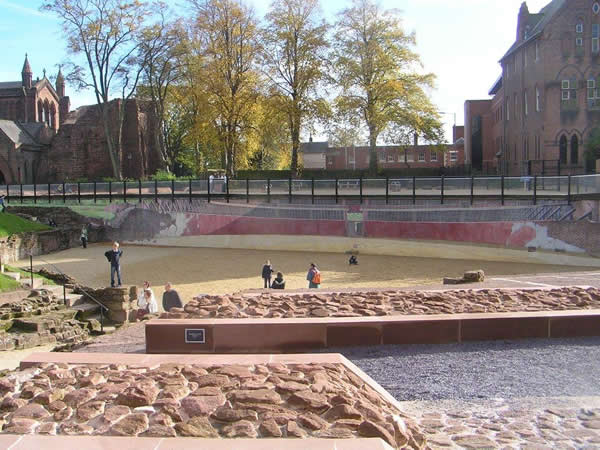 Melville Plasterers Ltd, Cheshire carried out the sympathetic repair to the concrete panel wall using Keim Universal Render. Keim Algicid, a non-acidic ammonium compound was used for the removal of mould, algae and fungi. Keim Universal Render is a ready to use, easily applied renovation and thin layer wall render for use on all mineral substrates both externally and internally. It comprises a hydraulic lime and white cement binder with silica and mineral fillers. This composition enables the render to accommodate a high degree of movement, thermal expansion and contraction, whilst at the same time preventing surface crazing and cracking.

For the protection of elevations in vulnerable areas and crack resistance, ready to use reinforcing mesh, Keim Glassfibre Reinforcing Mesh, was incorporated.

The renowned 130 year old Purkristalat mineral silicate paint system was used to create the mural to ensure that it would last for many decades. The paint is resistant to mould, algae, fire, acid and alkaline conditions as well as being completely lightfast.

To ensure the interpretation of the brief captured the historical accuracy even down to the colours it was meticulously authenticated by the archaeologists and English Heritage. Gary worked with artists Neil and Fiona Osborne from One Red Shoe in Grappenhall, Warrington. It took them 6 weeks to paint the mural, which is more than 50 metres wide, standing at more than four metres tall.

As an unbelieveable work of art that reflects the heritage of the site, to resist damage, Keim wax coating, a semi-permanent sacrificial anti-graffiti treatment was applied, aiding the removal of vandalism caused by graffiti.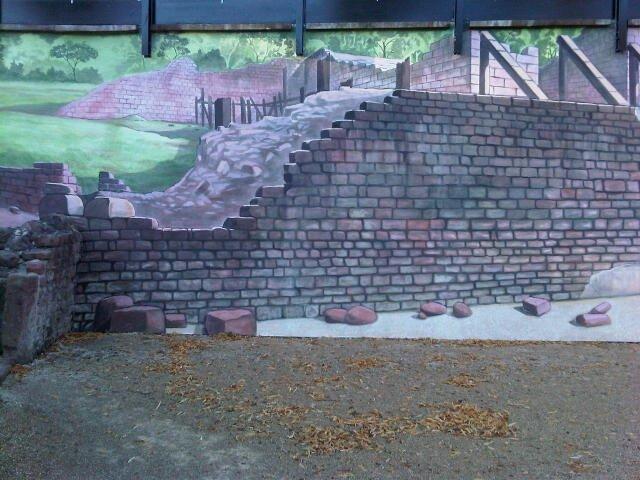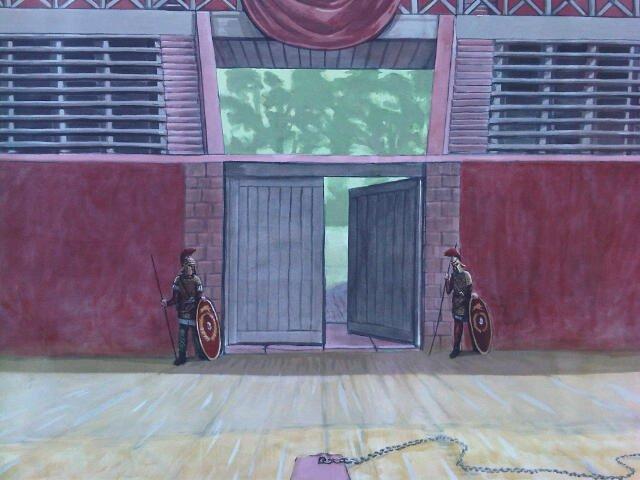 " Keim Mineral Paints is proud to be part of such a historical restoration programme such as the Chester Roman Amphitheatre and it's great that after 130 years Keim Purkristalat mineral silicate paint systems are still the choice for such an application," said David Pratt, Managing Director, Keim Mineral Paints Ltd.

"The mural needs to be available for people to enjoy for a long time and after Gary Drostle's previous experience of using Keim Mineral Paints we were delighted to commission him to carry out the works. With the investment and time incurred in painting such a large mural, longevity, reliability, colour brilliance and aesthetic appropriateness to the site were key factors in choosing Keim paints," said Rita Waters, Chief Executive, Chester Renaissance, Cheshire West and Chester Council.