by Paul Lythgoe, Managing Director of Tudor Roof Tile Co Ltd
Kent Peg Tiles hold a special place in the English architectural landscape – particularly in the South East of England, where they were once seen on nearly every town house, country residence, barn, oast house, church and farm property.
Dating back as far as the 12th and 13th centuries, the name 'peg tile', originally came from the softwood pegs, which were driven through two square holes in the top edge of the tiles, attaching them to the laths or battens.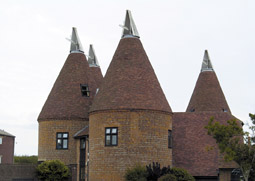 They were usually smaller than tiles found in other parts of the country and, despite the Royal Charter of 1477 decreeing that plain tiles should be standardised to 10½" x 6¼" countrywide, Kent Peg Tiles remained typically 10" x 6".
As they were originally made by local or travelling craftsmen, who relied on hand moulding and simple firing techniques, they inevitably had a wide variation of texture, camber and colour ranging from pale orange to dark red.                        
Unfortunately, the widespread use of traditional peg tiles gradually declined with the availablility of cheaper, mass produced, machine made clay and concrete tiles in the 1900s. However, in recent years, tighter planning regulations and recognition of the need to conserve our churches and historic buildings with sustainable and more visually sympathetic materials has led to a remarkable comeback.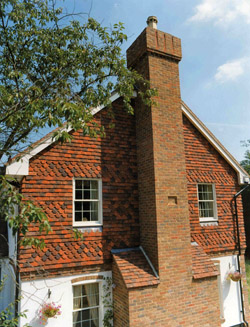 Although second hand peg tiles have often been favoured for heritage buildings, particularly if only a few tiles are damaged, the shortage and expense of obtaining good quality reclaimed peg tiles from legitimate sources has meant that conservationists have increasingly looked to modern handmade substitutes.
Authentic looking peg tiles are undoubtedly very difficult to replicate using modern manufacturing methods and machine made tiles are still far too dull, flat and uniform in appearance to be a convincing alternative.
Although there is still a small number of 'studio potters', who will painstakingly form each individual tile, such meticulous detailing can be as costly as sourcing expensive reclaimed tiles - particularly where large sections, or indeed entire roofs, need to be covered.
With its 'conservation range' of peg tiles, Tudor Roof Tile Co has developed a practical and economic compromise, that combines the best of both traditional and modern tile making techniques.
Each tile is pressed, moulded and trimmed, by hand at the company's factory in Lydd, Kent, in order to recreate the gentle camber, subtle colour variation and 'time weathered' appearance of the original Kent Peg Tile. Then, highly advanced firing techniques ensure exceptional performance and durability in compliance with British Standards.
Standard colour options cover most eventualities and bespokes sizes, with either square or round peg holes, can be made on request to suit each individual project, in keeping with the local vernacular. Hand made 'nibbed' versions are also available, which are more suited to modern construction methods.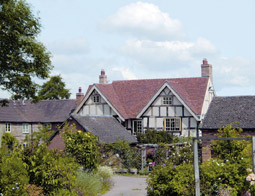 For architects, roofers and conservationists looking for historically sympathetic hand crafted peg tiles, made from fine quality English clay, Tudor's 'conservation range' is proving to be a practical, popular and ultimately cost effective solution.
• Tudor roof tiles are available from leading roofing and builders merchants. For more information, contact Tudor Roof Tile Co. Ltd, Dengemarsh Road, Lydd, Kent, TN29 9JH. Tel: 01797 320202, Fax 01797 320700, E-mail:
This email address is being protected from spambots. You need JavaScript enabled to view it.
, Website:
www.tudorrooftiles.co.uk
.