Recclesia Ltd at Chester Castle
Recclesia Ltd, historic building conservation specialists based in Chester, have been awarded Phase VI of conservation work at Chester Castle for English Heritage. The contract started this week and will see the Half Moon Tower and Frobisher's Workshop consolidated, conserved and repaired.
The castle has stood as a defensive landmark in Chester since 1070, with the outer walls being built up in the 13th Century. The Half Moon tower is a Grade I listed part of the castle complex, and the attached Frobishers Workshop (Frobisher being a variation of the word Refurbisher, where artillery was serviced) a much later addition.
The contract involves the masonry conservation and consolidation of the Half Moon Tower and associated curtain walling, re-roofing of both parts of the building, lime rendering and repointing, drainage works and various internal repairs. The work is being carried out for English Heritage with architects Arrol and Snell of Shrewsbury.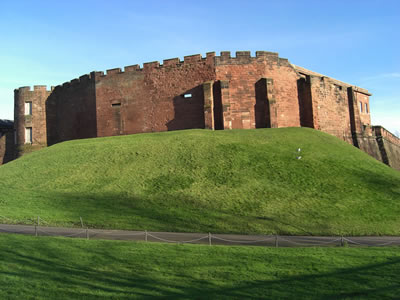 Recclesia were awarded the contract thanks to an outstanding track record in the building conservation sector and that they maintain a staff covering all the main disciplines required for the care and repair of historically significant buildings.
Recclesia Managing Director Jamie Moore said, "we are delighted to be working on one of Chester's oldest buildings at the centre of a city that is experiencing a renaissance of its historic built environment. We are very pleased to be part of such a locally significant conservation project and hope that our work will help to safeguard the future of this wonderful building."
More information about Recclesia can be found at www.recclesia.com