ARTTUS and the Stirling Castle Palace Project - Renaissance Palace at Stirling Castle

When commissioned ARTTUS involve the client in each stage of the design process and with one of their experienced designers work towards confirming the concept and agreeing a detailed brief. With enthusiasm and energy they bring a dynamic design vision to each project.

Arttus are pleased to announce that they have been awarded two prestigious contracts from Historic Scotland for the supply of the Wooden Furniture and Upholstered Furniture for the Renaissance Palace, Stirling Castle.
Historic Scotland is re-creating the unique Royal Apartments of James V and Mary of Guise in this, the finest Renaissance building in Scotland. It is anticipated that all these superb pieces of furniture will be installed by the beginning of 2011.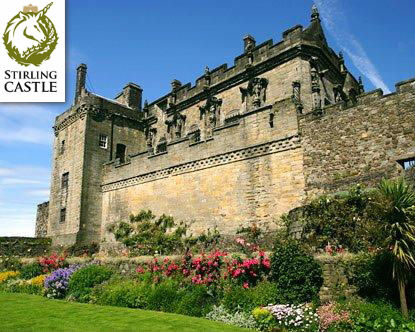 Ken Peterkin has extensive expertise in English period interiors, His breadth of experience has been called upon by private clients, designers, national and international institutions world-wide including the National Trust, Historic Scotland and Historic Royal Palaces.
Having worked in the design industry for nearly 30 years as a co-founder and director of Stuart Interiors, Ken has now moved forward to develop his personal and unique style with Arttus. For those who have worked with Ken previously, they will know the special emphasis he places on his close working relationship with the client throughout the life of the project.

Furniture & Decoration

A great deal of research has taken place into how the palace might have been furnished and decorated. In some cases we were able to use surviving records which told us about that there were a great many tapestries and also that James V had bought himself some four poster beds – a new fashion that was very popular among the rich and powerful in Europe.

Our experts have also taken inspiration from Scottish royal and noble residences of the time, using everything from stone carvings to wall and ceiling paintings as the basis for decorations in the palace. Furniture and fabrics, such as rugs and bed coverings, were a real challenge. Our researchers tackled this problem by studying everything from paintings, showing rooms inside great houses and castles, and inventories of people's belongings, as well carefully examining surviving items in museum collections in the UK and overseas.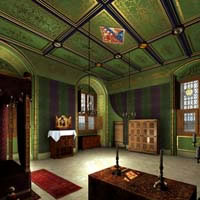 Top-quality craftsmen are now being commissioned to use authentic materials and techniques to refurnish and redecorate the palace. A team of weavers are also recreating a series of late medieval tapestries, telling the tale of the Hunt of the Unicorn, which will grace the walls of one of the Queen's Inner Hall. While we can never know exactly what it would have looked like, we hope that a member of Scotland's Renaissance royal family would feel very much at home.

From Easter 2011 visitors will be able to step back into the sumptuous world of Stirling Castle's royal court. The £12 million project will return the six ground floor apartments in the castle's Renaissance palace to how they may have looked in the mid-16th century.

Years of research have been carried out by archaeologists, historians and other scholars to ensure that every detail – from the magnificent four-poster beds to the heraldic decorations on the walls and ceilings – will be as authentic as possible. Costumed performers in the role of guards, ladies in waiting and other characters will help make a visit even more enjoyable, as they chat to them about palace life.

At present the palace is closed so it can be conserved, decorated and furnished. But once it reopens it is hoped that visitor numbers will increase as growing numbers of people come from around the world to enjoy one of Scotland's greatest castles.

http://www.arttus.com/