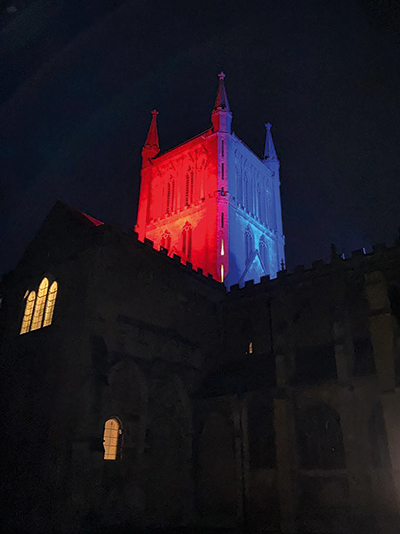 Pershore Abbey was one of the largest medieval abbeys in Britain – even larger than Worcester Cathedral – before it was part destroyed in the Reformation. The tower was added in 1350 and has stood as a beacon which can be seen for several miles across the district.
Until recently the tower has externally been bathed in white light during the hours of darkness. However, a generous donation from The Friends of Pershore Abbey has enabled a new state-of-the-art colour change LED floodlighting system to be installed by lighting specialists Anthony J Smith(Glos) Ltd. It was first used over the Jubilee weekend with the tower being illuminated in red, white and blue which cycled through the colours every 15 seconds.
The Vicar of Pershore Abbey, Canon Claire Lording, said: "The abbey often gets requests to light up the tower in different colours for awareness campaigns and events and, up until the evening before the Jubilee celebrations started, we had to decline as white light was our only option.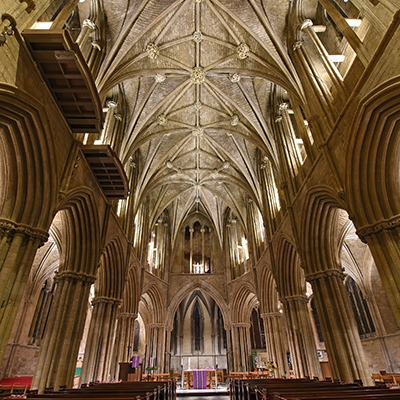 "The project had been ready to go for some time but was delayed by COVID. A delay in the materials being delivered meant that it was a last-minute heroic effort by our lighting contractors Anthony J Smith(Glos)Ltd to ensure that it was completed in time for the Jubilee weekend.
"The LED lighting will mostly produce white lighting throughout the year but the system will allow us to illuminate the tower in a myriad of colours for various occasions, such as for the Plum Fair."
Che Polley from Anthony J Smith(Glos)Ltd added: "We are fortunate to be involved with this prestigious building and it was a pleasure to be invited back to assist with such a visible project.
"Having completed the first part of the internal works, which consisted of the sanctuary, nave, aisles and east end sections of the abbey, we will shortly be returning to relight the architecturally challenging west end of the building – this includes the open plan bell ringing platform which appears to hover in mid air 100ft above ground level."
• For further information call 01453 825 130, email This email address is being protected from spambots. You need JavaScript enabled to view it. or visit www.anthonyjsmith.co.uk