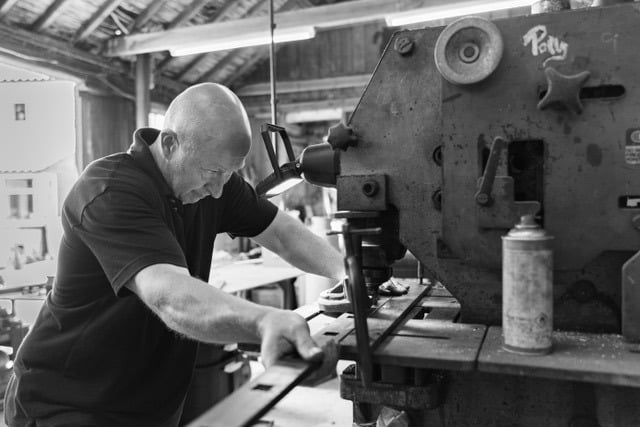 D C Blacksmiths are specialists in the conservation, restoration and reproduction of period architectural wrought iron and designers of new and contemporary styles of forged metalwork, using traditional blacksmithing techniques and jointing methods.
The company was founded in 1995 by David Cooper (pictured right) - a self-taught metalworker with a basic knowledge of wrought ironwork - and quickly escalated as the commissions became more challenging and his name and reputation grew. David explained: "I enrolled on a rural apprenticeship at the National School of Blacksmithing, winning the prized Paul Allen Award for excellence in forge-work. For my work in the apprenticeship and final piece, 'my green gate', I was awarded the bronze medal master blacksmith FWCB (Fellow of the Worshipful Company of Blacksmiths)."
In 2011 due to the level of work in his portfolio, he was proudly awarded the silver medal from the company gaining the eminent master blacksmith status. David continued: "In 2018 we uprooted the forge previously located in Bridlington to the picturesque East Yorkshire village of Burton Agnes and set up a forge in the old village joiners shop at our home, we now take on the role of the village blacksmith." The commissions have continued to get more challenging as time goes on and David likes nothing more than working metal in the forge. David's hobbies tend to be metalwork related, making new body panels on the English wheel for his 1955 pride and joy Vauxhall Cresta.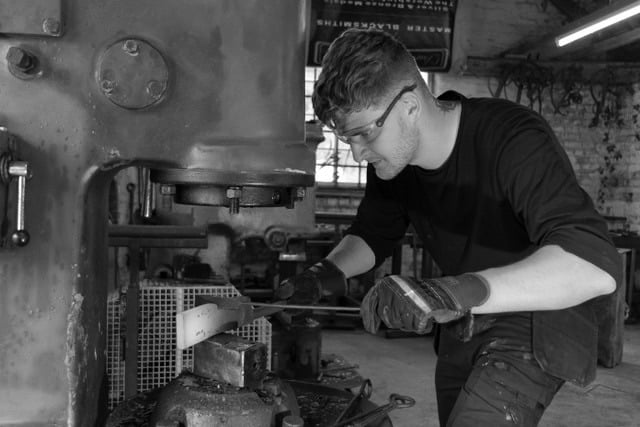 David's son Jake (left) joined the company straight out of school at the age of 16. He enrolled on an engineering apprenticeship with a local college and worked within the company the remainder of the time. Having completed the engineering apprenticeship he then spent his time carefully honing his forging skill, enrolling on a rural apprenticeship at the National School of Blacksmithing Hereford in 2017. Jake completed this with marks distinction star, as a result of his forging ability throughout the course and for his final project piece 'iron and stained glass mirror'. For this, he has been granted AWCB diploma of merit from the Worshipful Company of Blacksmiths. He is heavily involved in the design and execution of many of the wrought iron commissions the forge undertakes. Jake has developed a reputation for crafting handmade Damascus steel chefs knives in his spare time, so iron is very much at the heart of his interests.
Case study - Iron Gate in North Yorkshire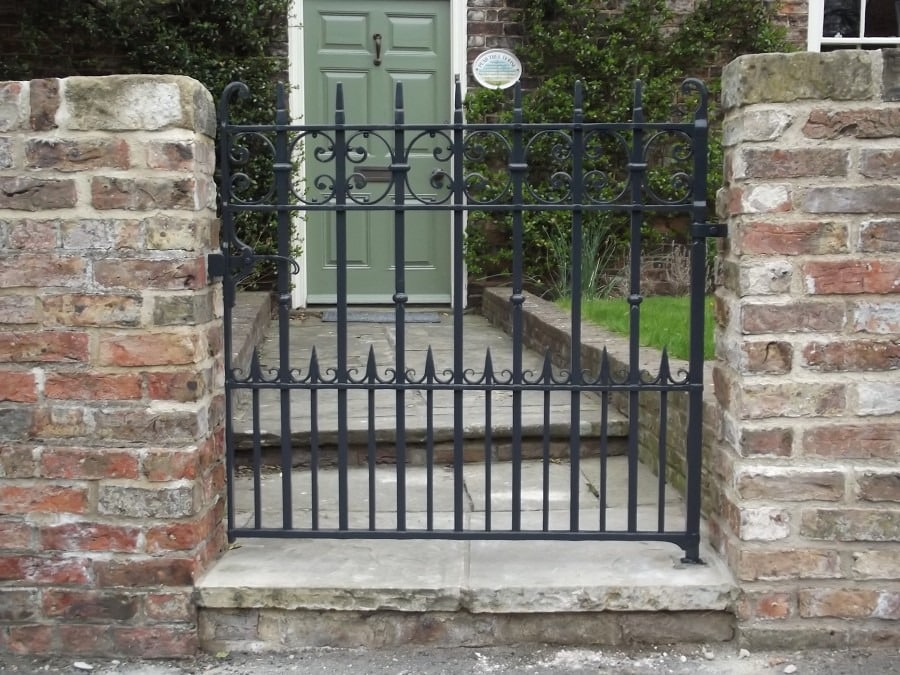 Traditional wrought iron garden gate North Yorkshire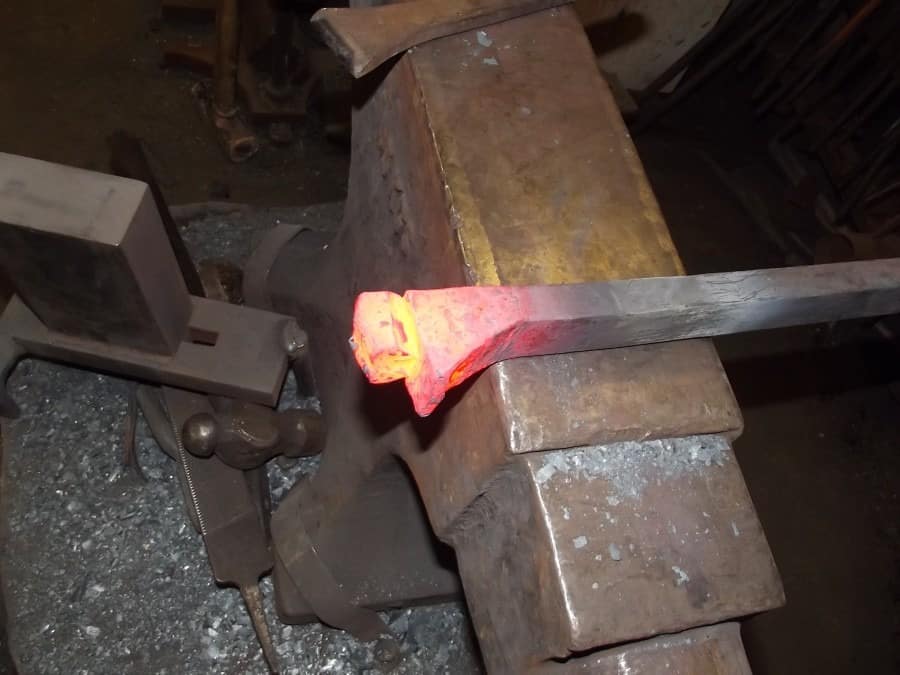 The healed tenon during the forging process
How the company build a traditional forged bespoke wrought iron gate, and some of the time-honoured methods used throughout the process, are evident in this case study. The bespoke garden gate was commissioned by a client in North Yorkshire back in 2014. From the initial sketched out designs a quote was provided and then progression to the full size working drawings.
David commented: "Throughout our descriptions we mention traditional mortise and tenon riveted joinery methods, if the images are studied this becomes evident in most of our work, this style of wrought ironwork by blacksmiths is what inspires us to build ironwork in this fashion as our forefathers did hundreds of years ago.
"Traditional bespoke ironwork needs to be very carefully designed with structure and triangulation in mind," added David. "Most of the public I deal with, when starting the design stage, think that scrolls and other forged elements are purely decorative but this could not be further from the truth.
"From experience, when talking about building gates to novice smiths or steel fabricators, until you are able to build and understand the many complicated processes needed to construct traditional iron gates and other forge-work there is no way the design can be properly executed. This is one of the reasons blacksmith forged wrought iron gates and railings constructed in the spirit of our ancestors deserve to be called pieces of architectural wrought ironwork - or even art."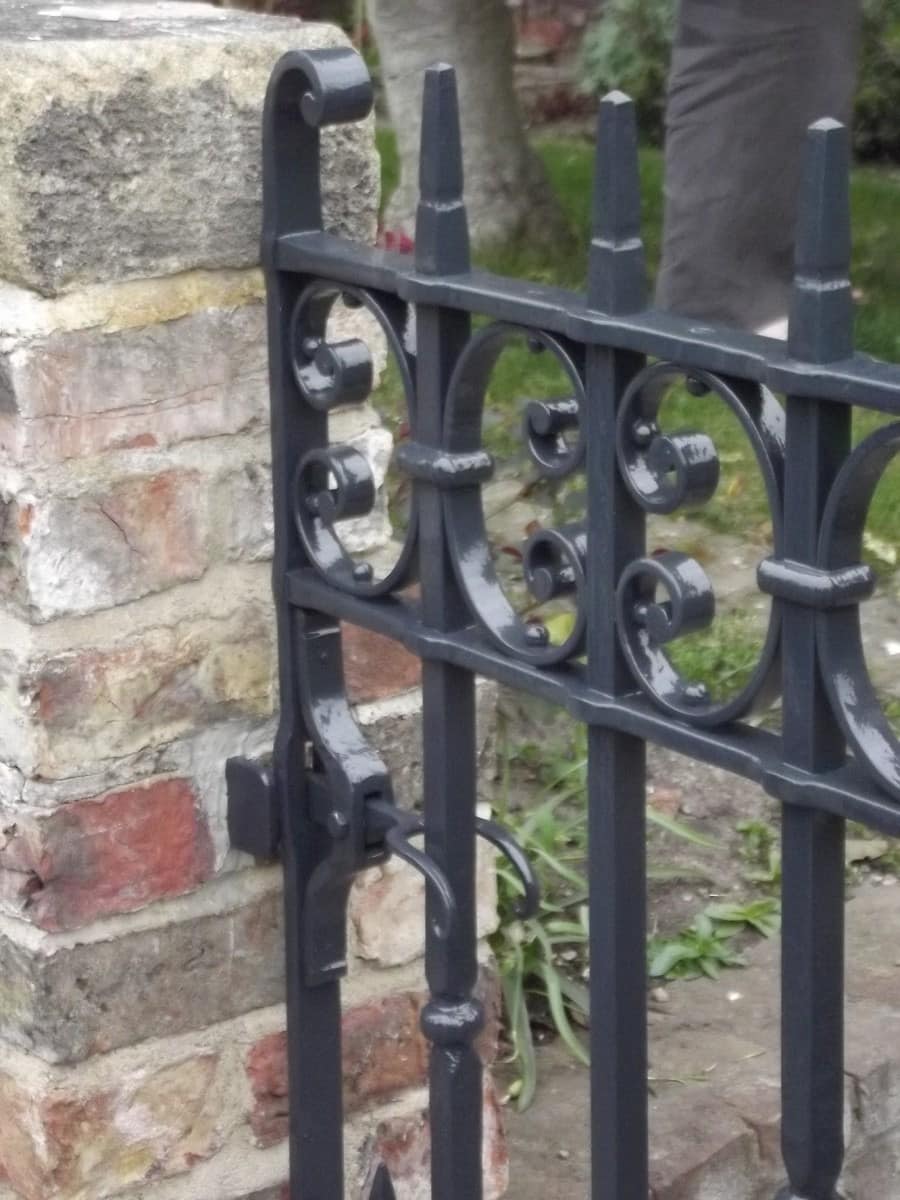 Detail of gate latch, finished colour railings grey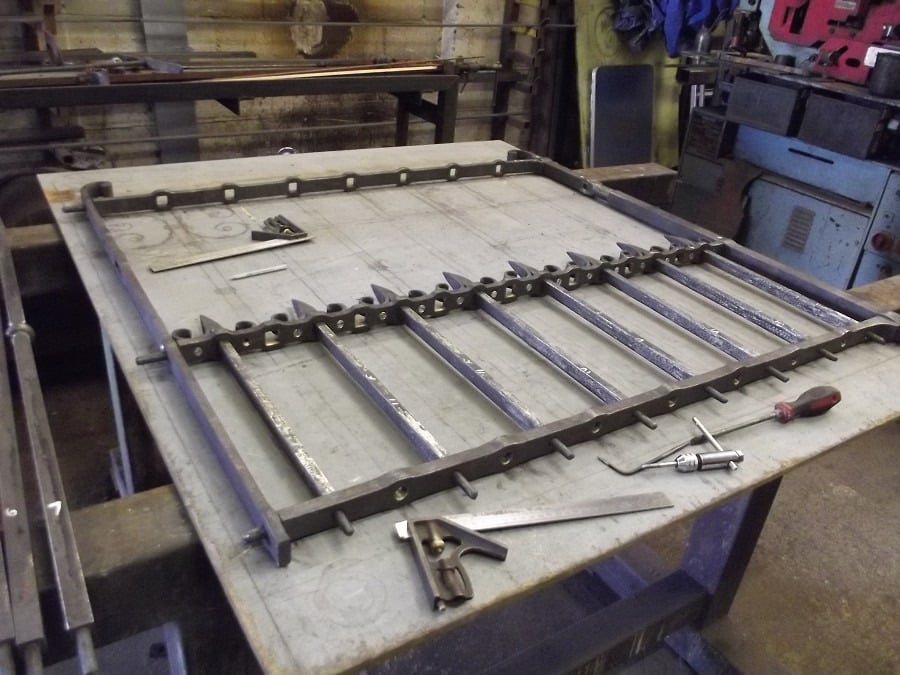 Assembling the gate over the working drawing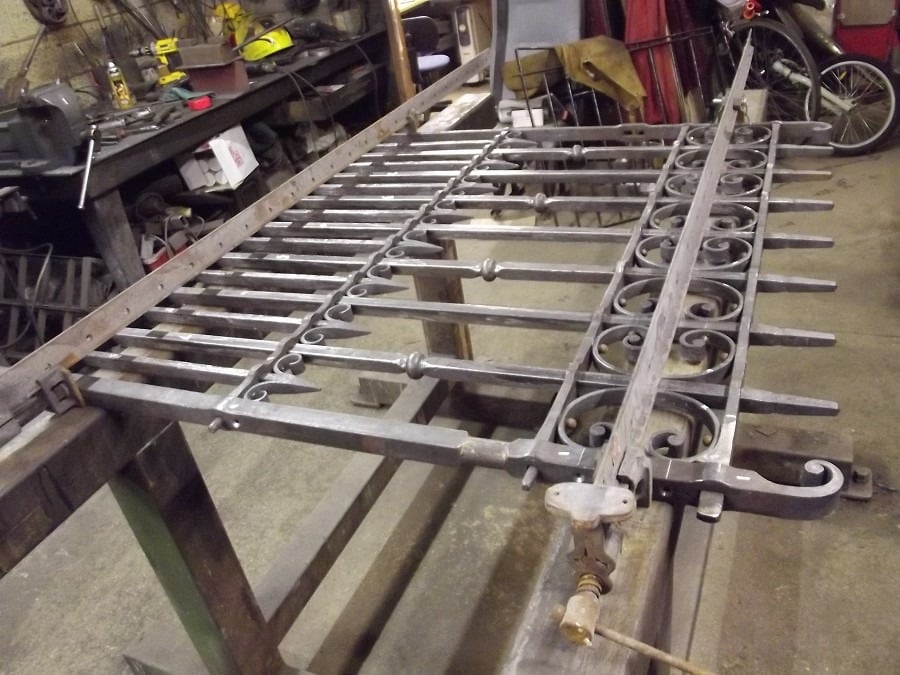 Closing the rivets on the garden gate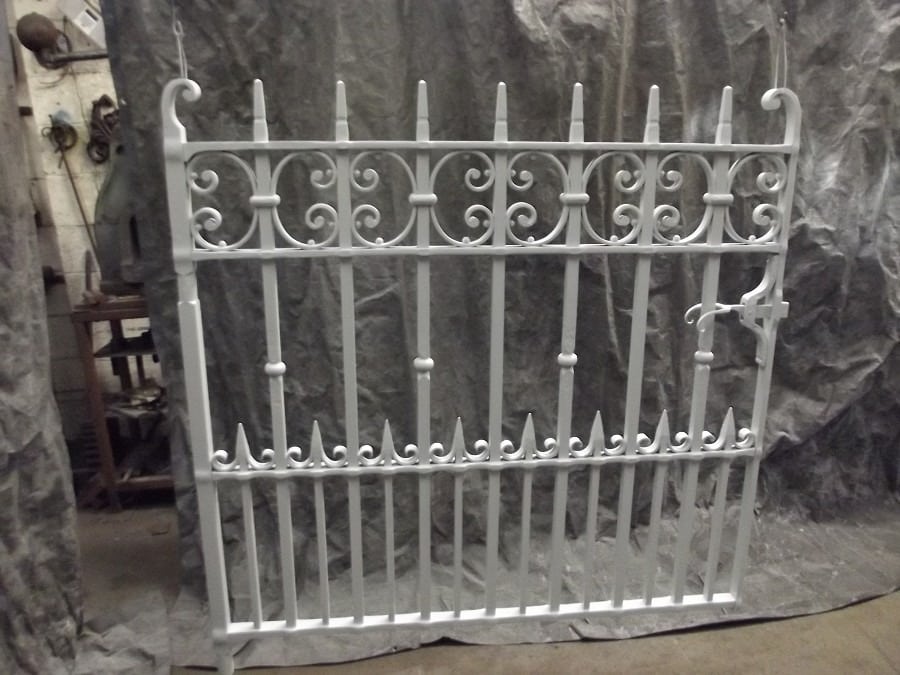 The finished bespoke iron gate in primer
For further information visit dcblacksmiths.co.uk