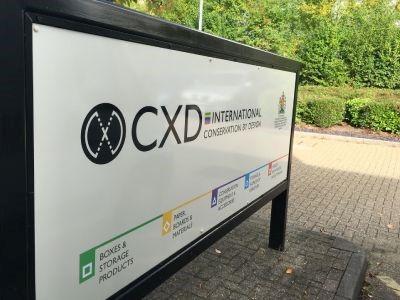 Conservation by Design are excited to announce that the company's sales office, warehouse, and dispatch have successfully relocated and are now fully operational.
Their new address is CXD International, Unit 14, Crowhill Farm, Ravensden Road, Wilden, Bedford MK44 2QS. Their phone number and email address will remain the same: 01234 846300 and This email address is being protected from spambots. You need JavaScript enabled to view it.
Founder & Group Product Director Stuart Welch said of the move: "We have been planning this important move so that we can accommodate our growing customer base and reduce lead-times for our deliveries. Our new building will allow us to better serve our loyal customers and collaborate better with important business partners.
"The relocation of our warehouse allows us to expand our manufacturing capability and we have already invested in new machinery including a large guillotine, large die cutting platen, Heidelburg rotary die cutter and a Tunkers sheet to sheet paper/board laminator. All of which allows us to offer a more comprehensive, competitive and efficient service.
"In three years, we intend to move our factory into a new building constructed next to our new warehouse so that the whole CXD International - Conservation By Design business will be at one location. CXD France will remain at its present location on the outskirts of Paris.
"We are investing in British manufacturing in the belief that in these uncertain times of conflict and propaganda our products will be needed to preserve the story of today for better times."
For further information visit www.cxdinternational.com