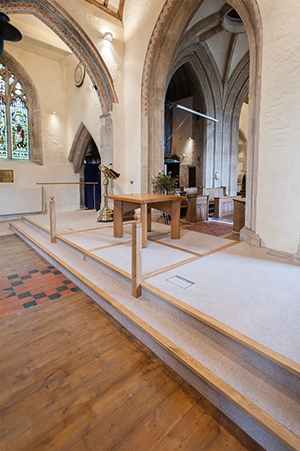 A beautiful piece of precious history, such as a church building, is so much better when it can be used today. Its colours and textures can be felt, evoking a sense of history so much richer than just walking through it as a monument.
The lovely Grade One-listed St Mary's Church in Purton, Wiltshire, is built in Cotswold stone and dates from the 13th century. Its twisted ribbed roof structure and medieval paintings reflect the soft colours of its ancient lime plaster and its crooked pillars and limestone arches tell of the hands that crafted them.
William Butterfield did re-build parts of the chancel and introduced the pewed Victorian seating arrangement in 1872, on wooden pew platforms and tiled walkways, but he was very respectful of the centuries-old architecture. Recently, JBKS Architects were honoured to have been employed to adapt the church for more extensive enjoyment and use today – adding usefulness, but also bringing to life the beautiful features with careful lighting and finishes.
Like so many historic churches, St Mary's was cold and poorly lit. It was difficult to navigate through because of changes in level. It was inflexible and had no toilets or refreshment facilities: all in all, therefore, ill equipped to serve the needs and desires of the nearly 4,000 population of the village.
Although gorgeously rural in its setting, St Mary's is only three miles from an M4 junction and the same distance from Wooton Basset and Cricklade. It was crying out to be made more inviting and welcoming; not least as a place in which people could discover God and grow in the riches of the Christian faith, with no preclusion of sumptuous community events that might need a fabulous space to be housed in.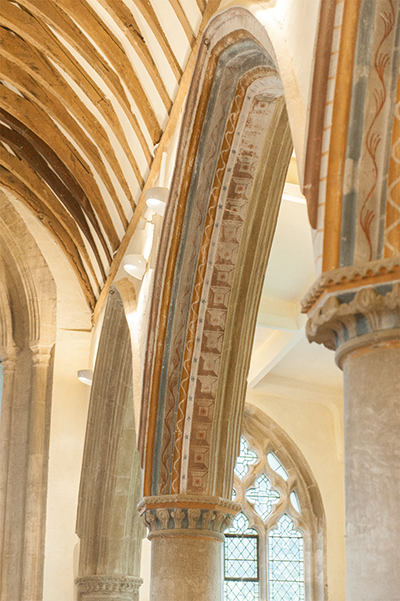 Working hard with a limited budged and an amazing client and consultant team, JBKS Architects led the design effort to redefine the nave space with a graceful new carpeted and oak trimmed stepped dais, which adds warmth and welcome. A mix of direct and indirect LED lighting breaks open the spacial flow of the different spaces and picks out the features of the medieval paintings.
The new heating system is essential and will create a cozy feel which is also enhanced by warm white light. The new kitchenette, in keeping with the oak wood finishes, is neatly placed in the back of the south transept. The three new toilets required breaking through a medieval stone wall, but they are cleverly shoehorned into the old boiler house extension.
One modern feature is the addition of large plate glass screens with oak frames and mullions. Some might think that they are too contemporary; however, they order the spaces, create useful rooms and add sparkle and reflection, which really lifts the interior to a level of wonder and enjoyment above the merely practical. Equally, the loss of the pine pews may be regretted, but the careful choice of oak-framed chairs upholstered in velum adds a sense of quality, dignity, and comfort that is so inviting. Credit to the client team!
The opening by the Bishop of Bristol in September 2021 attracted nearly 200 people. David Nettleton, chair of the renewal management team said: "We now have a flexible building able to provide for traditional and contemporary worship and for teaching children. Thanks be to God."
The Rt Revd Vivienne Faull, Bishop of Bristol held the Renewal Service on 5 September 2021 to celebrate the restoration of this very special church.
For further information visit jbks.co.uk