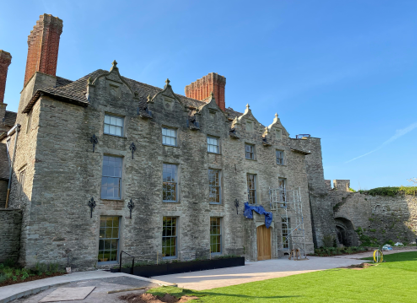 On Friday 27th May, Hay Castle will open its doors to the public for the first time in its 900-year history, following a major 10-year restoration and regeneration project. Situated in the small town of Hay-on-Wye in Powys, best known for its leading annual literature and arts festival, Hay Castle is one of the great medieval defence structures on the border of England and Wales still standing. Thanks to over £5million from the National Lottery Heritage Fund, and £2m match funding from various trusts and individual donors, Wales now has an important heritage destination, a vibrant new centre for learning and the arts, and a space for the community to come together.
Following the restoration works, Hay Castle now boasts a stunning new atrium, designed to complement the existing stonework, as a striking venue for exhibitions of all kinds. The castle buildings and the grounds are perfectly suited for musical and dramatic performances, workshops, performing arts, and cultural events.
From 27th May to 31st August 2022, the castle will host the inaugural Portraits of Writers exhibition in its specially-developed gallery space on the second floor. Developed in partnership with the National Portrait Gallery, Portraits of Writers forms part of the National Skills Sharing Partnership Programme, a collaborative project which sees the National Portrait Gallery partner with colleagues across the UK to share its Collection while it undergoes its own major transformation. The display, selected from the Collection of the National Portrait Gallery by guest curator, author and journalist Dylan Jones OBE, brings together a range of fourteen portraits of celebrated British individuals who identify as writers. It includes pictures of Tracey Emin, Riz Ahmed, Bernardine Evaristo and Salman Rushdie, and is funded by The National Lottery Heritage Fund and Art Fund.
Andrew White, Director of the National Lottery Heritage Fund in Wales, said: "Hay Castle has a rich 900-year history, during which time it has been burnt down; rebuilt and attacked by Owain Glyndŵr. Now, thanks to National Lottery players these extensive renovations have taken place and now the future of Hay Castle has been secured for generations and potentially centuries to come."
The opening coincides with the first weekend of this year's Hay Festival and a new collaboration between the castle, the festival and Shakespeare's Globe brings nine performances of Julius Caesar to a specially commissioned open-air theatre in the grounds. The travelling company of actors, will bring to life Shakespeare's political thriller with a stripped back production made fresh for our world today. Attendees can enjoy a delicious picnic box from the Hay Castle Café, supplied by local Herefordshire firm Epicure Events, whilst watching the performance.
Visitors will now be able discover the many chapters of this iconic building, and can hear stories about the castle's history using a smart phone or by scanning a QR code. There will also be tables with iPads where families can see historic images of the castle, watch animation and engage with tales from the past. The Clore Learning Space on the first floor will provide an important educational venue for visitors of all ages: a place for inspiring adult workshops and also for school visits where pupils can interact with a wide range of activities including designing a shield, building blocks to construct Hay Castle and a treasure trail. There will also be ten medieval costumes - thirty items of clothing sewn by local volunteers - for kids to dress up in. On the landing outside, a working 150-year-old Columbian letterpress will be on display, with volunteers on hand to help visitors have a go.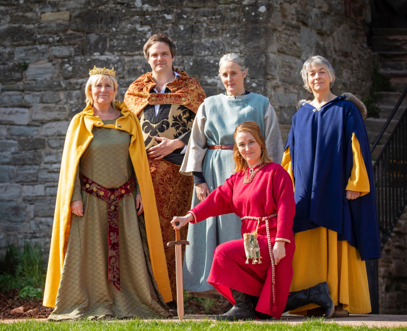 Executive Director of Hay Castle, Tom True, said: "Our aim is to reinvent the idea of what a castle should be in the 21st Century. Once a symbol of control and destruction inhabited by few, Hay Castle is now a beacon of openness and creativity for everyone. At the heart of the town, surrounded by our beautiful countryside, we will celebrate all that makes Hay special, whether that is storytelling, independent-thinking, or the heritage of our rural borderlands."
In the Tower Cellar, visitors will be able to see a long-forgotten Medieval arch, or gateway, that was only revealed during excavation in 2018. There they will also be a chance to view a 3-minute animated history of the castle projected onto the tower wall.
The Richard Booth Collection - established as a tribute to former owner of the castle, and self-declared King of Hay, Richard Booth - can be found in the second floor Reading Room and Archive and will display his crown, sceptre and robe, the original flag of independence, his desk and chair from his study, bookshelves and books from his home, and a stained glass of Richard as King.
At the top of the castle, from the Tower Viewing Platform, visitors will be treated to stunning views of the Wye Valley and border landscapes, and will be greeted by a stunning Wales-England sign cut from bronze sheet, plus a large bronze resin relief sculpture in the shape of an unfolded map.
In the Dining Room, freshly made and locally sourced food and drinks will be available in the Hay Castle Café, whilst an eclectic collection of books, cards and gifts will be on sale in the King of Hay Bookshop. On exiting the castle, families will be able to visit the Hay Castle Shops along the Castle Cobbles, and browse for hidden gems under the watchful gaze of a bronze sculpture of Richard Booth - created by local artist Penny Chantler - in the Honesty Bookshop.
Guided tours will take place throughout the day and a lift will allow access to all. Entrance will be free but a small charge will be made for access to the main exhibitions, and Hay Castle will rely on donations from members of the public for its upkeep and maintenance.
For further information visit www.haycastletrust.org