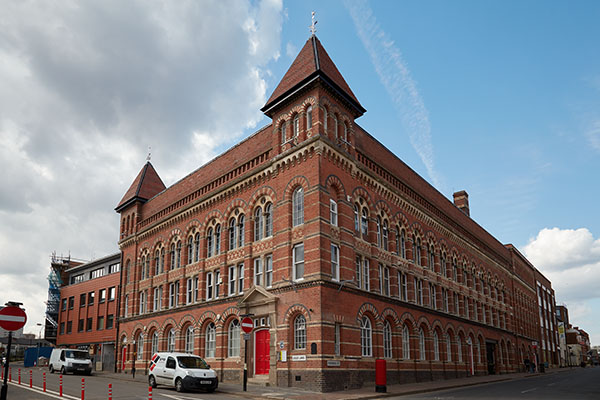 An award-winning restoration project on the Grade Two*-listed Argent Centre in Birmingham's Jewellery Quarter has included matching tiles from nearby Brierley Hill-based Dreadnought Tiles.
Originally known as the Albert Works, the Argent Centre was designed by J G Bland and built in 1863 as a pen manufacturing centre consisting of rows of workshops overlooking an internal square courtyard. It is believed that the original building had two impressive corner turrets looking out over Legge Lane, which were truncated sometime after 1945.
The recent restoration project, led by Oliver Architecture and grant aided by Jewellery Quarter Townscape Heritage, has brought prominence and stature to the building at the entrance to the Jewellery Quarter, faithfully restoring the roof and masonry and reinstating the turrets to their original design, according to old Victorian engravings.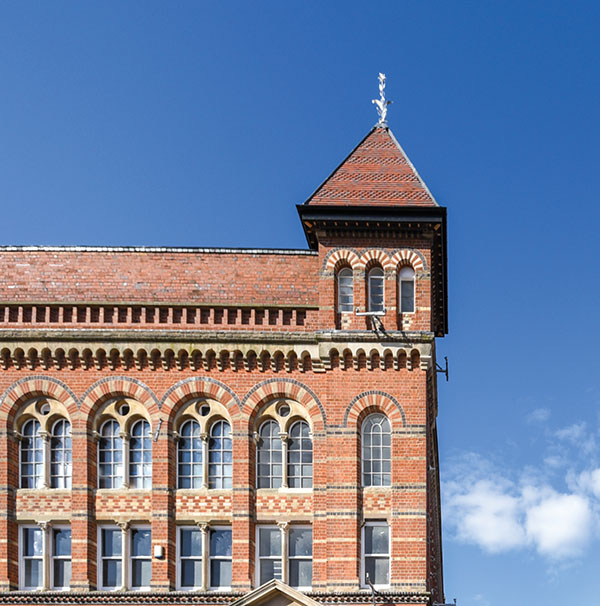 Philip Waghorn of Oliver Architecture explained: "It is not known when the corner pyramidal turrets were removed, or if they were ever built. We have only found sketches and engravings with no photographic record."
On close examination the engravings from 1863 showed bands of ornamental club tiles with plain clay tiles and elaborate decorative finials, and Oliver Architecture sought to rebuild them to match the original design as closely as possible. Dreadnought clay tiles are made locally and with their traditional single camber shape and natural clay colour were found to provide the most authentic match. Dreadnought were also able to match the shape of the ornamental club tile. Their sanded red/blue blend tiles were selected – a natural mixture of red and blue hues – as they best represented the subtle colour variation that tiles in the 19th century would have had.
The turrets presented many challenges for contractors Midland Conservation, who found that the bases were not square and that each roof slope would therefore have a different pitch and width – making it very difficult to set out the tiles and to ensure their proper alignment. It also meant that the proposed arris hips would not work and a new lead gutter detail was created instead.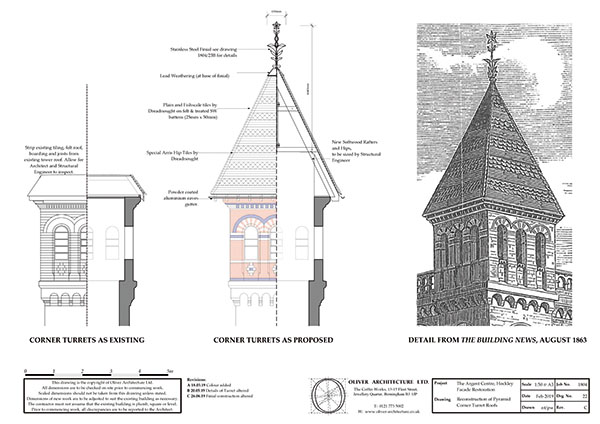 Each turret was then finished with a new stainless steel finial at the apex, specially made to match the design in the 1863 image in the engraving.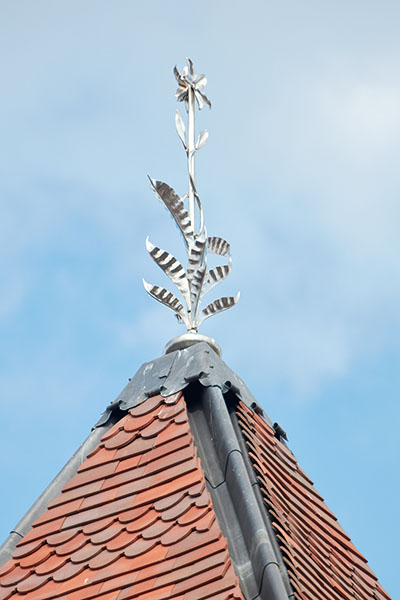 Andrew Cornwell of Midland Conservation explained: "Thankfully, with the expertise of Oliver Architecture Ltd, Dreadnought Tiles and our site team we have managed to create two turrets that properly reflect the 1863 image and the original splendour of the Argent Centre. The stature of the Argent Centre within the Jewellery Quarter has now greatly increased following the recreation of the turrets and extensive conservation repairs to the elevations."
The success of the project in restoring the building, and in particular the historical elements, has been celebrated by the Victorian Society and awarded the 2021 Birmingham and West Midlands Group Conservation Award.
Stephen Oliver MA (Cantab) DipArch RIBA AABC, for Oliver Architecture, commented: "Oliver Architecture is thrilled to be awarded the 2021 Victorian Society Birmingham and West Midlands Group Conservation Award for our work leading the design team on the Argent Centre, one of the most iconic buildings of the celebrated Jewellery Quarter. The restoration of the corner turrets, together with roofing repairs and conservation of stonework, allows this Grade Two*-listed building to speak again as a gateway to the Quarter. We are proud to have been part of this grant-aided project."
For further information visit www.dreadnought-tiles.co.uk