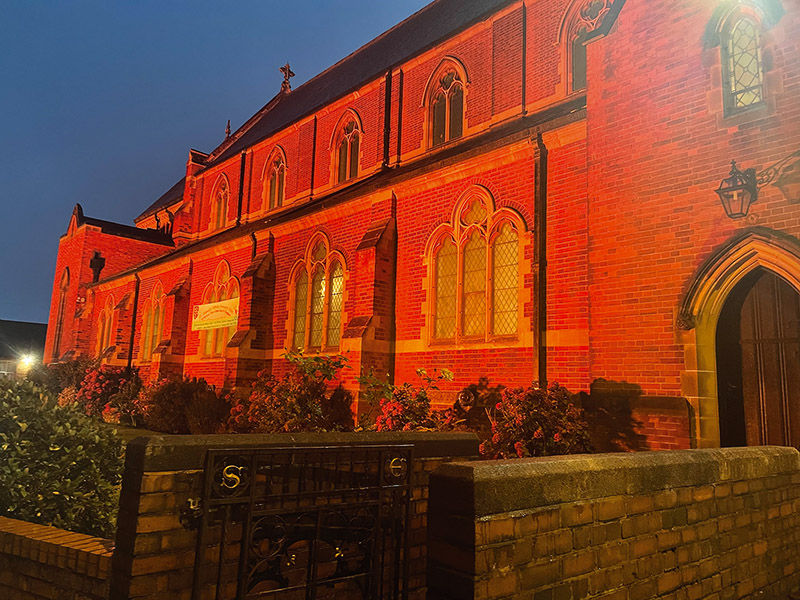 Church lighting specialists Lighting Dynamics UK have recently designed and installed a dynamic and exciting 'colour change' exterior lighting project at the Roman Catholic Church of St Edward in Selly Park, in the Archdiocese of Birmingham.
The church was designed in decorated gothic style by Henry Thomas Sandy of Stafford and the nave opened on 13 October 1902 by Edward Ilsley, Roman Catholic Bishop of Birmingham, and Samuel Webster Allen, Roman Catholic Bishop of Shrewsbury. The builder was William Bishop of King's Heath.
The sanctuary and side chapels were built between 1925 and 1926 to a design created by George Bernard Cox, of Harrison and Cox, and the builders were John Bowen and Sons of Balsall Heath.
The western end of the church was completed in 1936.
Working in close liaison with the parish priest, Fr Denis McGillycuddy, and to a comprehensive and specific design brief, modern RGBW LED luminaires with very precise optics were selected, supplied and installed for the project. All of the LED luminaires are linked to and controlled by a small modern touch screen control panel, which allows a selection of different colours to be chosen to illuminate the complete exterior of the church building for numerous and varied ecclesiastical occasions throughout the year.
The touch screen control panel also incorporates astronomical sunrise/twilight and lunar phases to be set for the local geographical location.The result is an exciting and vibrant illuminated church building which makes a truly outstanding statement for both the local community and all members of the congregation.
Lighting Dynamics UK have long been established as one of the UK's premier companies specialising in the interior and exterior lighting of cathedrals, churches and other places of worship, across all religious denominations. The company is dedicated to offering a totally independent, creative, imaginative, unbiased lighting design, as well as an in-depth consultancy service and, where required, the supply of all associated or specified lighting equipment.
Since its conception the company has established a reputation for creating practical and architecturally sympathetic lighting schemes. Wherever possible, discreet lighting equipment is specified and installed to produce suitable levels of illumination and to highlight both ecclesiastical details and any special architectural features.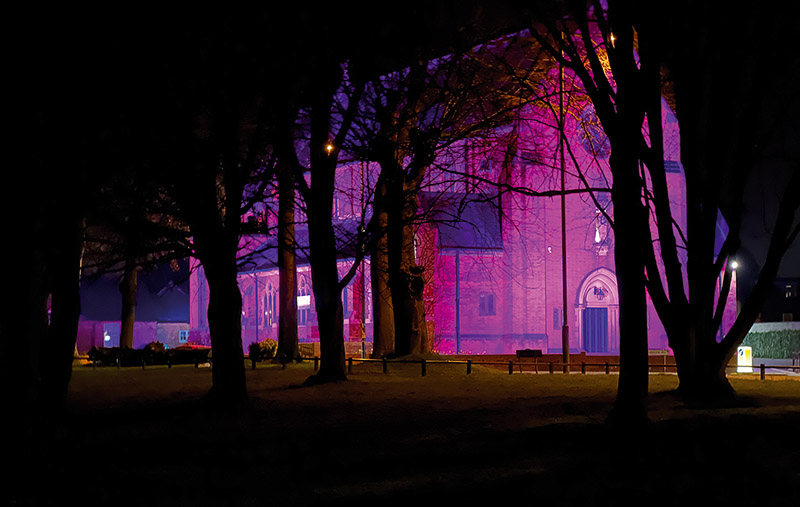 Company principal Gerry Browne explained: "Our comprehensive ranges of modern, energy saving, long-life lighting equipment is manufactured from the highest quality materials and takes into consideration many important factors, such as reliability, durability, optical performance, overall efficiency, size and styling, to mention but a few."
The company has also launched and continue to develop an extensive family of the very latest bespoke, high-quality 'commercial grade' LED luminaires, specifically designed for all types of ecclesiastical lighting tasks. The extensive range of LED products, along with many related LED luminaire lighting accessories, now takes their overall lighting portfolio to the next level of technical innovation.
'Colour change' lighting, linked to DMX or DALI controls, is also proving popular for selected church interior and exterior illumination applications. The company also has an unrivalled knowledge and expertise of all modern intelligent dimming and smart lighting control systems.
While popular systems such as DSI, 0-10V and DALI all have their respective advantages and disadvantages, the company is also proficient in utilising both alternative wired and wireless lighting control systems.
The company's entire team all believe that this is a very exciting time in the further development of church lighting, especially with such a great and diverse range of modern light sources now available.
Gerry Browne continued: "It has been established that most customers are increasingly looking for someone with the flair and experience to provide a quality lighting design, whilst also specifying top-grade, high-quality 'commercial grade' lighting equipment and controls that will provide longevity, reliability and overall flexibility for their specific ecclesiastical lighting upgrade project."
However, achieving the optimum lighting design solution is a long-term process which involves educating, informing and demonstrating to all members of a specific project team what can be achieved.
The need to be energy consciousIn this modern age it would appear that the never-ending increasing number of new energy regulations is only surpassed by the cost of energy itself.
Gerry explained the way in which Lighting Dynamics are conscious of those issues. "Whilst modern easy internet access is now widely available, with the lure and attraction of all types of lostcost LED products, many end user clients have tremendous difficulty in differentiating between the various price points available online or locally, and in particular understanding the prime differences between high-quality 'commercial grade' LED luminaires and their counterpart shortlife, poor-performance, low-cost alternatives.
"The issue is further compounded when modern LED light sources need to be dimmed and be linked to any form of separate lighting control systems. Lighting Dynamics UK has, if required, a fully-qualified team of NICEIC-registered electricians to carry out the installation of our interior and exterior lighting systems to current electrical standards and regulations.
"The team is extremely experienced with working within all types of ecclesiastical buildings, including and especially those with listed status."
The company provide a bespoke design service for each individual church lighting project, be it interior or exterior, from initial meeting and informal discussions, right through to final focusing and commissioning of the completed project. In short, Lighting Dynamics UK can provide the complete lighting service.
For further information visit www.lighting-dynamics.co.uk