Wednesday, March 23rd 2022, the Institute of Sound, Communications and Visual Engineers winds up its 20th Anniversary ISCVEx event at Coombe Abbey Hotel and Country Park near Coventry.
Held annually by the Institute of Sound, Communications and Visual Engineers, ISCVEx is open to members and non-members and is a mixed programme including a manufacturers and distributors exhibition, networking and seminars events.
The programme is preceded by ISCVE's annual general meeting and members' day on Tuesday, March 22nd, which this year saw the appointments of Neil Voce as president and Jim Smith as vice-president of the Institute, both for a term of three years.
The members' day this year also included a fascinating seminar from guest speakers Dr Mike Edwards and Mr Harry Coade of Sound Matters, titled 'Listening, for a better world: using sound, and the art of listening, to create a brighter future. The presentation was received with lots of enthusiasm and interest from attendees after which guests headed into the evening for ISCVE's annual networking dinner event.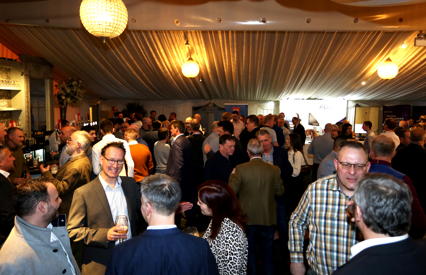 Three seminars and an exhibition of thirty eight industry manufacturers and distributors followed on the second day starting with John Adeleke, Managing Director of Ampman Audio Services presenting the Hopkins-Baldwin Lecture, titled 'Can our industry profit from a sustainable circular economy?'.
Adam Harvey, Solution Architect AV & Digital Media at the University of Hertfordshire and David Amann, Audio Visual & Multimedia Specialist at University of Cambridge presented the Warren-Barnett Memorial Lecture on 'Audio Visual in Higher Education' which was followed by Gus Marcondes, Technical Training Manager EMEA and Julian Carro, Solution Sales Manager from Audinate presenting the ISCVEx Lecture highlighting the consolidation of audio, video and networking within commercial installations and live applications.
ISCVEx 2022, back for the first time in-person since 2020, was stacked with meetings, presentations, exhibits and networking opportunities which proved popular with attendees and exhibitors.
Charles Green, NTi Audio comments, 'This is our first year at ISCVEx and it's been great, there's hardly been any let up in visitors attending our stand with a wide variety of interest from audio and acoustics, it has been well worth us coming and we very much look forward to coming again next year'.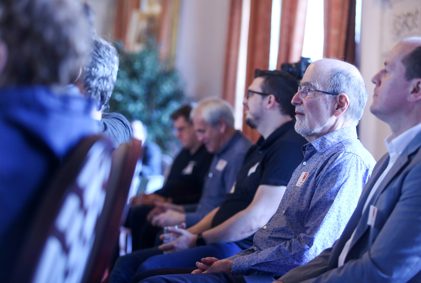 'What I really have loved is to be able to share a little bit of the knowledge of audio, video and networking we collect throughout the years, with the visitors to the show, so for me specifically, it was an honour to be able to have real feedback from the crowd and tease them, provoke them to becoming Dante certified', comments Gus Marcondes, Audinate.
Carys Green from Shure UK comments, 'It's my first time at ISCVEx today and I've really enjoyed networking with my peers in the audio-visual industry, but also meeting with end-users and resellers that we have been working with. Higher Education is a business area that I specifically look after for Shure UK, so it was great to interact with the team from LTSMG and the visitors to the show. This is definitely an event we shall choose to be involved with going forward'.
Jon Nibloe, Midwich comments, 'what I like about this event is the network element, and it's great to see some faces we haven't been able to see for over two years. We've been an ISCVE supporting member since 2003, it's been a great show and it's been great to see everybody back, in a real live environment'.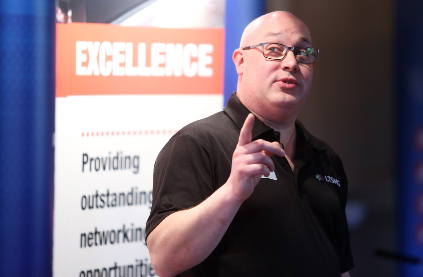 Tremayne Crossley, SigNET comments, 'ISCVEx is an all-round brilliant networking event, it's been great catching up with lots of industry people, a lot of us have been here for many years so we know each other really well, so we've been able to catch up on business and family things too, something we haven't been able to do for the last few years, great'.
Neil Voce, newly appointed president for ISCVE, adds,'The last few years have been really challenging for everyone both personally and in business. ISCVE members and supporting members always enjoy ISCVEx, so the show has been a real pleasure. It felt really good to be meeting up with everybody again'.
'Our last ISCVEx was in 2020, so it was fantastic to be back together after such a long time', comments Ros Wigmore, event organiser for ISCVE.
'We strive to keep ISCVEx as a very personal event and have really missed meeting up with our members and potential new members over the last few years. The energy and enthusiasm at this event has been brilliant and we're really pleased to confirm the dates for ISCVEx 2023, which will take place on 21st and 22nd March 2023', summarises Wigmore.
For further information visit iscve.org.uk