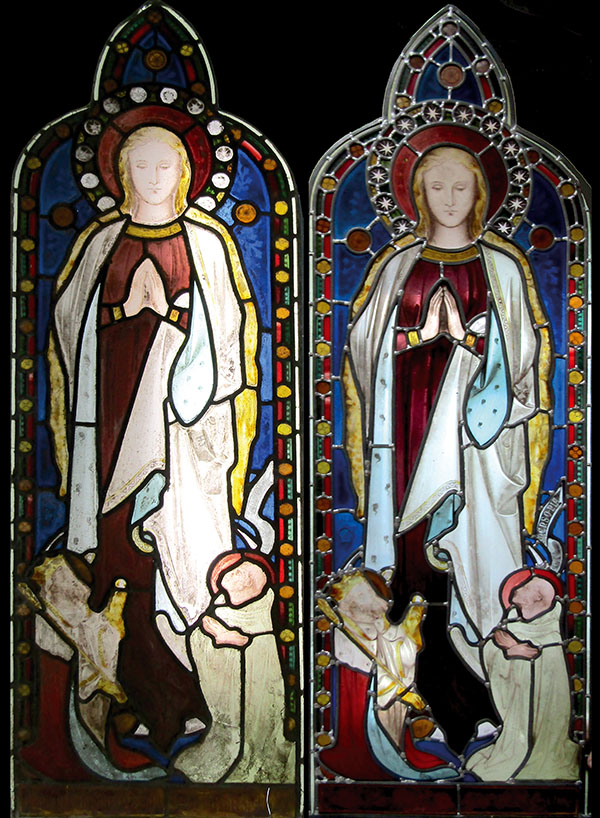 St Mary's College in Oscott, Birmingham – often called Oscott College – is the Roman Catholic seminary of the Archdiocese of Birmingham in England and one of the three seminaries of the Catholic Church in England and Wales. Its origins date back as far as 1794.
In 1838, the college moved to a new site, which came to be known as New Oscott. The new building was designed by Augustus Welby Pugin and Joseph Potter. Edward Welby Pugin, Augustus Pugin's son, added the Weedall Chantry in 1861.
As part of on-going conservation work at the college, at the beginning of 2020 Ark Stained Glass Ltd were asked to undertake the conservation and restoration of the nine sets of stained glass windows in the Weedall Chapel – which contains the Weedall Chantry. The stained glass was by John Hardman & Company and William Warrington. Five of the current key employees of Ark Stained Glass were previously with the John Hardman Studio.
High condensation levels in the building had already caused severe damage to 60% of the windows. Condition reports were therefore prepared for each window.
Once work was underway 27 stained glass windows were photographed, documented and removed from the chapel and sent to Ark Stained Glass's Birmingham Studio. A significant number of windows had suffered paint loss and prompt action was required to halt any further damage.
Once all test samples were conclusive, each pane was cleaned with a solution suited to the delicacies of the paint and glass by Ark's conservator.
Backplates were cut and the missing details from the original glass painted on before they were copper-foiled to the reverse of the original glass, thereby restoring the original painted detail without altering the original. The pieces were also kiln-formed to create a seal against the original glass, reducing any stress in the glass and parallax in the paint. It was left to the painter's discretion and skill as to how much of the paint should be reinstated.
With some of the paint almost completely gone, it was down to computer work to find out the missing details from the pigments of paint that were digitally enhanced. One of them included an inscription, dedicated to the donor of the chapel itself, which was unknown until that point.
To deal with the condensation, an extremely fine wire mesh was added at key points to small sections of the sacrificial glass borders and to blank sections of glass at the top of each panel. That, together with a lead drip tray at the base of the stonework, will ensure the circulation of air within the room and limit the amount of any future condensation, stopping the loss of paint attributed to it.
• For further information visit www.arkstainedglass.co.uk